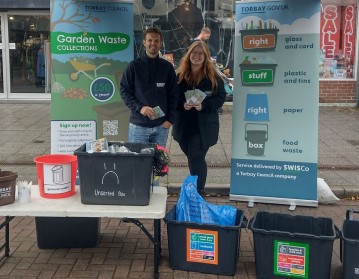 We are here to help you reduce, reuse and recycle more of your waste.
We know that most people in Torbay recycle, but do you recycle as much as you can, as often as you can?
Around 20% of the contents of people's bins is food waste. It could have been recycled using our weekly food waste collection to make soil improvers for local farms as well as generating electricity.
We can help you to take your recycling to the next level! We can offer advice on waste reduction help you to reuse if you are already recycling all that you can. If you have any questions or would like advice please email waste.recycling@torbay.gov.uk. We would be happy to help.
Our Recycling Support Coordinators are Eden and Keiran.
Talks and events
You can invite one of the team to come to your next event. We can give talks and recycling and waste advice at:
Community events
Local community groups
Local schools and colleges
Let us know when your event is and how we can help by emailing waste.recycling@torbay.gov.uk.
The latest news on reducing waste
Keep up to date with the latest news and information on recycling and reducing waste by:
More information on Recycling
---
Contact Recycling Coordinators