Thanks to the fantastic effort of Torbay residents, 42% of the waste collected was recycled last year. Sadly we are still sending over half of our waste to landfill, costing Torbay Council over £3 million, and causing harm to the environment.
By tackling our waste through reducing, reusing and recycling, we can all do our bit to help conserve natural resources, reduce the impacts of climate change and save money that can be put towards providing other vital services in Torbay.
Love Food Hate Waste
What would you do with £720 a year? You can save as much as £60 per month by throwing away less food. For more information visit the Love Food Hate Waste website or down load the app. 
The Love Food Hate Waste app will allow you to easily keep track of food planning, shopping, cooking meals and making the most of leftovers. It also has great recipe ideas and tips for using forgotten foods and leftovers to make great tasting meals.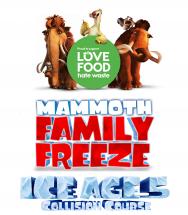 As 'Ice Age 5: Collision Course' gets its Christmas release on 5th December, Sid, Scrat, Diego, Manny and other members of the Ice Age team have joined the quest to help us reduce food waste and protect our planet!
They will be supporting Love Food Hate Waste to run their very own 7 day 'Collision Course' to freezing food in the home. Each day, your favourite Ice Age characters will be showing families how to reduce food waste, with home freezing tips and tasty recipes to make now and enjoy later.
This activity is part of a wider collaboration between Twentieth Century Fox, online electrical retailer AO.com and Love Food Hate Waste where there will be a number of competitions, articles (Time Out London), leaflets (inside 500K DVDs), blogs and plenty of social media activity taking place this December to celebrate the Mammoth Family Freeze and the release of the Ice Age 5 movie on DVD.
Pledge your support to the campaign via @LFHW_UK and on Facebook where you can share, like and comment on your favourite freezer hints and tips. There is also an opportunity to win a Samsung G-Series American Fridge Freezer worth £1,500, courtesy of online electrical retailer, AO.com.
---