Community Conference 2021
This year our Community Conference had the theme of Climate Change. The Torbay Climate Conversation, which thanks to funding from South West Energy Hub was a COP26 South West Region Event, took place on Tuesday 2 November 2021 at South Devon College. It was attended by residents, local community groups and organisations, Councillors and Officers who have an interest in how we can continue our conversation around climate change. Those that attended also discussed how we can continue to boost our priority of making Torbay Zero Emissions by 2030.
Several presentations were delivered on the day, from our Leader Councillor Steve Darling, the Head of the Centre for Energy and the Environment from the University of Exeter, local community groups showing what they are doing to be part of the change needed, the Torbay Youth Trust shared thoughts of the young people and Exeter Community Energy shared top tips on what we can do to improve our homes.
There were also stalls from the Groundwork Trust, our Recycling Officers, our Active Travel work and a local shop Trace-less. Those that took up a stand were asked to share resources with those who attended and these can be found on our Resources from Conversation page below.
A report about the table discussions and what we need to focus on will be available on this page soon.
You can read more about what we are doing to make Torbay Carbon Neutral by 2030 on our Climate Change webpages.
We also asked Sound Communities to attend the conversation so they could interview our attendees and ask them three questions. Below you can hear their responses to these questions:
View all the resources from the Conversation
Credit:Photos taken by South Devon College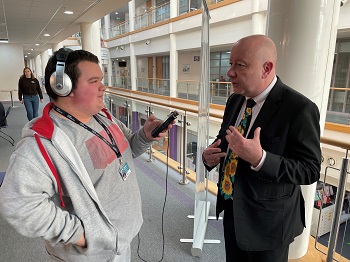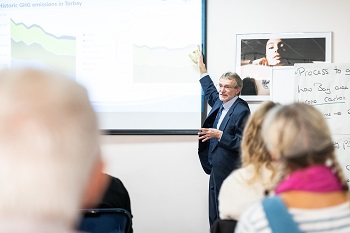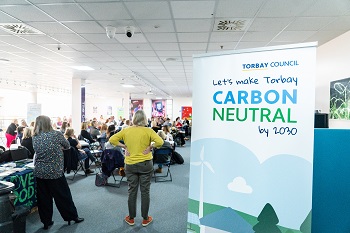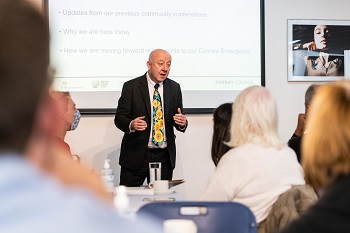 As part of these commitments, we held our second Community Conference on Wednesday 30 September. As we were unable to hold an event in a venue this year due to the COVID restrictions, it was held virtually online so we could continue to engage with as many people as possible.
You can find more information about the conference in our press release.
The event was an opportunity to celebrate Torbay, especially our collective response to Covid-19, to share information about what had taken place since the last conference and to explore opportunities for the future.
The Torbay Community Conference, held on 11 September 2019, was designed to help us develop a new and more engaged relationship with individuals and communities across the Bay. Over 120 people from communities across the Bay participated including our members and senior officers.
Four key overarching messages emerged from Conference discussions:
There needs to be a change of culture in the Council and in communities.
Trusted relationships with communities need to be built.
Communication with communities and individuals needs to improve.
Celebration of the Bay's assets and civic pride need to be encouraged.
---