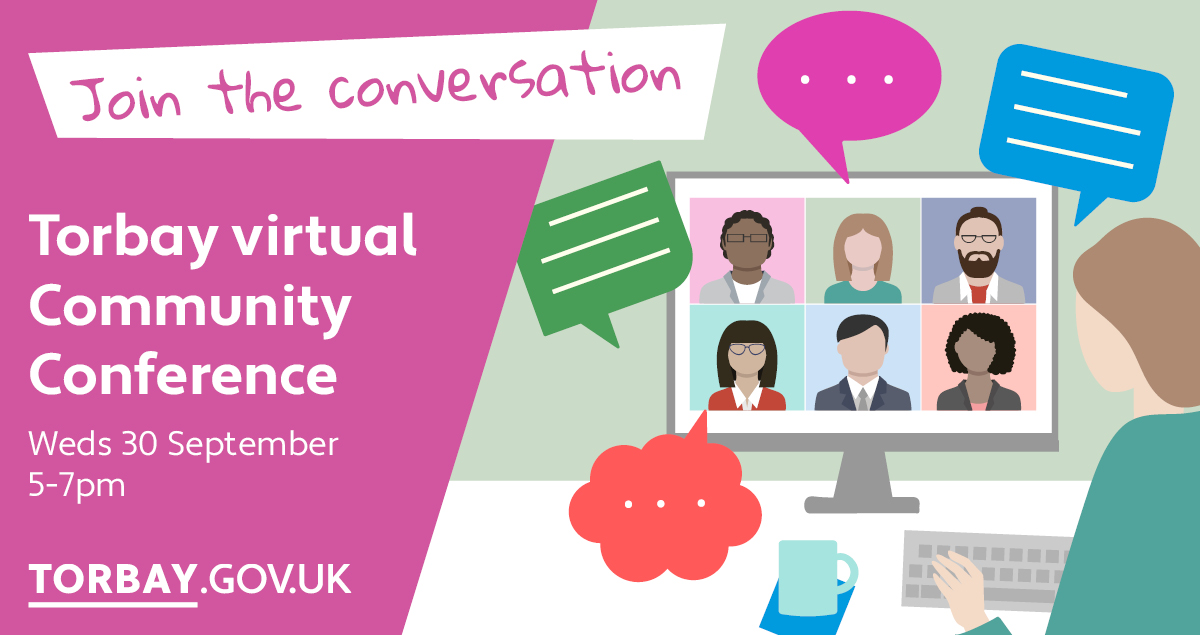 We're hosting our second community conference on Wednesday 30 September and you are all invited to book a slot and join the conversation virtually on zoom between 5pm and 7pm.
We want to hear from you and your communities about how we can build on the good work which has been taking place over the last year and work better together so we can make a positive difference to the lives of people in the Bay.
This event follows a successful conference in September last year when over 120 people from communities across Torbay packed into Parkfield in Paignton. We heard that local individuals and groups wanted us to act differently and as a result we have been making the changes needed to enable us to engage with and empower our local communities.
As we are unable to hold an event in a venue this year due to the COVID restrictions, the community conference will be held virtually on zoom so we can continue to engage with as many people as possible. It will also enable more people to take part.
Leader of the Council, Steve Darling, said: "During Covid-19 there has been some fantastic work being carried out by individuals and groups across Torbay. It's been heartening to see how many people have stepped forward to help individuals in need in their communities and how organisations have joined forces to provide much needed services. We want to keep this momentum and build on the good work that is being carried out across Torbay.
"We want to listen to you, the community that live and work in the Bay, and find ways of working as one to improve the lives of everyone. It's important that we reach across our community and, using the opportunities from the new ways of working which have emerged during the pandemic, engage with people in a different way."
Deputy leader, Darren Cowell, said: "We want to be open and transparent about decisions we make as a council and equally about how you can help with the future challenges we face. We want to celebrate the good work that has been taking place across Torbay and to listen to your views on what is working and what could be improved. We also want to find the best ways of working together so local communities can thrive.
"This conference provides the perfect opportunity to explore how we do this and I'd encourage you to book your place on the Community Conference on Wednesday 30 September and join the conversation."
The virtual event will include a range of information and the opportunity to break off into groups for discussions. It will cover the following:
A celebration of Torbay: what has been achieved by the council, its partners and community groups since the last conference, particularly during the COVID-19 lockdown.
What the Council has done as a result of the last conference, including the launch of the Engagement and Empowerment Strategy consultation.
A session from Local Motion on how organisations and groups in Torbay can obtain future funding
Identify what engagement attendees want with the council, what they think would make a difference to people in Torbay and what they would like to offer to make the changes needed.
Book your space on the Community Conference False
We really look forward to meeting with you all. If you have any questions please contact engagement@torbay.gov.uk.
---