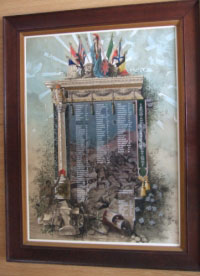 The Torquay Roll of Honour is a large watercolour painting with 109 names written on an elaborate background painting. The painting depicts Britannia standing with a lion, a cannon and some national flags - among which are those of Great Britain and her World War I allies France, Italy and Romania - on top of a marble pediment which is supported by two columns. There is a list of names in three columns enclosed by the three sides of this structure; the names are all in white apart from two, which are in black. At the bottom of the right hand column are 8 names under the heading For Munitions Factories etc. The names are painted on to a landscape which shows men carrying bayonets running into no man's land. At the bottom of one corner of the painting is a depiction of pieces of stone and tools which indicate marble quarrying. The painting is signed by G. Sanguinetti and has a dark wood frame with a gold slip.
Torquay Roll of Honour watercolourIn August 2008 the painting underwent conservation work, namely a surface clean, humidification to allow removal from the acidic board to which it was attached, repairing of a worm hole and mounting on a sheet of museum quality board mount. The frame was cleaned, old fittings were removed and the glass replaced with conservation glass. The cost of £820 was met by the War Memorials Trust.
The memorial was bought from an auction house in Torquay in May 2002 by a member of the public who was concerned that it should not be used as ornamentation within a private house. It was donated to the War Memorials Trust. After research by a local War Memorials Trust Regional Volunteer, it was concluded that the memorial was most likely commemorating men who worked for the marble quarrying company H T Jenkins of Torquay, which interestingly did a lot of work for Lutyens, Blomfield and others after World War I. The company was also known as W W Jenkins. See Tracking Down a Mystery Opens in a new window by Denis Kenyon RV for more information.
Torquay Museum was approached as a suitable permanent location for the memorial and a ceremony at which the memorial was handed over took place on Friday 21st November 2008. A Guard of Honour from the ATC was in attendance as were several local people and a photographer from a local newspaper.
---
Contact Special Projects, Sport & Events