As agreed in the Budget for the financial year of 2022/23 we will be continuing with the Community Ward Fund. This year we have allocated £72,000, up from the £54,000 we provided last year, to support our Ward Councillors and Community Partnerships in continuing to improve your local area. This fund has been made available to help with replacing and repairing a number of council and community owned assets across the Bay that due to years of austerity and hard decisions have being made they have not been replaced or fixed.
The Community Ward Fund can be used to:
replace or repair council assets, for example bins, benches, street signs, fencing, play equipment
refurbish or replace community assets, for example community noticeboards
contribute to community projects, for example Friends of Parks groups, Community groups
contribute to community events or activities
The fund is allocated on the basis of £2,000 for each Councillor, so a ward with two councillors has received £4,000.
Ward Councillors, Community Partnerships and Community Builders will work together with their local communities and the Park Rangers from SWISCo to gather ideas of projects and proposals that this fund could be used on.
You are encouraged to make contact with your Ward Councillors and Community Partnership by the end of May 2022 to make suggestions for the allocation of the funds.
Timeline
Beginning of May 2022 – Community Ward Fund Form distributed to Ward Councillors and Community Partnerships.
By Sunday 19 June 2022 – Completed forms with lists of all the projects or grants to be returned
Proposals will then be reviewed by Community Engagement and SWISCo.
By Friday 29 July 2022 all forms with agreed works and costs will be returned to the designated Community representative. Once the form has been returned no changes to the works, or new works or projects can be added.
Any payments to community groups, projects and partnerships will then be made.
SWISCo will then programme in any work for them and will start from September 2022 onwards. 
What the Community Ward fund has already funded
Below is a list by ward of the projects, groups and events that this fund has provided for in the last financial year (2021/22).
Barton with Watcombe
Re-installation of grit bin on Southern Close
New road sign for Barn Owl Close (picture inset below)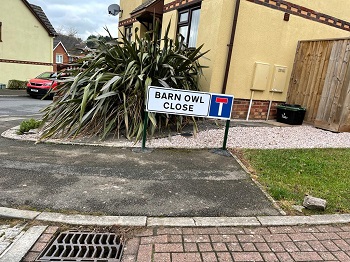 New slide and climbing nets for Starpitten Multi Use Ground Area
Churston with Galmpton
New bench by the Co-Op at Cherrybrook
New bench on the grass area in between Steed Close, Freshwater Drive and Shire Close
New bench on Churston Common
New bike racks installed outside Churston Library
Clifton with Maidenway
Contributed towards replacing the roundabout with a new one in Primley Play Park
Replaced the dog bin with a new all purpose bin and repositioned it by the entrance gate to Primley Play Park just off Westleat Avenue
New Community Noticeboard also placed near the entrance gate to Primley Play Park just off Westleat Avenue
Cockington with Chelston
Replaced missing handles on the climbing wall in Rocket Park
Provided funds for new raised beds in Gorsen Road Triangle
Replaced the bench by the entrance to the Water Meadow on Old Mill Road
Provided funds towards flowers for the water trough in Cockington Lane and the fountain on Walnut Road
New bench for Broad Park, next to Preston Primary School
Collaton St. Mary
Contributed to two new benches for Collaton St. Mary Pre-School
Ellacombe
Contributed towards the Community Youth Project
Contributed towards revamping Ellacombe Park
Contributed towards revamping Brewery Park
Furzeham with Summercombe
Contributed towards new play equipment for Rowan Way Play Park
Goodrington with Roselands
Contributed funds for planters and trailing plants for Roselands Gardens
Contributed funds for a strimmer for the Community Orchard and Village Green
Purchased Community Builder notice-board at Goodrington
Contributed funds to the Torbay Tri-Club for purchasing sea swimming buoys
Contributed towards a new viewing platform on Clennon Lakes
Kings Ash
Replaced Perspex in the shelter in Foxhole Play Park
Repainted the walls in Foxhole Play Park
Paid for the installation of traffic regulations for the lay-by on Kings Ash Road
Preston
Purchased a new swing and paid for its installation at the Play Park on Preston Green
Roundham with Hyde
Replaced railings on Paignton Seafront
Shiphay
Purchased and installed two benches with planters for Shiphay and Kitson Parks
St. Marychurch
Repairs to one of the shelters on Babbacombe Downs (Picture inset below)
Health and safety signs for beaches (Picture inset below)
Purchased and installed two educational boards about local birds – one for Babbacombe Downs and one for Maidencombe Green (Picture inset below)
Replaced Perspex covers on noticeboards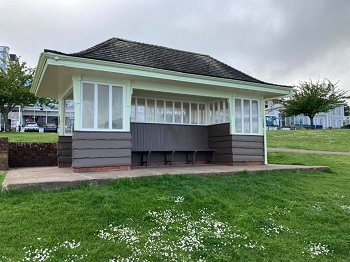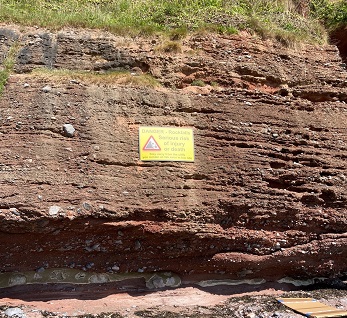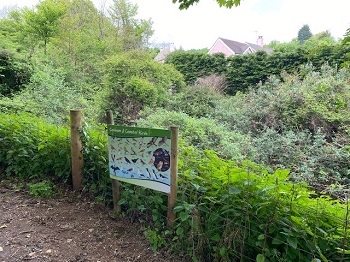 St. Peters with St. Marys
Payment made to the Friends of St. Marys Park to help them continue their work
Tormohun
Funds given to Cricketfield Garden Project
Funding given for a Community Art Project
Replaced the street sign for Bexley Lane
Purchased new noticeboard for Brunswick Square
Refreshed the noticeboard on Teignmouth Road/Stantaway Hill
Wellswood
Reinstated bin in car park on Daddyhole Plain
Moved litter bin from outside The Kents pub into the Village Green
Refurbished community noticeboard on Village Green
Installing a post to stop fly tipping at the beginning of the lane on Upper Warberry Road by the SWW reservoirs
Reinstating coping stones on wall at Wellswood Green (Picture inset below)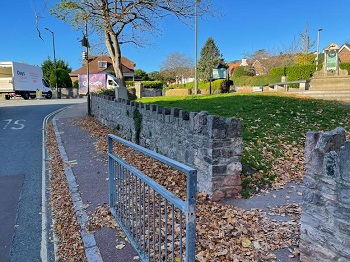 Repaired bench on Higher Lincombe/Haldon Road
Repainted bench at junction of Higher Woodfield/Middle Lincombe Road
Repainted bench at junction of Higher Erith/Acacia Road
Repainted bench in St. John's Wood
---