Introduction
The Winter Services and Emergency Plan has been designed as an operational handbook to guide staff in our Community and Customer Services, as well as guidance for Maintenance Contractors.
As defined by the Highways Act 1980, Section 41 1A; in particular, a highway authority are under a duty to ensure, so far as is reasonably practicable, that safe passage along a highway is not endangered by snow or ice.
The Winter Services and Emergency Plan details policies and procedures that must be followed in the event of adverse weather. It has been developed in accordance with the NWSRG and UKRLG Guidance, replacing Appendix H and bringing in new rules, that as a Highway Authority, we are obliged to meet the requirements of. The implementation of a successful Winter Plan is necessary to keep Torbay's Highway Network clear from ice and snow, and to ensure that the Highway user is safe.
COVID-19 Update
Due to Coronavirus, we and SWISCo are following Government guidance on Social Distancing and Safe Working.
We may seek to reduce the amount of vehicles used for a weather treatment based on the Risk Tier per area, this will reduce the amount of staff that are in contact with each other, while allowing an acceptable amount of time for treatment of the network.
2022 season update
As of 2022, Treatment Vehicles will be fitted with GPS routing and tracking. Initially, the season will begin with vehicles being "double manned" and then moving to single manning and route tracking once the authority is sufficiently happy that the system is working.
Aims of plan
This document sets out our strategy and details of how winter service and emergency operations are managed. The Winter Services and Emergency Plan is designed to assist emergency services, commerce, industry as well as a range of highway users and can be summarised as follows:
To allow winter service operations to be undertaken efficiently on the highway to a standard commensurate with the usage.
To provide traveling conditions that are as safe as reasonably practicable.
To reduce and minimise delays caused by adverse weather, snow, ice or obstructions.
To ensure that the environmental impact of reactions to weather are minimised.
The main facilities in place to achieve these aims are: -
We currently operate a 24 hour monitoring of the Highway by the Control and Information Room at Aspen Way and liaison with local emergency services.
A trained workforce to deal with winter service and emergencies.
Strategically sited stock of salt.
Dedicated salting, gritting and ploughing plant.
A strategically placed sensor station recording climatic conditions, which, together with the weather forecasts, help in the prediction of ice and snow.
Integrated weather monitoring system to electronically inform us of road and weather conditions.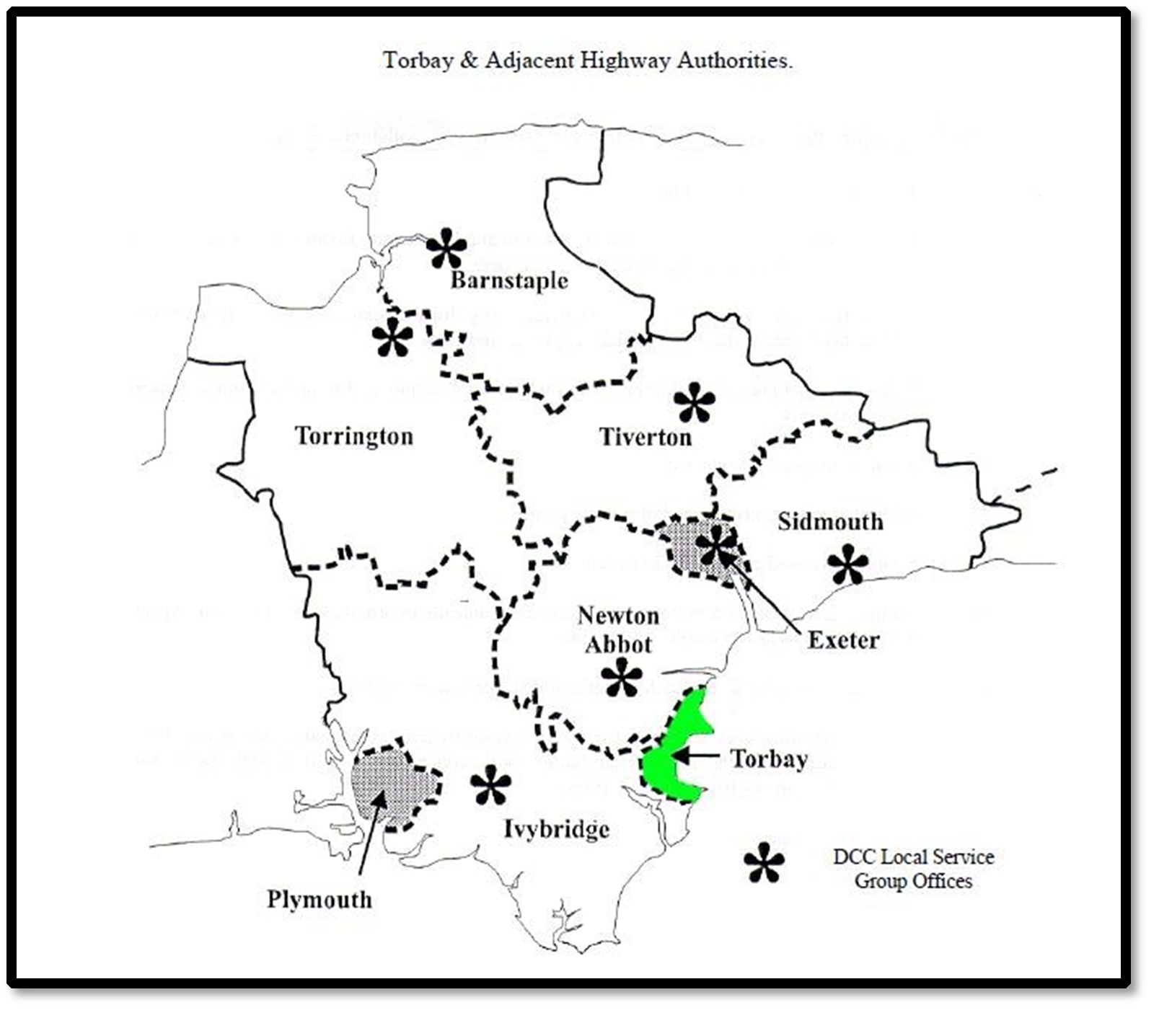 In accordance with this document, the Winter and Emergency service is managed by the Highways Group with works undertaken by our contractor SWISCo. The Winter Services and Emergency Plan and the Policies will cover:
Network resilience;
Treatment of facilities for public transport users;
Treatment of facilities for road users;
Treatment of facilities for walking and cycling;
Treatment of transport interchanges;
Treatment of promoted facilities such as community or leisure centres;
Extent of priority for emergency services;
Extent of priority for key public services and critical infrastructure;
Extent of priority for vulnerable users; ▪ Resilience of Winter Service resources; and ▪ Other local circumstances.
These guidelines are set out by the Well Managed Highways Infrastructure Code of Practice Section 3.7.
Pre-salting network and routes
In accordance with legislation and Well Managed Highway Infrastructure – Code of Practice for Highway Maintenance we provide a service to ensure, so far as is reasonably practicable, that safe passage along a highway is not endangered by snow or ice.
Salting Network
As recommended in Well Managed Highway Infrastructure - Code of Practice; Torbay has defined a salting network which has been sub-divided into:
Primary Salting Network comprises of Strategic routes, main distributors, link roads, bus routes with services commencing prior to 08.00 hours, or where they carry traffic from a larger village to a strategic route or main distributor, vehicular access ways to Fire, Police and Ambulance stations, hospitals, Royal Mail distribution centre and bus depots. Roads that join to neighbouring highway authorities gritted networks to ensure continuity of service.
It would not be practical, or cost efficient for the whole of the road network to be pre-treated. The Primary Salting Network is 37% (192) of the total highway network in Torbay (520km).
Secondary Salting Network will be considered for treatment at the discretion of the duty inspectors during times of prolonged ice or snow and is based on bus routes that commence after 08.00 hours, and routes serving schools. 
The Secondary Salting Network will only be treated upon completion of the Primary Salting Network and equates to 6.5% (34km) of Torbay's road network.
Footways and cycle ways have been considered and the following strategy will apply:
Treatment of footways will be confined to areas of high usage including town centres, other busy shopping areas and school main accesses. Treatment will be considered during times of prolonged ice or snow conditions and will commence upon completion of the Primary and Secondary network. The Footway Salting Network is 4.2% (34km)of Torbay's total footway length and has been divided into two main categories:

Primary Footway Network – will generally be the first routes treated during prolonged ice/snow periods and cover highway areas at the entrances to schools in the thematically colder areas of Torbay.
Secondary footway Network - consisting of town centre areas, out of town shopping areas and thematically warmer school entrances. These routes will be considered upon completion of all other priority routes during prolonged periods of ice/snow.

During school holiday periods, the order of footway network completion may reverse as more pedestrian traffic would be expected in town centres or local shopping areas.
Dedicated cycleways will be treated at the discretion of the duty inspectors where ice is likely to or has formed on the surface at any time whilst providing the winter maintenance service.
Roads not identified within the above definitions will not receive a routine salting service. However, they may receive treatment in response to exceptional circumstances as approved by the Highways Group following the completion of all priority networks described above.
Provision for Emergency Services
While we have no set provision for the treatment of emergency service depots, local emergency service access is treated as a by-product of a Red, Blue, Green, and Yellow Treatment. 
Considerations have been made for the clearing of snow for access to emergency services sites or depots. Provision for clearing of snow of any emergency service yards or depots will be considered by officers during a snow event and will be actioned dependent on resources and weather. 
Review of Network 
The pre-salting network will be reviewed annually by Torbay Council to reflect developments, improvements and changes in traffic patterns. This work to be complete by the end of August with coordination through the Highways Group. 
Response and Treatment Times 
When immediate winter service operations are ordered, the response time is defined as the period between the instruction being given to the contractor, to the time when the vehicles are loaded and ready to commence action. Treatment time is defined as the period between the start time of winter service operations on the road and their completion time. 
The response time for a winter action is 1 Hour and a treatment time of the Primary Network is 2.5 Hours 
These times are in accordance with the current Code of Practice for Winter Service and Weather
Conditions contained in 'Well Managed Highway Infrastructure' and therefore require the term maintenance contractor to complete Salting work on the Primary Salting Network within a maximum of 3.5 hours of a call out instruction. 
Although not always possible in all circumstances, the aim is to complete salting operations by 8am to best protect road users and avoid congestion. 
For Morning Salting Operations, where no prior action has been instructed, any action will be confirmed to the contractor before 5:30am. 
When the contractor is operational, further instructions may be issued to him as and when necessary.
Routing 
In Torbay the responsibility for developing individual salting road groups to cover the salting network lays with the Highways Group. The contractor must be able to demonstrate that each road group within the Primary Salting Network can be completed within 2.5 hours from the time works commence. 
When agreeing routes, it must be ensured that salting vehicles are matched to roads (e.g. some routes have very narrow sections which would not be suitable for the larger capacity bulk gritters) and that the overall route efficiencies (salting length divided by total length to the completion of salting) are as high as practicable. 
Clearance time for routes may be extended or hindered during extenuating situations due to weather, this will be confirmed by an acting officer or the acting Winter Decision Maker. 
Thermal Mapping 
A thermal mapping survey has been undertaken in Torbay. This indicates thermal differences between known locations on the highway network for various weather scenarios. In conjunction with weather forecasts, thermal mapping allows effective prediction of locations where treatment is required. 
Salting Routes 
The Highway Group has identified 4 groups of roads within the Primary Salting Network. The groups are derived from the thermal maps of Torbay and all or any combination of the groups can be instructed to the contractor to complete as either precautionary or reactive salting. 
The routes are coloured Red, Blue, Green and Yellow with Red being the coldest to yellow the warmest.
Salting network plans - Entire treatment network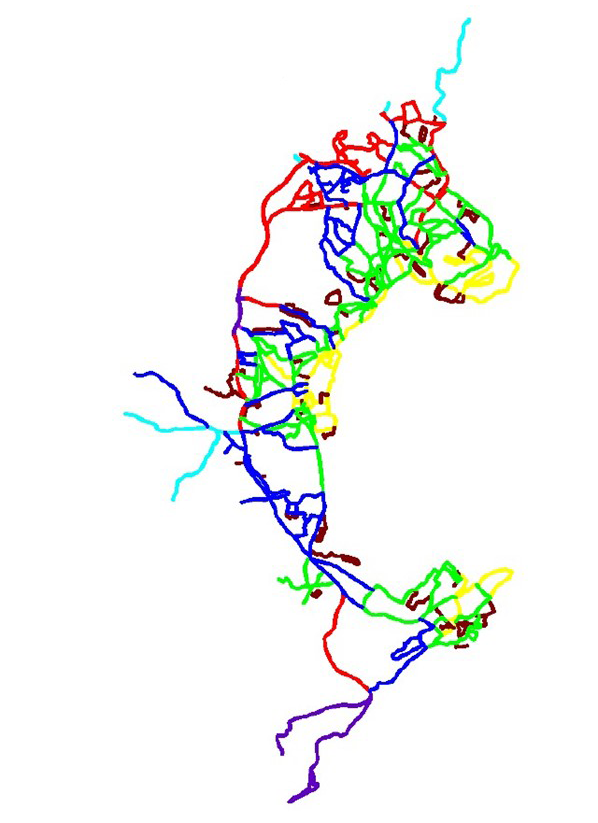 Preparation for winter
The highways group and maintenance contractor must be at a state of readiness when the first forecast of icy conditions is received during the winter period. It is therefore of the utmost importance that the preparations for Winter Service operations are complete before the end of October, so that highway users are not put at unnecessary risk. 
The following operations must be carried out prior to the start of the winter season:
Validation of winter gritting routes to match the network usage.
Inspection of grit bins before the end of October, ensure that any salt/grit which remains from last winter is still serviceable.
The Highways Group must check with Network Rail, which of the level crossings in their area have signalling equipment whose performance is adversely affected by the spreading of salt. After liaising with Network Rail, we will not apply any treatment in the vicinity of these level crossings. As the level crossings are not adopted highway, Network Rail will therefore be responsible for keeping those sections of the road safe for Highway users.
Servicing of plant and machinery including the calibration of gritters, road sensors and weather station.
Pre-winter meetings with the winter service contractor 
It is vital that the maintenance contractor has its role for Winter Service re-affirmed by the Highways Group. Pre-winter meetings should be held which should also specifically discuss the following:
Plant condition and confirmation that a summer service to vehicles has been successfully undertaken. Repairs must be completed before winter and necessary spares obtained.
Ploughs should be accessible at all times and will be fitted as part of trial runs in October. As part of the summer service, all rubbers should have been checked and wheels freed etc.
Calibration of gritters must be complete with drivers aware of how to set rate of spread/spread patterns for specific routes.
The Highways Group should be satisfied that the maintenance contractor has sufficient trained operatives for all winter service activities, including, a sufficient number of trained operatives to run a 2 shift system.
Certification of operatives for winter maintenance.
Deployment of men and vehicles
Winter service pre-salting routes. 
Plant
The quality of the winter maintenance plant is crucial to the effectiveness of operations. Plant that cannot be calibrated to properly spread de-icing salt will mean the objective of efficient ice prevention with minimal salt use will not be met. Torbay's strategy is therefore to maintain a fleet of modern salting vehicles with the specific style of equipment being at the discretion of SWISCo.
Calibration of spreaders 
SWISCo will arrange the calibration of equipment prior to October in accordance with the following procedure:
The calibration should be undertaken by static testing and on a salting run of known distance with the machine set to the desired spread pattern.
Calibration should not be restricted to pre service commencement; undertaking and additional mid-winter calibration is also good practice. Calibration should be carried out whenever required throughout the season, for example following a change of salt or monitoring highlighting a potential issue. The objective is to ensure that the intended spread rates are achieved.
It cannot be relied upon that the spreader performance will remain unchanged after calibration. There are numerous variables that impact on calibration. Performance needs to be monitored and recorded so that recalibration of spreaders can be carried out where necessary. Monitoring of the salt tonnage used provides a quick and easy method of checking the spreader performance in terms of discharge rate
The checks should be carried out with vehicles set to spread at required spread rates and the width of spread should be checked by a physical measure. It is essential that the checks are carried out using salt of the quality to be used during the winter period as variation in moisture content and grading can have a significant effect on both the rate of spread and transverse distribution.
The spread pattern should be checked visually to ensure transverse distribution is obtained and that the required width of spread is not exceeded. The area salted should be calculated, and having weighed the vehicle before and after the run, the rate of spread can be determined. A suitable length of run is one in which at least 500kg of salt is spread. Gate and chute offsets must be clearly marked and referred to in the calibration report to ensure that the set up can be repeated in service. Speed settings must likewise be identified in the reports.
Calibration is of central importance in providing an efficient winter service operation and due attention must be given to the tests to ensure that each vehicle is controlling the rate of spread as closely as possible. Advice on testing procedure can be obtained from the Highways Group.
Upon completion of the tests and calibration, a sheet, confirming the achievable rate of spread and correctness of the spread patterns and widths must be signed by the test supervisor and submitted to the Highways Group.
As an alternative to the above methods, where modern spreaders are fitted with electronic equipment, the manufacturer may test and calibrate the machines in accordance with BS 1622 and BS 3247. The test results shall be recorded and forwarded to the Maintenance Group

.
Salt and grit 
Winter service operations seek to ensure the safety of road users whilst minimising the use of de-icing agents. Widespread use of alternatives to salt is not cost effective at this time although new ideas will continue to be considered and trialled where appropriate. By ensuring that the correct rates of spread of salt, appropriate to conditions, are achieved, environmental aims are addressed. 
Stock Levels 
Salt stocks in Torbay prior to the commencement of the winter service will be at least 1000 tonnes. Details of the pre-winter stocks held at the Yalberton depot in Borough Road, Paignton are shown in the Salt Stock table that follows. Management of these stocks is the responsibility of SWISCo. We have agreed with SWISCO that nominal stocks may be reduced to 400 tonnes before replenishment. 
Salt Barns - Operation 
The existing barn has proved its worth in providing conditions that maintain salt at a low moisture content, preventing leaching and allowing easier handling of the salt. Stocks should be worked from one side at a time to the rear of the barn (not across the full face) as this allows the stock to be turned over. New stocks of salt should be stored at the back of the barn ensuring that older stocks are used first. 
Nominal Salt Size 
To allow control over the rate of spread when using correctly calibrated plant, the quality of salt is important. Parameters are given in Devon Purchasing's specification dealing with chemical composition, moisture content and grading where the percentage passing the 300 micron sieve is limited to reduce clay content. The preferred nominal size of the salt is 6mm.
Ground rock salt stocks - Torbay
Pre - Winter 2021/22 
Pre-winter stocks (Tonnes) - 1000
Capacity (Tonnes) - 3000
Moisture Content 
Moisture content can have a significant impact on spreader calibration with over or under spreading possible. We will achieve a more consistent spreading of salt by maintaining a constant moisture content in the salt throughout the entire season. For treated rock salt, the moisture content set out by the NWSRG should be less than 4% to ensure consistency of salt application, SWISCo will complete and record checks on the moisture content weekly or after receipt of a new delivery of salt. This may be varied by agreement with the Highways Group where consistency of results can be demonstrated. 
The NWSRG states that should the moisture content be less than optimum, the following procedures should be followed.
Effect of salt moisture content on spreading
Wettest (>4.5%)
Review spread rates and increase to account for lesser distribution (increase spread rates)
Consider partitioning wetter salt away from dry
Consider mixing dry and wet salt (batch testing)
Wet (<4.5%)
Review spread rates and increase to account for lesser distribution (increase spread rates)
Optimum
Dry
Assume higher losses after spreading (excessive high speed traffic and wind will cause salt to be lost at a higher rate)
Salt Testing 
The appropriate Materials Laboratory will test the deliveries providing analysis to the Highways Group.
Salt Bins
Salt Bins are provided to allow self-help by road users and their provision will ease the pressures on our resources.
Salt bins will be sited at strategic locations with an emphasis on thematically mapped colder areas. The bins should be placed so as to be visible to the community and where they can be accessed as safely as possible. Placing bins adjacent to the Primary or Secondary salting networks will assist the travelling public in accessing the salt during icy weather.
Dependent upon location, the material used maybe salt, grit or a combination of both. 'Shaugh grit' has been used successfully. The restocking of salt bins is the responsibility of SWISCo.
Requests for salt bins on the public highway from the public will be considered and actioned if deemed appropriate at the discretion of the Highways Group.
The Highways Group will place requests for new or replacement grit bins through the Term Maintenance Contractor, SWISCo

.
Ice/snow detection
The correct prediction of ice and snow is a key factor in allowing efficient winter maintenance services in that it minimises the extent of abortive salting works whilst keeping the network as safe as possible. Torbay has invested considerable effort in providing the means for accurate prediction so that appropriate winter actions are taken. The facilities available for this process are given below:
Ice Detection Outstation
Torbay has a weather outstation at Gallows Gate (Tyre Compton) comprising combinations of the following sensors:
Road surface temperature.
Road depth temperature (forecast sites).
Air temperature.
Wind speed.
Wind direction.
Relative humidity.
Non invasive laser road surface temperature
CCTV camera
All ice detection equipment is our property. 
It is important for the integrity of the system that all sensor faults are reported to the Highway's Group. Repairs are to be put in hand as soon as possible with the outstation maintenance contractor who is also responsible for the calibration of the sensors prior to October each year. 
If any maintenance works are being undertaken on lengths of carriageways containing sensors, the Highway Group should be consulted one month prior to the works. Arrangements will then be
made, if necessary, for the temporary removal of the sensor. It follows, therefore, that maintenance personnel should be aware of the sensor location.
Winter Forecast - October to April
During the period from the beginning of the first week of October to the end of the second week of April inclusive (this period may be extended), we receive the main road forecast each day issued between 12:30 and 13:30 hours with updates to defined criteria. The forecast will predict any ice formation or snowfall at the forecast site with a full forecast for the following 24 hours presented in graphical and tabular form. 
The question of forecast updates has been addressed in the contract specification and the forecaster is aware of the need to update forecasts in marginal conditions when their monitoring of sites indicates divergence from the conditions forecast. The Highway Group will consult with the forecaster when required.
Meteorological Terminology 
    The freezing of wet road surfaces: 
In most cases, the road will have become wet because of rain which fell when the air temperature was above freezing point. The road may also become wet by a heavy deposit of dew or from a wet fog, by the melting of hoar frost which may have formed during the previous night or by melting snow. A subsequent fall in the temperature of the road surface, usually due to radiation of heat to a clear night sky, causes the water film remaining on the surface to freeze. The difference between the rates of fall of temperature for various road materials due to differences in their thermal properties are small and significant differences in the ice formation on various surfaces arise only in marginal cases. 
A heavy deposit of hoar frost: 
Sometimes a deposit of dew precedes this. With little traffic the surface is not very slippery, but heavy traffic, causing the partial melting and packing of the ice crystals eventually produces a treacherous surface if the temperature is near to the freezing point. 
The freezing of deposited moisture on a cold, dry road surface: 
Where there is a sudden change in the weather, from a relatively long period with temperature below the freezing point to one where the temperature is at or little above the freezing point and the humidity high, then the water, which condenses on the cold road surface, may freeze. This condition is most severe when the onset of the warmer conditions is accompanied by drizzle. It does not occur frequently, about once every two winters on average, but it leads to treacherous road conditions because freezing takes place from below and the ice layer will have a lubricating film of water on its surface. 
Rime Ice: 
Excessive hoar frost due to high humidity. 
Freezing Rain: 
Caused by the freezing of supercooled droplets on impact with the cold road surfaces, this is an infrequent occurrence in the British Isles. 
Snow Amounts 
Slight: Undisturbed accumulations of snow reaching a depth of less than 15mm  Moderate: +15mm. Heavy: Over 100mm.
Winter Service Management System
Torbay currently operates a weather management system in conjunction with Meteogroup and Vaisala.
Winter Service Decisions on Actions
Decisions will be determined on a route by route basis, to avoid unnecessary general action, by consideration of the forecast and other data contained within the Icenet computer system (available to the Highway Group) and through consultation with the Forecaster. 
To help in interpretation of the weather information, training courses are available provided by the forecast provider and requests for details can be made through the Service Manager (Highways).
The decision maker will take into account the following table when calling actions:
Winter service decisions on actions
Road surface temperature
Precipitation
Wet conditions predicted
Wet patches predicted
Dry conditions predicted
May fall below 1°c

No rain
No hoar frost
No fog

Salt before frost
Salt before frost (see note a)
No action likely, monitor weather (see note a)
Expected to fall below 1°c

No rain
No hoar frost
No fog

Salt before frost
Salt before frost (see note a)
No action likely, monitor weather (see note a)
Expected to fall below 1°c

Expected hoar frost
Expected frost

Salt before frost
Salt before frost (see note b)
Salt before frost (see note b)
Expected to fall below 1°c

Expected rain before freezing

Salt after rain stops (see note c)
Salt after rain stops (see note c)
Salt after rain stops (see note c)
Expected to fall below 1°c

Expected rain during freezing

Salt before frost, as required during rain and after rain stops (see note d)
Salt before frost, as required during rain and after rain stops (see note d)
Salt before frost, as required during rain and after rain stops (see note d)
Expected to fall below 1°c

Possible rain
Possible hoar frost
Possible fog

Salt before frost
Salt before frost
Monitor weather conditions
Expected snow
N/A
Salt before snow
Salt before snow
Salt before snow
Action/operational procedures
The importance of good communication is stressed in this section to allow a speedy and effective response to winter conditions.
Action/operational procedures are given on the following pages. 
For precautionary salting operations, the Highways Group will be in control, operating either from home, local Depots or the Group Centre. It will not normally be necessary to man the Highway Group office outside normal working hours.
Action that may be ordered by the Highways Group
No Action - When freezing is not expected, the Highways Group will monitor temperatures and liaise with the forecaster as necessary calling the nominated emergency contacts if conditions deteriorate.
Early Morning Inspection - Where conditions are to be assessed in the morning before confirming action. If action is required the contractor should be informed by 5.30 am wherever possible. EMI's should be carried out by the Highways Team from vans. 
Salt Wet Spots - By Contracting Division's lorry driver, where specific action is proposed to treat wet/icy patches. 
Pre-Salt - When freezing is expected a time for action will be provided for the contractor to check with the Highways Group prior to commencing the salt run. This will enable action to be cancelled if conditions have changed. 
In the event of widespread ice or snow, and the necessity for prolonged operations, the Highway Group Office should be manned to include as necessary a representative from the Transportation and Security Group. Necessary Highway Group staff will attend the Group Offices as required to maintain liaison and Inter-Authority co-ordination with the emergency services, Senior Officers and Aspen Way. 
During the first few hours following a heavy snowfall, Streetscene Inspectors must take the initiative in reporting conditions to the Service Manager or his Deputy. Whenever the Group Office is manned, it will assume responsibility for obtaining and relaying frequent weather reports from the forecast provider. The Service Manager or his deputy will compile and prepare situation reports for onward transmission to the Police, the Media and other external Organisations through the Press Office.
The Main Functions of the Highway Group
To co-ordinate the efforts of the contractor on the clearance of through routes and the interchange of plant. 
To collect the information necessary to report on conditions, or liaise with: 

The Police: It has been agreed that a Senior Police Officer will be available if requested by the Group Manager. It is important to agree on the advice to be given to road users on routes threatened with closure; in addition the police have a large number of radio-equipped vehicles constantly in touch with their own Control. In a winter emergency it may be possible to use the Police Helicopter. Although the helicopter is based at Middlemoor, requests for consideration of its use and availability in the event of an emergency should be directed through the Communications Room at Middlemoor. 
The Emergency Services: They may request snow plough/gritter escort in addition to more general information. Emergency vehicles are normally radio equipped, and will seek assistance through their own Control.
The Broadcasting Media and Press: The Service Manager will deal with all enquiries from the Media and Press, through the Press Office.
Devon County Council: Information and Control Room, manned 24 hours/day.
Motoring Organisations: Both the AA and RAC have a small number of radio-equipped vehicles in the County, which relay information to their respective headquarters.
Other Council Departments: The Strategic Director for Children's Services may wish to issue a statement for broadcast on local radio about school attendance. The Director of Social Services and Emergency Planning Officer also needs up-to-date information.
Bus Companies: As with the Children's Services Directorate, they may want to prepare an announcement for local radio if any services are likely to be affected.
All reports from outside organisations should be verified through the Highway Group before relaying them to anyone else. 
It is vital that the available telephone lines at the Highway Group Offices do not become jammed. All authorities and organisations on the circulation list have these numbers, but they must NOT be given wider publicity. This applies equally to the ex-directory lines, and those issued to this Department by other organisations. 
It is important to remember that the Highway Group will be the best-informed organisation in the Council to enable clear messages to be given to the travelling public in particular, when advising home-to-work journeys. Another point to stress is that roads are blocked as often by immobilised vehicles as by snow, and these usually have more effect on clearance operations than the snow itself. 
As soon as it is apparent that Highway Group manning may be required, a briefing will be arranged for all staff likely to be involved and a rota prepared.
Communication of Winter Maintenance Action
Action Guidelines 
Decisions on action to be taken on receipt of forecasts will be made by a member of the staff approved for making such decisions as identified on the following Forecasting Process diagram.
If staff undertaking EMIs or other winter service inspections require clarification as to appropriate action, they should contact the officer responsible for the forecast decision. The need for liaison between neighbouring Authorities is paramount.
Forecast Decision Process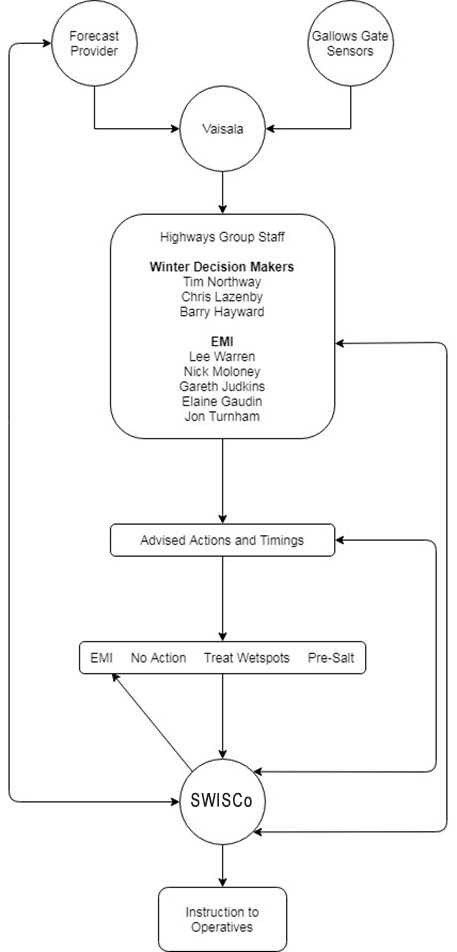 Contact Rotas 
Contact names are given in Section 13 of this document. The Control and Information Room at Aspen Way needs to be given lists of contacts both in and out of hours, by the Highways Group. 
Christmas, New Year and Easter Arrangements 
In order to share the duties over Christmas, New Year and Easter, Highways Group will provide a rota of personnel who may be contacted. This information is collated and sent out to all relevant parties. Weekend procedures apply to this period. 
The Control and Information Room acts as Torbay's operation centre for routine winter service and for relaying messages to and from the Highways Group.
Ice/snow treatment
With both ice and snow, pre-treatment is by far the most effective course of action. However, to avoid overreaction, use is made of the technology available to ensure that wherever possible action taken is appropriate to conditions actually occurring.
Dealing with Ice 
Appendix H of Well Maintained Highways recognises the existence of open or negatively textured surface course materials and raises awareness of the possibility of these materials requiring a higher spread rate of salt. Torbay Council has used SMA on sections of its gritted network since the late 1990s and has experimented with increasing the spread rate of salt to cover the possibility of faster freezing conditions or slower reaction of the salt solution. This was in line with
changing best practice as SMA became more widely used. Torbay's experience has shown that there is no discernible difference in the formation or melting of frost/ice or snow over any other type of surfacing material with either matching or increased salt spreading rates. For this reason, Torbay Council will treat all surfacing materials at the same spread rate. 
Appendix H, while still applicable to Winter Services is due to be reviewed and replaced by October 2018 by the Well Managed Highway Infrastructure.  
Salting - Rates of Spread 
The following table gives the typical rate of spread of salt that should be used, against road status when freezing conditions are expected.
Rates of spread

| Frost or forecast frost road surface temperature (RST) | Road surface wetness | Spread rate g/m2 |
| --- | --- | --- |
| RST at or above -2°c | Dry or damp road conditions | 10 |
| RST at or above -2°c | Wet road conditions | 10 |
| RST below -2°c and above -5°c | Dry or damp road conditions | 10 |
| RST below -2°c and above -5°c | Wet road conditions | 20 |
| RST below -5°c and above -10°c | Dry or damp road conditions | 20 |
| RST below -5°c and above -10°c | Wet road conditions | 2 x 20 |
Salting off the Salting Network
Roads not included upon the Primary or Secondary Networks will be considered for gritting action upon completion of the removal of snow / ice from the designated networks.
These routes will be considered by the duty Winter Decision Maker and will be checked by an experienced officer before treatment.
Level Crossings
Highway Authorities have a statutory duty under Section 41 (1A) and Section 150 of the Highways Act 1980 to remove obstructions and as reasonably practicable, ensure safe passage is not endangered by snow or ice. Snow is considered to be an obstruction when impeding use of the road network. 
In response to 2018's weather events, a series of 'Snow Resilient Routes' were formulated to provide the authority the ability to divert necessary resources and equipment to a pre-determined set of routes that aren't part of the standard treatment routes. These routes are to be called only in times of emergencies and will allow the authority to keep vital routes open and aid in the recovery of the rest of the network.
How Snow can impact the network
Snow can impact the network in many ways, and can have a lasting effect based on the type of snow that is falling. Sleet can invariably freeze due to the high quantity of liquid water, a sudden drop in temperature can create large areas of sheet ice if not pre-treated adequately. Snow is categorised as 
Dry
Normal
Wet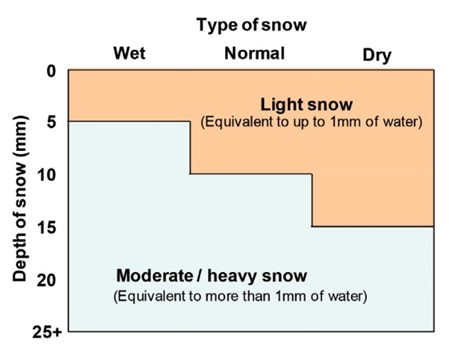 Preparing for a snow event
When snow is forecast, adequate treatments should already have been applied, at minimum, to the primary network and as reasonably practicable, the secondary network should have been treated. The minimum de-bonding treatment for a snow event for dry salt is 40g per sq/m, which equates to two full treatments of 20g per sq/m. Two treatments will ensure that we have given adequate time for the salt to be trafficked and can successfully de-bond any snow or ice. 
Once treatment has been finished, it should be considered to station the treatment vehicles on the predesigned snow resilient routes to aid the flow of traffic and keep traffic moving.
Winter Decision Maker's Role
During extended periods of Ice and Snow, the Winter Decision Maker will be required to monitor the weather, create updates for the general public/SLT and to make informed decisions on the current state of the network. For this to be achieved successfully and safely, the decision maker and EMI officers should have access to an appropriate all wheel drive vehicle, to ensure they can safely traverse icy areas of the highway. 
Where sustained treatment is required, SWISCo may request the presence of the duty Winter Decision Maker to make informed decisions on the state of the highway and procedures of treatment.
Ploughing 
Ploughing should be undertaken where snow has reached a sufficient depth. Carriageways should be treated with a minimum of 20g per m2 before snowfall, this treatment will aid in de-bonding the snow from the surface. Ploughing should be conducted at 20mm above road level. 
Special equipment should be fitted to ploughs should "ploughing down to the road surface" be considered. Ploughing down to the road surface will remove almost all of the lying snow and minimise the amount of de-icer required for subsequent treatments. Ploughing in this manner should be considered, where possible, taking into account the following 
Condition of the Road; will the surface be affected by lowered ploughing levels?
Level of impact caused by snow; does it require ploughing?
Possible infrastructure damaged by low-level ploughing?
Emergency Situations regarding Snow 
Emergency Situations will be considered where conditions are such that the Network is at sufficient risk of being lost due to extraordinary weather. The on-duty Winter Decision Maker will decide if and when to enact the emergency procedure, which will enable the authority to switch to pre-determined resilient routes and instruction. This instruction will be date/time logged by the on duty decision maker, and the instruction will be verbally passed to SWISCo Control and/or a duty SWISCo officer. 
Emergency Exemption and Temporary Relaxation of Driver' Hours and Working Time will be authorised by GOLD Control and members of the Senior Leadership Team, details for this situation and applicable exemptions can be found on GOV.UK. 
Instruction Logs 
Instruction logs should be kept by both the contractor and the on-duty Winter Decision Maker regarding decisions or changes to routes. These logs can be kept as either audio files, emails or as a spreadsheet and will be collected in a post-event report which will be published. 
Severe Weather Warnings 
The Highways Group will be informed of snow conditions by the forecast provider who will issue severe weather warnings if any sizeable falls are expected (Severe weather warnings are detailed in section 11). The warnings will be faxed to the Control and Information Room at Aspen Way out of hours and to the Highways Group during office hours. 
It is impractical to spread sufficient salt to melt more than very thin layers of snow and ice Ploughing is the only economical, efficient, effective and environmentally acceptable way to deal with all but light snow 
When snow is forecast, ploughs and snow blowers should be prepared and positions in order that snow clearance can start without delay as and when required. 
To facilitate the breakup and dispersal of ice and snow by trafficking, treatments must be made before snowfall or freezing rain. This ensures that there is de-icer present on the surface to provide a debonding layer.
A guide on clearing snow under varying conditions

| Snow condition | Salting Network | Other Routes |
| --- | --- | --- |
| Slight, expected less than 15mm | Presalt at 1 x 20 and 1x 20g/m² or 30g/m² minimum | No action |
| Moderate/heavy expected 15mm+ | Presalt at 2 x 20g/m² minimum Plough when snow depth is over 50mm and treat as escribed in (3) to (9) | When plant is available, treat as salting network Grit when snow is packed hard |
| Freezing rain forecast | 3 x 20g/m² | When plant is available, treat as salting network |
Action to be taken upon receipt of snow warning 
On receipt of snow warning the following procedure should be carried out:
Pre-salt the salting network immediately prior to snow falling to prevent snow settling on the road surface in accordance with the above table.
Fix ploughs to all vehicles if significant accumulations or drifting is expected.
Start ploughing as soon as snow becomes deep enough to plough, i.e., approximately 50mm in depth on Local roads and 30mm on Torbay Ring Road.
For longer periods of sustained snow, a 50/50 Salt/Sharp Sand mix should be considered for treatment after ploughing.
As snow melts under the action of salt, keep ploughs moving to remove slush.
On Local roads, if snow has become compacted and the temperature is low (-5ºC or below) neat salt must not be used, as it will accumulate in the form of salt solution in depressions and produce a very uneven and slippery running surface. In these circumstances spreading of grit is advised
Grit may be used on hard packed snow and also may be used with salt in the proportion of 2 parts grit to 1 part salt. Grit is not required on uncompacted snow as the action of salt will cause the snow to melt allowing the slush to be removed easily by ploughs
Very low temperatures do not usually follow immediately after a snow fall and it is therefore very important to apply salt early, plough early, salt again and get the resultant slush off the road before compaction by traffic
Resilient Network 1, 2, 3 and 4 
The Resilient Network routes were designed in response to the 2018 season weather events. In the event of heavy snow, the duty Winter Decision maker will instruct the contractor undertaking the treatment to fall back to the predetermined Resilient Routes. While assigning resources to treat the resilient routes has no predetermined criteria, the Winter Decision maker will decide which routes are to be treated. 
The routes are listed in the appendix.
Snow Clearance Priority 
The network should be cleared in the following priority order:
Resilient Routes 1, 2, 3 and 4
Primary Network R,B,G, and Y 3. Secondary Salting Network 0
Highways to other important locations, schools shopping areas bus routes commencing after 08.00
Primary Footway Network and Cycle ways.
Secondary Footway Network
Residential roads.
Footways
Two Footway Networks exist; the Primary Route is access to schools in the thematically colder areas of Torbay. The Secondary network includes shopping areas and thematically warmer access areas to schools. It is most likely that the footway routes will be gritted only during times of severe ice/snow as they will be attended to following completion of the carriageway Primary and Secondary networks. These routes will not as a matter of course be pre salted due to the commitments of resources undertaking higher priority gritting.
Standard Terminology for Reporting Road Status
The Police and Torbay Council have a coding system for describing the status of routes affected by snow. This coding system will also be used by us to avoid confusion. The following codes are for operational use and all come under the classification "Impassable" when reporting to the public, the Media or other external Organisations:
Coding system abbreviations

| Abbreviation | Description |
| --- | --- |
| INBC | Impassable, not being cleared |
| IBC | Impassable, being cleared |
| EMV/4WD | Emergency vehicles and 4 wheeled drive only |
| PNAP | Passable, not available to the public |
The following codes are not for external use:
Coding system abbreviations not for external use

| Abbreviation | Description |
| --- | --- |
| SLO | Slow lane only / No overtaking |
| PEC | Passable with Extreme Care, Snow still present over road length |
| CC | Clear with Care, isolated areas of snow |
| RC | Road Closed |
Post-Snow Emergency Action 
The following work shall be undertaken after a snow emergency:
Clear gullies and outlets where necessary.
Sweep grit from carriageways and footways as soon as possible.
Thoroughly wash down all vehicles and lubricate gritting equipment.
Check all equipment and repair or replace all worn parts on snow ploughs.
The Salt/grit stock levels to be replenished where necessary.
Inspect roads for frost damage and carry out any remedial works necessary to make the carriageway safe.
Inspect bridges and culverts liable to flooding - ensure that they are clear of debris.
Carry out a survey of badly affected locations (within 7 days) reporting to the Highway Service Manager including a generalised assessment of other frost/snow/flood damage.
Sign defects where appropriate, ensuring "flood" boards and other relevant signs are available.
The Highways Group to evaluate overall performance, recommending changes to procedures to be incorporated into this plan

.
Effectiveness of action
In the Torbay region, the cost of non-effective winter maintenance treatment can be considerable. Therefore several factors, which have an effect on costs or public safety, are monitored. 
Forecasts 
The forecasts received from the forecaster dictate, to a large extent, the action that is proposed. Accuracy is therefore of prime importance to prevent any possible abortive work and hence mean errors, standard deviations and whether frosts were successfully forecast are all monitored. Through the forecast service Torbay take up significant errors with the forecaster. 
Action Taken/Actual Conditions 
This will be monitored to measure the extent of abortive work or dangerous road conditions. 
Response/Treatment Times 
The Highway Group will consider SWISCo's performance to ensure that response and treatment times are being met, so that conditions are as safe as is reasonably possible for highway users. 
Salt Usage 
A check of actual salt use should be made, by the measure of salt stocks at the end of winter, monitored against salt operations ordered.
Financial Monitoring 
Maintenance expenditure is to be monitored and will be compared to Actions Taken.
Highway emergencies
Definition of Emergencies 
Other than winter service, emergency operations are described as:
Response to road traffic accidents and action as required.
Response to and removal of obstructions, debris and spillages on the Highway.
Making safe/dealing with failures in the Highway (broken covers etc.)
Response to flooding emergencies.
Necessary works to facilitate a, b, c, and d as ordered by the Highway Group.
Notification of Emergencies 
When emergencies which are reported to the Control and Information Room (CIR Aspen Way) occur, the Highway Group will be informed. After investigation of the incident the CIR will be informed of the current situation and when the highway is clear. 
Nominated Emergency Contacts
The Service Manager will provide the Control and Information Room with a cascade of nominated emergency contacts. They will be contacted by the Control and Information Room when emergency situations arise. 
In addition the Control and Information Room have procedures which list those officers and senior managers who are to be contacted in the event of serious incidents and which organisations (Police, Environment Agency etc.) are to be contacted. 
During a prolonged snow emergency a Police Liaison officer will be requested to attend the Highway Group Offices at the Town Hall. 
Highway Inspection during Emergencies 
When emergencies are not limited to localised areas an inspection of all major routes (as given by the salting network) and other known trouble spots will be made so that necessary clearance work/signing can be organised in priority order and the Control and Information Room informed of major incidents. 
Co-operation with Adjacent Authorities 
Liaison between adjoining authorities is necessary in order that mutual assistance can be arranged, the following arrangements have been agreed:
Street Scene Inspectors will liaise with their adjoining Local Service Officers in Devon County Council.
When snow is a problem on the main routes Street Scene Inspectors are required to liaise with border colleagues to assist with clearance after their own roads are passable with care. The telephone numbers of Local Authorities/ Local Service Officers can be found in the contacts section.
Flooding Emergencies 
Flooding on the public highway is managed by the Highways Group. Where public sewers are surcharging or blocked this is reported to South West Water for their attention. 
The Council has adopted a policy of not issuing sandbags to the public on request when flooding is predicted. However, the public are able to purchase sandbags from the SWISCO at Aspen Way Depot. Sales can take place during normal working hours except when resources are fully committed during emergency conditions. It is the house holders responsibility to protect his / her property from the effects of flooding. 
Resources Deployed 
During emergencies information on resources deployed in terms of men, plant and cost will be required by the Highways Group. 
Severe Weather and Motoring warnings 
These warnings, issued by the Meteorological Office, will often be warnings of conditions that will give rise to emergency situations. The definitions of the warnings are stated in 10, Weather Warnings.
Weather warning
Meteorological Office - Severe Weather Warning Service 
The Meteorological Office issue Severe Weather Warnings with the following thresholds as guidance:
Early warnings and Flash Messages 
Gales

Severe gales - gusts of 70 mph or more.
Severe gales/storms - gusts of 80 mph or more.

Snow

Heavy snow - snow falling at a rate of approx 2cm/hour or more expected for at least two hours.
Blizzards/drifting - moderate or heavy snow accompanied by winds of 30 m.p.h. or more with visibility reduced to 200 metres or less, giving rise to similar conditions.
Very heavy snowfall - expected to give depths of 30 cm or more potentially
Blizzards or drifting - resulting in widespread dislocation of communications

Heavy rain - heavy rain expected to persist for at least two hours and to give at least 15 mm within a three hour period.
Dense fog - Visibility generally less than 50 m.
Glazed frost / widespread - Generally occurs when rain freezes on contact with road surfaces.
Notes 
Early Warnings and Flash Messages of severe weather are issued for severe gales, heavy snow and heavy rain.
Flash Messages only are issued for dense fog and glazed frost/widespread icy roads.
Early Warnings and Emergency Flash Messages of exceptionally severe weather are issued for severe gales/storms and very heavy snowfall, blizzards or drifting.
The conditions used as guidance for the issue of Motoring Weather Warnings are:
Strong winds with gusts of 45 mph or more.
Snow
Heavy rain, i.e. falling at a rate of more than 4mm/hour.
Fog with visibility less than 200 metres.
Icy roads. 
Likely damage and advice used in weather warnings
50 mph gusts - Difficult driving conditions for high-sided vehicles, especially on exposed roads or bridges.
60 mph gusts - Difficult driving conditions: un-laden high-sided vehicles at risk of being overturned. Some damage to trees, e.g. Falling branches.
70 mph gusts - Hazardous driving conditions: un-laden high sided vehicles at risk of being overturned and motorists advised to drive with particular care. Damage to trees, e.g., Falling branches, with some being uprooted. Minor damage to some buildings, particularly to tiles, slates, and chimneys.
80 mph gusts - Dangerous driving conditions: high-sided vehicles at risk of being overturned and motorists advised to avoid driving if possible. Considerable damage to trees with significant tree uprooting. Extensive.
90 mph gusts - Driving extremely dangerous. Widespread uprooting of trees. Widespread damage to buildings with potential for severe structural damage. Public advised not to venture out of doors unless really necessary.
Snow Warnings
Snow - Difficult driving conditions.
Heavy snow - Dangerous driving conditions. Motorists advised to avoid driving.
Blizzards - Driving extremely dangerous. Some roads likely to become impassable.
Other Warnings                                       
Heavy rain, fog - Difficult driving conditions. or icy roads 
Heavy rain, dense - Dangerous driving conditions. motorists advised to use extra care.
Fog or widespread - Icy roads/glazed frost
Wind
Beaufort Scale of Wind (at height of 10m above open flat ground)

| Wind Force | Wind Speed mph | Wind Speed knots | Wind Speed km/h | Description | Specification for use at sea |
| --- | --- | --- | --- | --- | --- |
| 0 | 0-1 | 0-1 | 0-1 | Calm | N/A |
| 1 | 1-3 | 1-3 | 1-5 | Light air | Ripples with the appearance of scales are formed, but without foam crests |
| 2 | 4-7 | 4-6 | 6-11 | Light breeze | Small wavelets, still short, but more pronounced. Crests have a glassy appearance. |
| 3 | 8-12 | 7-10 | 12-19 | Gentle breeze | Large wavelets. Crests begin to break. Foam of glassy appearance. Perhaps scattered. |
| 4 | 13-18 | 11-16 | 20-28 | Moderate breeze | Small waves, coming larger; fairly frequent white horses. |
| 5 | 19-24 | 17-21 | 29-38 | Fresh breeze | Moderate waves, taking a more pronounced, longer form; many whites horses are formed. Chance of some spray. |
| 6 | 25-31 | 22-27 | 39-49 | Strong breeze | Larges waves begin to form; the white foam crests are more extensive everywhere. Probably some spray. |
| 7 | 32-38 | 28-33 | 50-61 | Near gale | Sea heaps up and white foam from breaking waves begins to be blown in streaks along the direction of wind. |
| 8 | 39-46 | 34-40 | 62-74 | Gale | Moderately high waves of greater length, edges of crests begin to break into spindrift. The foam is blown in well-marked streaks. |
| 9 | 47-54 | 41-47 | 75-88 | Severe gale | High waves. Dense streaks of foam along the direction of wind. Crests of waves begin to topple, tumble and roll over. |
| 10 | 55-63 | 48-55 | 89-102 | Storm | Very high waves with long overhanging crests. This resulting foam, in great patches, is blown in dense white streaks along the direction of wind. The whole surface of the sea takes on a white appearance. The 'tumbling' of the sea becomes more immense and shock-like. Visibility affected. |
| 11 | 64-72 | 56-63 | 103-117 | Violent storm | Exceptionally high waves (small and medium size ships might be, for a time, lost to view behind the waves). The surface is covered with long white patches of foam lying along the direction of the wind. Everywhere, the edges of the wave crests are being blown into froth. Visibility affected. |
| 12 | 73-83 | 64-71 | 118-113 | Hurricane | The air is filled with foam and spray. Sea completely white with driving spray; visibility very seriously affected. |
Environment Agency flood warnings 
The Environment Agency issues flood warnings for fluvial and coastal flooding. 
Flood Warning Codes 
The flood warning system consists of the following codes, with the following meanings: 
Flood Alert - Flooding possible. Be aware! Be prepared! Watch out!
Flood Warning - Flooding expected affecting homes, businesses and main roads. Act now!
Severe Flood Warning - Severe flooding expected. Imminent danger to life and property. Act now!
All Clear - An all clear will be issued when flood alerts or warnings are no longer in force
Fluvial Flooding 
As there are no main rivers in Torbay, and flooding cannot be accurately predicted on ordinary or critical ordinary watercourses, the Environment Agency can only issue Flood Alert messages for the Torbay Area. 
Tidal Flooding 
The Environment Agency will issue tidal flood warnings related to Highest Astronomical Tides (HATs) and forecast weather conditions. These may relate to the south Devon coast in general, or specifically to areas of the coastline exposed to easterly conditions including Torbay. 
Distribution of Warnings 
Meteorological Office Early warnings and flash messages, and Environment Agency flood warnings, are faxed direct to the Control Room at Aspen Way. 
As part of the Environment Department's response to severe weather conditions, faxes are forwarded to the following:  
Torbay Council and SWISCo
Early and flash warnings, flood warnings
Principal Engineer - Highways Maintenance (Winter Decision Maker)
Network Coordinator - Highways Maintenance (Winter Decision Maker)
Asset Improvement Officer - Highways Maintenance (Winter Decision Maker)
Service Manager - Drainage
Senior Arboriculture Officer
Harbour Masters and Duty Harbour Master
Emergency Planning Officer
Media and Communications
Lead and Deputy Leader of the Council
Executive Member - Environment Managing Director
Director of Corporate Governance
Assistant Managing Director
Director of Finance
Director of Human resources
Director of Environment Services
Assistant Director - Operational Services
Director of Social Services
Assistant Director - Housing
Community Alarm Service
Strategic Director for Children's Services
TDA
Chairman - South Devon Chamber of Commerce
Contractor's role 
The contractor involved in the Winter Service must fully understand the role to be performed. This document has already stressed the importance of pre-winter season meetings, plant calibration and other issues affecting the contractor. 
The following details the main responsibilities of the contractor. 
SWISCo
SWISCo is our term maintenance contractor who is required to provide the work force to carry out winter service and emergency operations. Some of the parameters which guide their role are given below, but reference should be made to the JVC contract specification where the level of service and responsibility required is stated. 
Contract Specification 
The contract encompasses all activities necessary to secure the free passage and safety of persons using the highway network in Torbay. SWISCo have provided a commitment that they will have sufficient resources available to attend all winter service call outs on the salting network and emergencies within the required response times and that these will take precedence over other highway works. The Contract covers emergencies and winter service and defines the general work requirements. 
Verbal or written instruction from the Service Manager or his deputy who will maintain a 24hour communications channel.
SWISCo respond to the winter service or emergency call out.
SWISCo report works complete to the Maintenance Group or to the Information Room. A login time is to be stated.
Trained Operatives
Under the contract specification, SWISCo must provide a sufficient number of trained operatives to carry out continuous shift work during snow or other emergencies, on the salting network. From April 1994 it has been a requirement that all drivers salting, gritting and or ploughing on the roads controlled by the Highways Agency must be trained and successfully assessed in accordance with City and Guilds 6157 and registered with the local Government Management Board. The Training Centre at Notter Bridge has been accredited as able to provide this training and assessment. From October 1999 all operatives working on Torbay's Roads have required the qualification and registration.
Appendix 1 - Treated Network
Appendix 2 - Communication of Winter Maintenance Action
Forecast is received on PC between 1230 and 1330 hours.
Actions taken
Weekday - Maintenance Team recommends action, and timing of action, by 1500.
Weekend - Maintenance Team contact provides recommended actions and timing of action, for each route to the contractor by 1500 hours.
The Maintenance Team monitors conditions/forecast updates and informs the contractor of significant changes which may affect actions.
Planned Action / Client
EMI Monitoring will be undertaken by the Highways Group with particular reference to precipitation.
Highways Group contact checks conditions prior to the start action by the contractor or the EMI.
Amending the contractor's action by verbal instruction as necessary.
EMI's will be undertaken along agreed routes
Following a client EMI the Inspectors will confirm the result of the inspection to the contractor and instruct them if any action is required.
Maintenance Team monitor road conditions
If road temperatures drop below +0.5 degrees C (or are dropping rapidly to +0.5 degrees C)
Is there adequate residual salt? Yes or No
Is the sensor showing monitor absorption or wet frost and/or is conditions/precipitation shown on the weather report? Yes or No

No - The Highways Group to monitor conditions and call the contractor if there is reason for concern. e.g. hoar frost.
Yes - The Highways Group to order an emergency treatment of necessary roads

.
Appendix 3 - Snow Resilient Routes
Route 1

| Road Name | Town | Section | Notes |
| --- | --- | --- | --- |
| Borough Road | Paignton | Whole Section | Provide access to Borough Road Depot |
| Brixham Road | Paignton | Between Tweenaway Cross to Borough Road | |
| Hamelin Way | Torquay | Northbound and Southbound | Incline up and down |
| Hellevoesluis Way | Torquay | Northbound and Southbound | |
| Kings Ash Road | Paignton | Whole Section | |
| Newton Road | Torquay | From Riviera Way to Junction of Shiphay Lane | |
| Newton Road | Torquay | From Riviera Way to Fire Station | Provide access to Fire services |
| Riviera Way | Torquay | Whole Length | Includes Slip Roads. |
| South Devon Highway | Torquay | Slip Roads to Boundary | |
| Totnes Road | Paignton | Between Tweenaway Cross to Borough Road Exit | Provide access to Borough Road Depot |
Route 2

| Road Name | Town | Section | Notes |
| --- | --- | --- | --- |
| Castle Circus | Torquay | Whole Length | Provide access to Council Offices |
| Lymington Road | Torquay | Whole Length | Provide access to Council Offices |
| South Devon Highway | Torquay | Slip Roads to Boundary | Provide access to Police Services |
| Trematon Avenue | Torquay | Whole Length | Provide access to Council Offices |
| Upton Road | Torquay | From Newton Road to Lymington | |
Route 3

| Road Name | Town | Section |
| --- | --- | --- |
| Brixham Road | Paignton | From Borough Road to Windy Corner |
| Dartmouth Road | Brixham | From Windy Corner to New Road |
| Dartmouth Road | Paignton | From Windy Corner to Broadsands |
| New Road | Brixham | Whole Length |
| Totnes Road | Paignton | From Tweenaway Cross to Winner Street |
Route 4

| Road Name | Town | Section |
| --- | --- | --- |
| Avenue Road | Torquay | Whole Length |
| Dartmouth Road | Paignton | Broadsands Road to Whitestone Road |
| Esplanade Road | Paignton | Whole Length |
| Kings Drive | Torquay | Whole Length |
| Marine Drive | Paignton | Whole Length |
| Sands Road | Paignton | Whole Length |
| Torbay Road | Paignton/Torquay | Marine Drive to Kings Drive Junction |
Last updated: October 2021
---