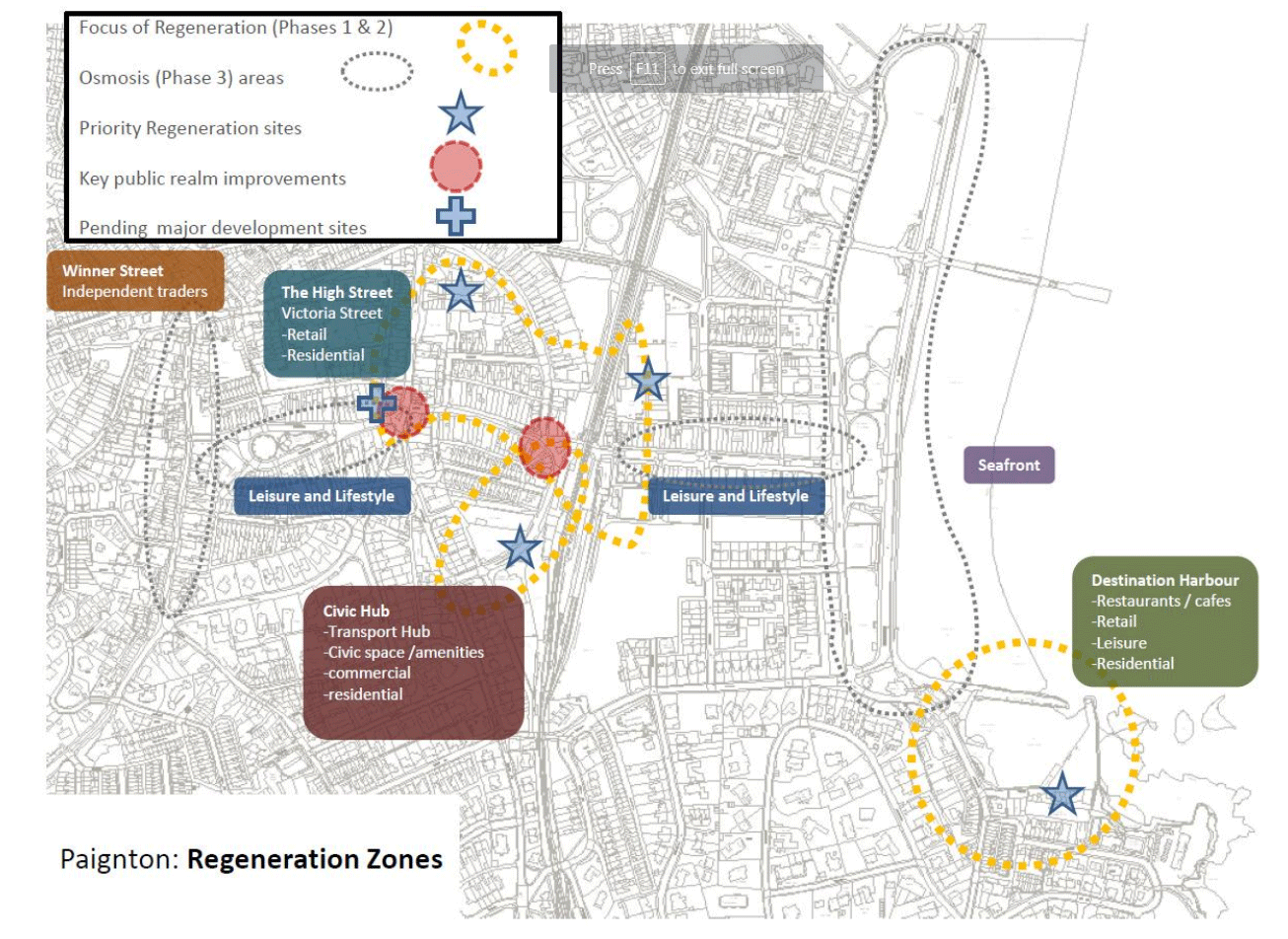 As with other coastal towns, Paignton town centre is on the critical list and suffers from a significant lack of investment. Whilst there are signs, over the last 12 months, of improvements in Paignton's economic performance it is falling behind other places in relative terms. 
This is why we have submitted a bid for more than £15 million to the Government's Future High Streets Fund for the regeneration of Paignton town centre. 
The Expression of Interest (EoI) focuses on a defined area, where investment is most needed: 
Core area: improving the vibrancy and experience of the core area of Torbay Road, Victoria St, Paignton Station Square as the town's focal point.
Key opportunities: where delivery is essential to drive growth that complements the core area and wider town centre transformation.
The EoI identifies five shovel ready schemes, that could be delivered quickly, including public realm improvements to Paignton Station Square, improvements to Paignton Station, delivery of new homes at Victoria Centre, digital marketing training for independent businesses, and repairs to Paignton Picture House.
Proposals for the core area include residential use of underused and vacant space over commercial premises, greater diversity of commercial space in the town centre, improvements to building frontages and, for example, the canopies along Torbay Road, and public space improvements.
The key opportunities identified in the EoI include:
Victoria Centre
Paignton Picture House
a new health and wellbeing hub
Crossways
the bus station
The EoI sets out that, if awarded, this Government funding will not only deliver change, but generate confidence and momentum for regeneration in Paignton Town Centre. It is expected this funding will attract a further £24.5 million of investment from other investors into the town. 
We have a transformation strategy in place, but are unable to deliver it at pace unless we can attract more investment and funding. Paignton urgently needs significant investment, not just to deliver specific regeneration projects but also to generate investor and developer confidence.
That level of investment, coupled with successful delivery, will deliver:
around 800 homes
around 800 jobs
reduce crime levels
higher productivity and skills levels
improved health and reduced care costs
less benefit dependency, inequality and disadvantage
better connectivity and reduced severance within the town
a more balanced demographic
increased business rates and Council tax
greater resilience to change
more business start-ups, business success and young entrepreneurs
an improved cultural and tourism offer.
This EoI has been supported by 20 regional and local organisations and local MPs including the Heart of the South West LEP and Torbay Road Traders Association.
The announcement of who has been successful in being awarded this funding will take place towards the end of the summer. If successful, we will then need to produce business cases for all projects and activities, either before end December 2019 or by Spring 2020.
You can find out more about the bid in the Future High Streets press release or by reading the funding bid summary. For more information on the plans for regenerating town centres across Torbay visit the Invest in Torbay website. 
Further information is also available:
FAQs
The way we shop and the way we use our town centres is changing - rapidly. New technology has changed the way people use their high streets, which has changed the nature of what makes a high street successful. High streets and town centres have to evolve.
In response, and based on advice from people such as Bill Grimsey and Sir John Timpson, the Government published the Future High Street Fund (FHSF) in December 2018 to support and fund high street and town centre regeneration. Local authorities were invited to submit initial Expressions of Interest (EoI) for funding by March 22 2019.
Paignton has historically relied on a flourishing retail and tourist industry. If our bid is successful, the funding will support town centre regeneration and will ensure a dramatic improvement in people's experience of the town. The quality of retail will be improved, more people will live and work in the town centre, and perceptions of the town centre will improve. Paignton's culture, history and uniqueness will be at the forefront of its success. The fund will enhance the vitality of the town centre and attract further investment.
Paignton town centre has faced the same issues as high streets up and down the country, especially coastal towns. However, although we have a robust transformation strategy for Torbay's town centres, which is starting to achieve success, Paignton has struggled to gain significant investor and developer confidence. This bid represents a real opportunity to create change.
Without investment and growth, Paignton will continue to fall behind other towns, in terms of economic performance. At present, it has low levels of productivity, serious levels of disadvantage and inequality, a significant decline in the number of shoppers, health deprivation, increasing crime levels and a lack of diversity. These, and other factors, limit Paignton's ability to fulfil its great potential.
The overall strategy for the regeneration of Paignton Town Centre covers much of the town, seafront and harbour. However, the Future High Streets Fund asks for bids to support investment where it is most needed. Our application will seek investment for the regeneration of Torbay Road, Victoria Street and Paignton Station Square, improving visitor's experience and bringing vibrancy to the town centre, and unlocking further investment opportunities.
In short, the Paignton community as a whole. Local residents will see their town centre improve and grow. There will be more business support to help promote the place and retail offer, and an increase in residential space.
Improved public space within the town centre will have a number of benefits. It will improve property values and encourage investment, it will ensure that visitors to Paignton will have a better experience, increasing the footfall and spend that flows in to the town centre, creating a community that is vibrant and resilient to change.
There will be two rounds of the fund, both with a two-phase application process. Phase One is the Expression of Interest (EoI) stage. We submitted our bid before the deadline of March 22 2019. The EoIs will be considered by a reviewing panel who will make their assessment based on the need for funding, the nature of the challenge and the vision for the future of the town centre.
If successful, local authorities will receive some revenue funding to work up their project proposals for Phase Two. Final capital funding decisions will be based on the submitted project plans and supporting business cases, which need to be completed by end December 2019 or Spring 2020.
We, alongside the TDA, utilised the support and resource of local stakeholders including MPs, Paignton Chamber of Commerce, the Paignton Town and Preston Community Partnership, Torbay Business Forum and Heart of the South West LEP, to produce the EoI.
Twenty letters, from a range of organisations, were received in support of our EoI. Our thanks go to all those who provided that support.
If the EoI is successful, the council, residents and businesses, as well as our local organisations, are in a good position to establish a partnership with Government to deliver real change in Paignton town centre.
Yes, the transformative Future High Street funding, and associated co-funding, will deliver approximately 800 jobs, but it will also deliver so much more by increasing productivity and skill levels. Better connectivity will reduce severance in the town centre providing a greater opportunity to establish more business start-ups, which will encourage a younger demographic to visit and settle in the area.
Further information regarding the Future High Street Funding initiative, and other associated documents, can be found at:
---