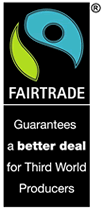 In September 2004, a group of like-minded people set up the first Fairtrade Steering Group for Torbay. Their aim was to raise awareness and support for Fairtrade, and to help Torbay achieve Fairtrade Borough status, which is awarded by the Fairtrade Foundation to areas that have made a significant commitment to supporting Fairtrade.
Torbay achieved Fairtrade Status in February 2007 thanks to residents, businesses, schools, local groups/organisations and our support.
In order to achieve Fairtrade status, Torbay continues to meet the following 5 goals:
Our resolution supporting Fairtrade and serving Fairtrade tea and coffee where possible
A range of at least two Fairtrade products are readily available in the area's shops and local cafes/establishments
Fairtrade products are used by an appropriate number of work places
Attract media coverage and popular support for the campaign
A local Steering Group is convened to ensure progress and continued commitment to the campaign
The Steering Group will continue its efforts to increase support for Fairtrade, and ensure that Torbay retains its Fairtrade Borough status in the future.
Some of the focus areas for the future are:
To work with schools in Torbay to raise awareness of Fairtrade
To expand the range of Fairtrade products that are available in local shops, cafes and restaurants.
To encourage more local businesses to offer Fairtrade options to their staff and visitors
To encourage local hotels and guesthouses to offer Fairtrade options to their guests
For further information on the Torbay Fairtrade Campaign please contact us via Fairtrade.
---