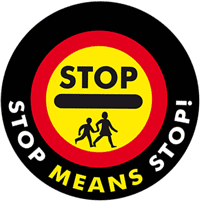 School crossing patrols ('Lollipop' men and ladies) are employed by SWISCo to help children and other pedestrians cross the road safely whilst they are walking to and from school. 
Requesting a new crossing
School crossing patrols are not a statutory requirement. However, if you think that a road would benefit from a crossing send us details of the name of the road which pupils find difficult to cross and the point on the road where the majority attempt to cross. we will then look at establishing the site subject to funding agreed by the school. This service operates at full cost recovery.
Becoming a lollipop man or lollipop lady
We have the following vacancies for school crossing patrols. If you are interested in being part of this worthwhile service please contact us. 
Starting wage of £10.59 per hour

Full training and ongoing support

Clearance from the Disclosure and Barring Service (formerly CRB) is required, which we will pay for.
Current vacancies

| School | Site Location | Morning Patrol | Afternoon Patrol |
| --- | --- | --- | --- |
| Cockington Primary | Avenue Road, Torquay | 8:20am to 9:05am | 3:05pm to 3:35pm |
| Homelands Primary | Westhill Road, Torquay | 8:30am to 9am | 3pm to 3:30pm |
| Ilsham C of E Academy | Ilsham Road, Torquay | 8:20am to 9:15am | 2:40pm to 3:15pm |
| Kings Ash Academy | Smallcombe Road, Paignton | 8:15am to 9am | 2:45pm to 3:30pm |
| Shiphay Learning Academy | Exehill, Torquay | 8:20am to 9:15am | 2:50pm to 3:45pm |
Reserve school crossing patrols are wanted to cover various sites across Torbay; please contact us for further information.
10336
School Crossing Patrols
The job description and person specification for School Crossing Patrols in Torbay.
Applications
To apply download and complete an application form and email it to highways@torbay.gov.uk.
35278,54703
Swisco Application Form
Swisco Application For Employment
Information on school crossing patrols
The responsibility for ensuring children are safe when walking between home and school always rests with parents, even where school crossing patrols are employed. Please remember that a patrol might be absent at short notice. A reserve might be able to cover the duty but it is not always possible.
You can help the patrol by:
teaching your child to wait on the pavement and follow instructions
teaching your child to cross in front of the patrol
making sure your child behaves sensibly and does not distract the patrol
setting a good example yourself.
Sites are kept under periodic review and may be closed following consultation and reasonable notice if they are no longer considered to be justified (for example, following the installation of a light-controlled crossing).
School crossing patrols can help anyone across the road, as long as they are at a designated site and operating at the approved times. Pedestrians are asked to follow these simple rules when crossing with a patrol:
Stand well back while waiting to cross the road.
Do not follow the patrol into the road - wait for the patrol's instructions to cross the road.
Cross in front of the patrol.
Never play or run near a patrol.
Cyclists should also always dismount before crossing the road. 
Please give our school crossing patrols consideration and assistance. They are there to help vulnerable children and other pedestrians to use our roads safely in all weathers. Please remember to:
park well away from the crossing site, so that the patrol can see clearly in all directions
reduce speed and be prepared to stop
obey instructions
stop your vehicle when asked to do so and do not roll forward
wait until the patrol has returned to the pavement before moving off.
School Crossing Patrols need consideration from motorists so they are able to carry out their duties in helping people in all weathers to cross our roads safely.
It is an offence not to stop when signalled to do so by a school crossing patrol. When you see the patrol reduce your speed and be prepared to stop, stop a safe distance away from the patrol, do not let your vehicle roll forward and do not move off until the patrol has returned to the pavement after people have finished crossing.
If you do not stop you are breaking the law and the patrol can report you which could mean you face the following possible penalties:
a fine of up to £1000

three penalty points

disqualification
---