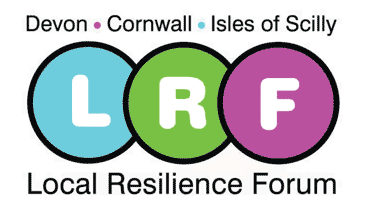 We are a member of the Devon, Cornwall and Isles of Scilly Local Resilience Forum Opens in a new window. The Local Resilience Forum (LRF) is a multi-agency partnership made up of representatives from the emergency services, local authorities, the NHS, the Environment Agency and other partners. These agencies are known as Category 1 Responders, as defined by the Civil Contingencies Act 2004 Opens in a new window.
The LRF is also supported by organisations, known as Category 2 responders, such as the Highways Agency and the public utility companies who have a responsibility to co-operate with Category 1 organisations and to share relevant information with the LRF. We also work with wider partners such as the Military and Voluntary Sector.
The purpose of the LRF is to establish and maintain effective multi-agency arrangements to respond to major emergencies, to minimise the impact of those emergencies on the public, property and environment, and to satisfy fully the requirements of the Civil Contingencies Act 2004 Opens in a new window.
Our membership and contribution to the Local Resilience Forum, enables us to satisfy two statutory duties that relate to partnership working, which are to:
Share information with other local responders to enhance co-ordination;
Co-operate with other local responders to enhance co-ordination and efficiency
Community risk register
The LRF must assess the risks to our communities and present this information within a Community Risk Register. This information has been published and is available for residents, visitors and businesses on the Community Risk Register Opens in a new window.
Risk Assessment provides an accurate and shared understanding of risk and ensures that the development of multi-agency plans is appropriate and proportionate to the risks.
Multi-agency emergency plans
The LRF maintains a 'Combined Agency Emergency Response Plan (CAERP)' which acts as the overarching protocol by which all emergencies, within this LRF area, are managed. It is also intended to summarise the response and responsibilities of organisations at a major incident and outlines how the responding organisations will work collectively for the overall benefit of the public.
The LRF also produces and maintains specific multi-agency emergency plans to mitigate high risks such as flooding and pandemic influenza.
Training and exercising
The LRF has a three year training and exercising programme to enhance its emergency preparedness capability and ensure that plans have been tested and that staff are trained to respond to an emergency.
---
Contact Emergency Planning