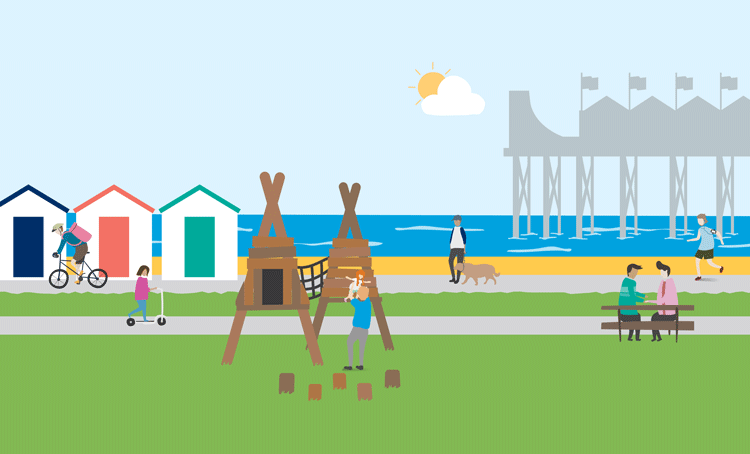 We want to hear your views on the next steps for improving the seafront areas in Paignton.
We paused the proposed sea defence scheme last year following feedback that you wanted to be more involved in how the scheme will look, work and benefit you as a resident.
We have now commissioned independent design consultancy LDA Design to carry out these next steps.
LDA Design takes a holistic, inclusive approach to flood defence using the need to improve the infrastructure. They also reinvigorate places for residents and visitors by improving accessibility and active travel options. Their designs create safer, welcoming and more playful, nature-rich landscapes. Some of LDA's recent transformational seafront projects include Littlehampton in West Sussex, Blackpool, Southsea, and Mumbles in Swansea Bay.
Paignton's wonderful coastline brings people to the area, but it is under threat from rising sea levels. LDA Design will explore the type of sea defences that are right to protect the town from flooding. LDA will be engaging with residents and will be producing proposals and options as to how to improve the open spaces around both seafronts.
There are three phases to this consultation and we are encouraging anyone who uses or visits either or both Paignton and Preston seafronts to get involved, especially those whose properties have been flooded.
A range of workshops and focus groups are taking place. Ways to get involved include:
Councillor Mike Morey, Cabinet Member for Infrastructure, Environment and Culture, said: "Last year we listened to the feedback and put a stop to our original plans for the sea defence scheme. I am now glad to say that we have LDA Design on board. They will work with our residents and us to develop a once in a lifetime plan to improve these seafronts and protect Paignton.
"This first phase is a great opportunity for you to let us know what you like and don't like about the seafronts. I urge anyone who uses these areas, or live or has a business nearby, to look online or attend one of the engagement events. Please help us shape something that can keep Paignton safe from flooding in the future."
Sophie Thompson, a director at LDA Design, said: "The public have a real opportunity to decide what their future protected seafront will look like. These views will shape our designs, so we want to hear from as many people as possible.
"The work that needs to go ahead is critical to reducing flood risk and protecting the coastline, homes and businesses, but it is also a fantastic opportunity to reinvigorate Paignton and Preston's shared open spaces so that more people can enjoy them. What's so exciting about our work here is that transforming the public realm will guide our decision making on the most suitable flood defence design – it is so often the other way around."
---