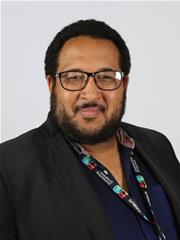 Party: Liberal Democrat
Ward: Ellacombe
Other councillors representing this Ward:
More information about this councillor
Surgery details
Due to the Covid 19 restrictions Cllr Atiya-Alla will be not be holding surgeries in Market Street. Cllr Atiya-Alla will only hold limited face to face visits if its in open air and social distancing is adhered to.
In the the first instance please email or call Cllr Atiya-Alla, Zoom meetings can be arranged too.


Contact information
Correspondence address:
Torbay Council
Town Hall
Castle Circus
Torquay
TQ1 3DR
Email: jermaine.atiya-alla@torbay.gov.uk
Mobile: 07747 725165
Download Councillor Jermaine Atiya-Alla contact details as VCard
Responsibilities
Committee appointments
Term of Office
Appointments to outside bodies
---
Contact Governance Support
Tel: 01803 207087
Fax: 01803 207112
Torbay Council
Town Hall
Castle Circus
Torquay
TQ1 3DR