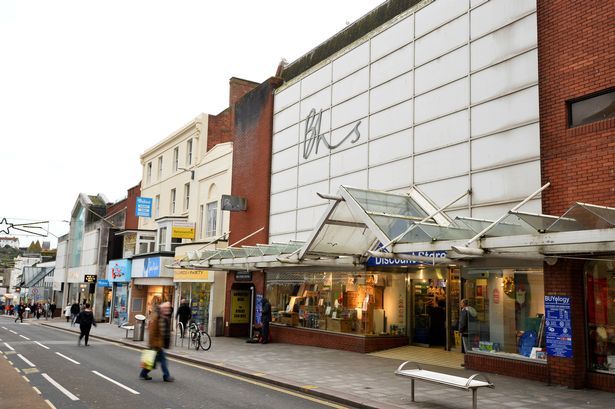 Torbay Council's proposals for the regeneration of Torquay Town Centre have received a huge boost, as national cinema operator Merlin have just concluded a rapid deal to buy the former BHS building.
Merlin will, during 2019, be converting the building to a multi-screen cinema, initially offering six screens of varying capacities, a format they operate with success throughout the South West.
Merlin currently own and manage the Central Cinema on Abbey Road. A move onto the High Street will consolidate and improve Merlin's offer to Torquay and the wider South Devon catchment area. They presently operate 15 cinemas in mainly coastal and rural locations but predominantly in the South West.
Geoff Greaves, owner of Merlin Cinemas, said: "We're really excited by this opportunity. We moved quickly to acquire the building in mid-November and are now pushing forward at a pace to get planning permission, start work on site and open an exciting new multi-screen cinema. We operate a very successful format throughout the group and expect to bring around 300,000 visitors a year to the High Street, which will also be a great boost to local businesses.
"We are also looking forward to working closely with Torbay Council to bring about this transitional development. Together with a re-development of our Central Cinema building, we very much see this as a catalyst to assist and support the Council in their wider ambitions for the regeneration of this area. We try to put back into and be part of every community within which we operate."
Torbay's Elected Mayor, Gordon Oliver, said: "This is extremely welcome news. It is exactly what the Council and the Government wants to see in terms of our future high streets. Changes in retail habitats, such as the growth of on-line shopping, have presented opportunities in all three town centres in Torbay.
"The Council continues to be very proactive, in investing itself and encouraging investment by others, in changing Torbay's town centres. This is resulting in real change on the ground, such as the investment by Merlin and the delivery of a new hotel, offices and restaurants by THAT Group at Torwood Street. There are more projects in the pipeline, utilising Council assets and the Council's prudential borrowing ability, including a new hotel, new homes, new commercial space and public space improvements - all of which will help transform Torbay's town centres."
Pat Steward, Town Centre Regeneration Programme Director, said: "The Council's strategy to transform this part of Torquay town centre, from Market Street to the Town Hall, looks to move away from a retail focus to a much more diverse set of uses including residential, health and leisure. Use of the former BHS building as a cinema fits really well with the Council's ambitions and will help bring new life to the top end of the high street.
"TDA was asked by the Council to investigate purchase of the former BHS building and tenants to occupy it; in doing so we spoke to Merlin, who became very interested in purchasing the building, and moved at lightning speed to conclude a deal. TDA has done what it can to support that purchase and will continue to support Merlin moving forwards. Merlin's operation will support local businesses and the wider economy, it will boost footfall, spend, confidence, re-development and investment in Torquay Town Centre.
"We will be making a bid for £25M of Future High Streets funding, announced by the Government in the autumn, to support our strategy of further changes in Torbay's town centres. We will be using projects such as Merlin's investment in BHS as good reason for Government funding."
---