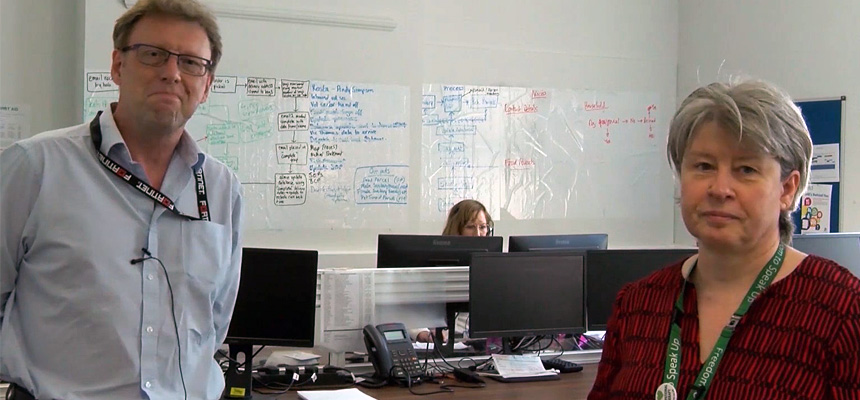 This article was first issued by Torbay and South Devon NHS Foundation Trust
A joint NHS and local authority team supporting vulnerable people during the pandemic have been thanked by the Chief Executives of Torbay and South Devon NHS Foundation Trust and Torbay Council.
The work of the Shielding Hub has rocketed since it was set up more than a month ago in response to the Covid-19 pandemic.
Initially, 3,400 people were identified by the NHS as vulnerable and needing extra support while following advice to 'shield' at home for 12 weeks.  Essential supplies, wellbeing checks and healthy lifestyle advice have been given.
However, this support has increased as the hub has been in contact with more people in need. The call centre has made more than 8,000 calls in about a month, with over 5,800 people now on the database.
Led by us and supported by Torbay and South Devon NHS Foundation Trust's Healthy Lifestyles team, the hub is staffed by call handlers and people distributing food and PPE.
Liz Davenport, Trust Chief Executive, was joined by Council Chief Executive Steve Parrock in visiting the team at work in Torquay Town Hall.  She said: "The Shielding Team has been doing a fantastic job since the beginning of the lock down supporting the more vulnerable people of our communities and those who have been advised to stay in their homes to protect themselves during the pandemic. Even though they are a relatively small team made up off Council and Trust staff they have made over 8,000 calls in only a short period of time, which is amazing.
"I am especially proud of the important role the Trust's Healthy Lifestyles team is playing in supporting Torbay Council in this vital public health partnership, to ensure that people are not only safe and have food and supplies but also staying physically and emotionally well during this very challenging time."
Steve Parrock, Chief Executive of Torbay Council, said: "It was great to welcome Liz to the Town Hall to see the shielding hub in action and to be able to showcase the excellent partnership working between the Council and the local NHS."
Staff from our Adult Social Care, Customer Services and Trust Lifestyles teams have proactively been calling extra vulnerable residents about issues including exercise, mental health, benefits advice, eating and drinking regularly.
Lynne, Senior Health Coach for the Trust's Lifestyles Team, said: "It has certainly been an interesting few weeks, working alongside other colleagues and organisations. It has also highlighted the variation in people's situations within our community. Some sounded very upbeat and well equipped to deal with this period of isolation, having family and social networks in place along with comfortable home and garden spaces. Others though are managing in far more challenging circumstances. It has at times been very humbling."
"Our team are skilled at making contact and developing rapport with clients but this is very different. Making calls all day every day is mentally exhausting. Hats off to people who do this kind of work permanently!"
Steve Darling, Leader of Torbay Council, said: "We were very pleased to welcome Liz Davenport and Steve Parrock to the Torbay Shielding Hub at Torquay Town Hall.
"It's a fantastic joint project which Torbay Council leads on and supported by Torbay and South Devon NHS Trust, and we are very proud of the work that goes on there to support our most vulnerable local residents.
"The Shielding Hub is an excellent example of partnership working and demonstrates that when times are tough, Torbay pulls together."
Positive feedback from residents includes the following comments through call-handlers:
'The person at the end of the phone was the most helpful, kindest person that she has ever spoken to.'
She was very stressed at the time and her husband was very ill. They didn't know they would get any help.
'Irene contacted us and told us we were entitled to a food parcel. It would help us so much having the food parcels and registering with priority status.'
'Our caller was empathetic - she put herself in their shoes. It was like an angel calling through. She stayed on the phone helping us.'
'Life would be a lot harder without you all here, thank you for your support.'
'You are doing an amazing job and thank you for this service.'
'Can't believe what a brilliant job … are doing as a service.'
'Absolutely thrilled that someone has called them twice as this has really cheered them up. It is so lovely to know that someone is thinking and caring about them. Wanted to say a big thank you.'
Everyone is looking after them and it has made them feel they are not left on the scrap heap. A super place to be in, their mind is in a good place and they are making the most of their home space.'
More information and support
If you are on the extremely vulnerable shielded list and have had a letter, or you are looking after someone who is, this should be registered on the UK website 
Although Torbay Shielding Hub primarily role is to contact the extra vulnerable identified by the NHS, if you think you fit into this category but have not been identified, you can call the hub on 01803 208200 but you should also speak to your GP.
For general support on accessing services, Torbay Council call centre main number to contact is 01803 207201.
A Torbay Coronavirus Help Hub has also been set up to help people who are isolating with non-emergency matters - 01803 446 022 (8am to 8pm). Brixham Does Care can be contacted on 01803 857 727 (Mon-Fri 9am to 4:30pm). Anyone interested in volunteering to help can also contact these numbers. An online helpline form is available
Find out more about coronavirus and local services available on our coronaviruspages
---