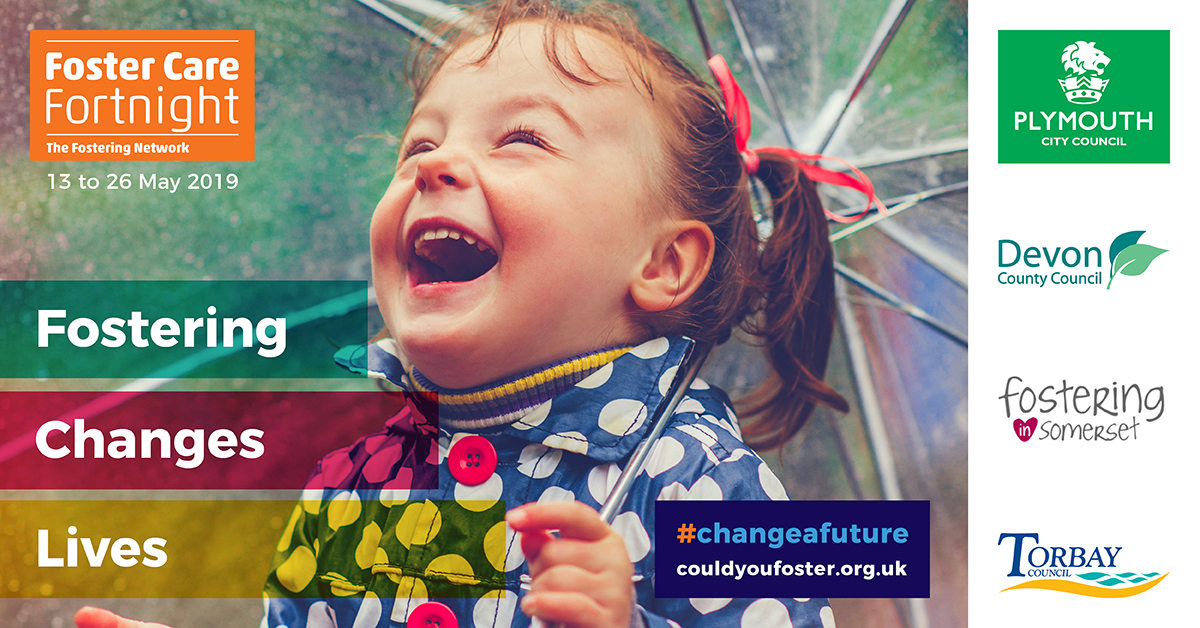 Could you provide a loving home for someone who needs fostering?
Councils across Devon are working together on a mission to find people with time, energy, motivation and a spare bedroom who are able to care for some of Devon's most vulnerable children and young people as part of this year's Foster Care Fortnight campaign (13 -26 May).
Foster Care Fortnight is a national campaign which raises the profile of fostering and encourages more people to consider this rewarding career.
Nationally, 9,070 new foster families are needed in the next 12 months alone to care for a range of children, with the greatest need being for foster carers for older children, sibling groups, disabled children and unaccompanied asylum seeking children.
The overarching theme of Foster Care Fortnight 2019 is 'change a future'. The theme reflects the fact that foster care doesn't just transform the lives of the young people who are fostered; it also has the power to change the lives of foster carers, their families and all those who are involved in fostering.
Fostering can be for as little as a few weeks or a few months until a child is able to return home to their family or longer term until a child grows up and is able to move on to independence.
Foster carers can be:
Single or couples
with or without children
retired, unemployed or working.
What matters most is that potential carers have time, space, commitment, patience, a caring nature and skills to work with children and their families.
"Fostering is immensely rewarding," said Plymouth based Foster Carer Rosemary Kinder.
"You can have difficult days. Many children who come into care find it difficult to trust and have confidence in the adults around them. As a carer you help promote self- confidence by sharing your life, home and providing opportunities and experiences that hopefully enable each child to reach their full potential.
"You have so much support from the local authority. It's not like you are left on your own to deal with things, there is always someone there to help, 24 hours a day.
"But you have to go in with your eyes open; there are some very difficult times but being a foster carer is amazingly rewarding."
Rosemary is encouraging anyone in Devon who is passionate about providing support for children and young people to contact their local council and discuss the possibility of becoming a foster carer.
Sarah, a foster carer with Devon County Council, said: "Fostering has had a huge impact on our lives. We've had so much joy out of doing it, and so much joy out of welcoming children into our home. I would recommend the support that we have had from the local authority, looking after us, giving us the training we need, and they are there for the children."
Dan, a foster carer with Torbay Council said: "Fostering is a journey for you and the children. Everyday you can see the impact for the better that you are having on their lives, and it is such a rewarding feeling. I would say to anyone who is thinking of fostering, just do it! It really is one of the most amazing things you could do."
Andrea Powell, Service Manager for Family Placement at Plymouth City Council, said: "There are still many myths about who can foster but all that really matters is that carers have the time, commitment, space and personal qualities to offer a secure and stable home to a child or children who have been separated from their birth family. We all know that a childhood is too short to waste and we're looking for people who can open their home and heart to a child who has had a difficult start in life and to help them to reach their potential."

Full training and support is given to foster carers, who are matched to one or more of the different foster care schemes, depending on what suits their lifestyles and commitments. Carers are also paid an allowance and receive a competitive fostering fee. Training and support is an ongoing commitment to all foster carers.

Fostering in Plymouth
Anybody interested in finding out more about Fostering for Plymouth can contact the fostering team on 01752 308762 or visit www.fosterforplymouth.co.uk
Fostering in Devon
Call 0345 155 1077, email foster@devon.gov.uk or visit https://www.fosteringindevon.org.uk/
Fostering in Torbay
Call 01803 207857 or visit http://torbay.gov.uk/fostering
---