Sports-mad Mason is looking forward to buying a new football with the prize money he won after dreaming up a name for our new young people's feedback service.
Mason, 11, was the lucky winner of a competition to choose a name for the new service, which gives children and young people the opportunity to let us know what they think of the support offered by Children's Services.
We received more than 60 entries to the contest, but it was Mason's suggestion Point of You which our judging panel named the winner.
Point of You will allow us to hear what children and young people think about the help and support we provide so we can improve where needed.
They can email, meet in person, call, or complete an online form to share their thoughts and feelings about matters that are important to them.
Overseen by our Participation Officers, there is no set agenda and it's a safe space for them to be open and honest about the services and support we provide. 
In choosing the winner, we consulted with 128 young people, including our Young Person Panel and local schools.
Chelsea fan Mason won an Amazon voucher after receiving 41 per cent of the votes. He also gets a giant board with the Point of View logo on.
He said: "The idea came from thinking of synonyms for the word 'feedback'. I love the logo and how my idea has been brought to life. I especially love that I'm able to take home a copy of the logo blown up on a board for my bedroom wall."
Councillor Nick Bye, Cabinet Member for Children's Services, said: "Well done to Mason for thinking up such a catchy name! We get lots of feedback from adults about our services but it's important to remember we support thousands of children and young people across Torbay and their views are important to us.
"This new Point of You service will ensure they have a voice – whether that's by emailing us, texting us, filling in an online or paper form or meeting us face to face. We want to hear the good, the bad and anything in between so we can make services better for our young people."
The Point of You online form also includes a version for children with special educational needs and disabilities.
How you can get in touch with Point of You:
Fill in the Point of You online form
Fill in the Point of You online form (SEND version)
Text, call, or WhatsApp our Participation Officers:
Katie Harris 07785 934 552
Sophie de Sousa 07500 608 141
Email: pointofyou@torbay.gov.uk
Read more about Point of You on the Family Hubs website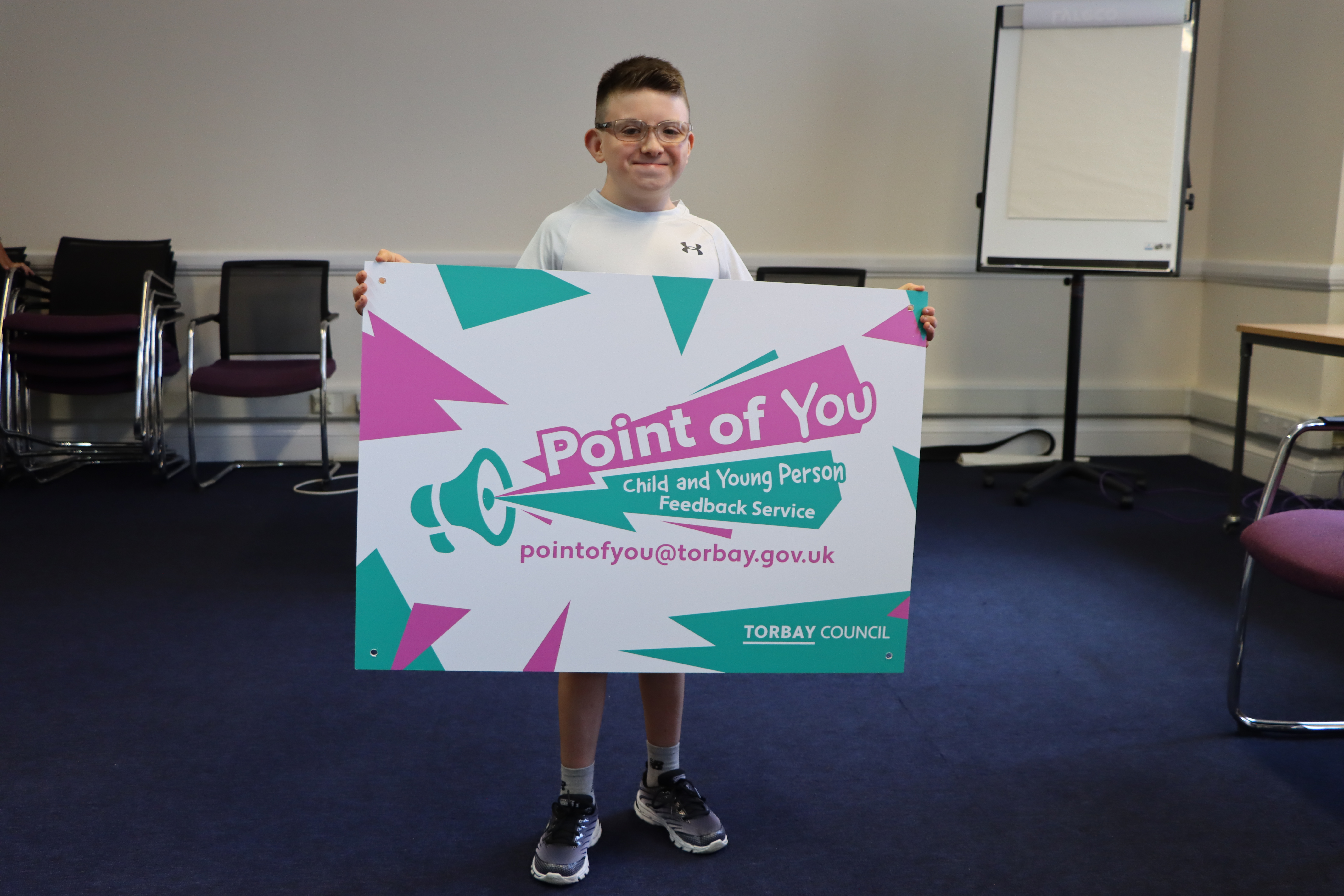 ---