Thank you to Torbay residents for all your efforts to recycle correctly by getting the right stuff in the right box – but watch out, there's a Naughty Christmas Elf on the loose!
You can follow the Naughty Elf's escapades, as well as finding out lots of useful information on waste and recycling including opening times, collection dates, and what to put in each box, on the Torbay Council Facebook and Twitter accounts over the next few weeks, and search for #TorbayRecycles.
Since the Right Stuff, Right Box campaign was launched in the summer by Torbay Council and SWISCo, more people across the Bay are sorting their recycling correctly in the Bay. This means waste and recycling collection rounds are completed more quickly, there is better quality of recycling and this also means crews are able to complete more rounds on time.
As part of the Council's commitment to increase recycling and reduce Torbay's carbon footprint, residents were sent a new blue bag for paper along with orange and green stickers for recycling boxes, a letter and information leaflet, to make it easier for people to recycle. The aim is to increase recycling rate to 50% and in addition to this, the Council and SWISCo have launched a new garden waste collection service that you can sign up to for £50 per year.
But a Naughty Christmas Elf is out to sabotage people's recycling efforts – don't help the elf mess up your recycling, get the right stuff in the right box!
Steve Darling, Leader of Torbay Council, said: "We're always looking at ways we can make it easier for residents to recycle more and with Christmas coming up this is more important than ever with all the packaging for presents and extra food.
"Thank you once again to all of you who are recycling correctly by getting the right stuff in the right box – unlike the Naughty Elf!"
Councillor Mike Morey, Cabinet Member for Infrastructure, Environment and Culture, said: "We'll be sharing lots of useful tips in the run up to Christmas for how you can reduce, reuse, and recycle your waste over the festive period."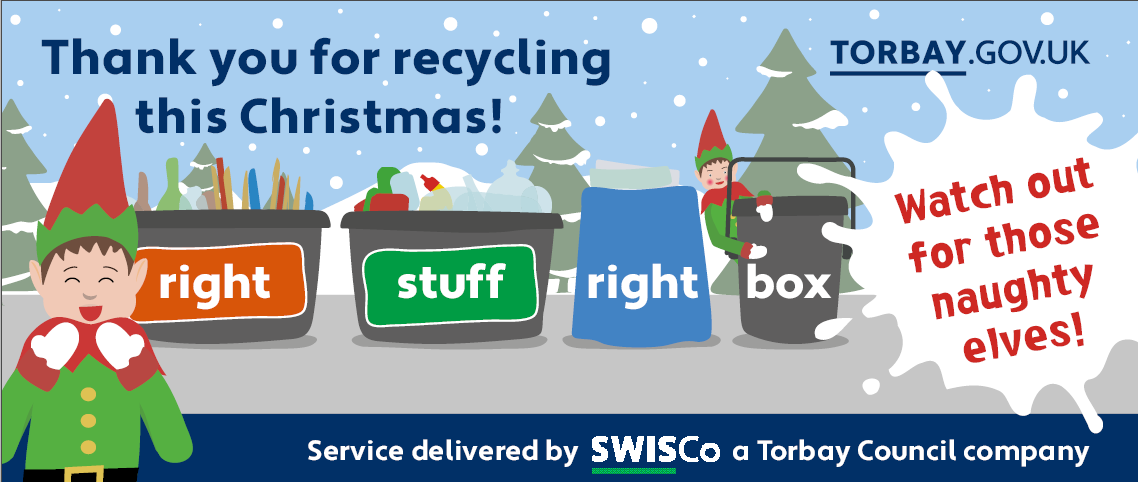 More information on recycling
---