The English Riviera UNESCO Global Geopark has launched both a new Environmental Policy and Marine User Policy on the back of declaring a Climate Emergency. Geopark Partners and Associate Partners met down at Goodrington Sands on Earth Day (April 22) to mark the occasion, ahead of a beach clean organised by Reach Outdoors.
The Geopark is already committed to supporting the 17 UNESCO Sustainable Development Goals and Torbay Council's commitment to create a Carbon Neutral Torbay by 2030. The climate and ecological emergencies were now so high on the agenda for all of us, that a more formal policy was imperative. Following close collaboration and consultation with a number of local partner organisations, the new Environmental Policy and Marine User policy were created.
The Environmental Policy will enable the Geopark, as well as its partners and visitors to lead by example, reduce environmental impacts, enhance and protect the environment, ecology and geology of our naturally inspiring bay. It provides a framework built upon the UNESCO sustainable development goals for how we can tackle climate change locally, empowering staff, partners and visitors to help address the climate and ecological emergency.  
With more than a third of English Riviera Global Geopark being underwater and with the sheltered limestone and sandstone cliffs and shores being home to some of the key Geopark sites, the introduction of a Marine Use Policy is vital to help protect our internationally recognised geology and exceptional array of species who live in, or close to our waters.
The policy is again aimed at educating partners and other users on appropriate ways to enjoy and use the marine environment which doesn't damage the fragile ecosystem and wildlife and promotes safe and respectful use of the bay's waters. The policy will enable Geopark partners to lead by example and reduce environmental impacts, whilst also introducing reporting mechanisms for misuse.   
Nick Powe, Geopark Chairman said: "In line with the UNESCO Sustainable Development Goals, the English Riviera UNESCO Global Geopark's ethos has always been to care for our incredible green and blue spaces. With the climate and ecological emergencies now so high on the agenda these important new policies will ensure the Geopark and all its partners across Torbay can align to their ways of working to support these aims. "
Councillor Mike Morey, Cabinet member for Infrastructure, Environment and Culture at Torbay Council: "It was wonderful to see so many Geopark partners and associate partners down at Goodrington to mark Earth Day and the launch of the new policies. The English Riviera UNESCO Global Geopark unites many local businesses and organisations who are all passionate about our beautiful natural environment and the future of our planet. United, we can definitely make a difference."   
Councillor Jermaine Atiya-Alla, the Torbay Council Climate Change Champion said: "Torbay Council declared a climate emergency in 2019 and is working with the local community to make Torbay carbon neutral by 2030. We have committed £1 million to tackle climate change through the Carbon Neutral Action Plan and it is fantastic to see the English Riviera UNESCO Global Geopark aligning with these ambitions to protect our natural heritage."

Pictured: The group at the launch of the new Environmental and Marine User Policies are pictured with the crab mascot from the Crab Line Recycling Scheme, which is a project organised by the 365 Sea Swim Challenge CIC.
Photo credit: Sofia Berardino, Groundwork South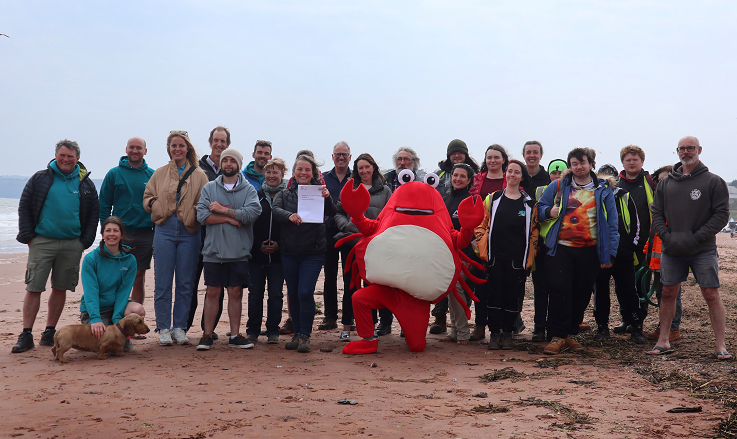 ---