A partnership project between us and Devon Air Ambulance has established a new 'community landing site' at Steps Cross Park in Watcombe, Torquay.
The site at Steps Cross Park is now operational following the recent installation of floodlighting which is remotely activated using mobile phone technology prior to Devon Air Ambulance arriving by helicopter at night. Once the incident has been dealt with, the lighting is deactivated using the same 'dial up' method and this unique approach means no one needs to be on hand during the process. By using these surveyed floodlit sites, Devon Air Ambulance's clinical teams can reach patients more quickly and safely than if they had to operate into a 'dark field'.
The community landing site at Steps Cross Park is one of six such sites being developed through the project which also includes sites at Cricketfield Road Recreation Ground, Quinta Playing Fields, Torquay Recreation Ground, White Rock Playing Field in Paignton and Galmpton Football Club. These sites will be added to the three already in operation at Brixham Rugby Club, Paignton Rugby Club and Foxhole Community Centre (in Paignton) creating a network of nine such sites in Torbay.
Nigel Hare, Operations Director at Devon Air Ambulance said; "It's clearly great news for local people as our teams can now operate by air into the heart of the community during the 'hours of darkness', where they can deliver an increasing range of life saving treatments at the scene of an incident that traditionally were only available in a hospital".
"We look forward to seeing the fully operational network of sites over the coming weeks which will help our teams operate more quickly by air into communities throughout Torbay when it is dark, bringing their enhanced skills and interventions to benefit local patients during those crucial early stages of their injury or medical emergency. Where patients have complex or specialist care needs, these sites will also enable us to fly them direct to the hospital that can offer the patient the best chance of a successful outcome, just as we do during daylight. Our thanks go to Torbay Council and all the other local partners who have helped to develop the network of community landing sites for the benefit of Torbay's residents."
Cllr Steve Darling, Leader of Torbay Council, said; "We are happy to have worked with Devon Air Ambulance and our local communities to identify and invest in six new night time community landing sites. These new sites will ensure residents and visitors that are seriously ill or involved in an accident that require critical care will benefit from a speedy response by Devon Air Ambulance."
Cllr Mike Morey, Cabinet Member for Infrastructure, Environment and Culture, Torbay Council, said; "The first priority for any council is keeping its communities safe. Devon Air Ambulance is a vital emergency resource, and we are proud to support their work by making sites available for them. I'd also like to thank the sports clubs and schools for supporting this initiative."
Toby Russell, Community Landing Sites Officer at Devon Air Ambulance added: "This project is great example of local partnerships delivering for local people and we are very grateful to Torbay Council and the range of sports clubs, community groups and schools who have readily supported the night landing sites being established in their area."
"Over the next few weeks, the remaining sites in Torquay, Paignton and Galmpton will have new lighting solutions installed and access improvements undertaken, all with the aim of making our arrival by air, and the movement of our crews and patients on and off a community landing site, quick and as streamlined as possible."
Devon Air Ambulance operates until 2am every day (19 hours/day) and the charity's vision is to extend operations to become a 24/7 service for the people of Devon. Through its work with communities across Devon there are now 185 operational night landing sites enabling this emergency service to be delivered by air during the 'hours of darkness'.
If you would like to donate to Devon Air Ambulance and support their life-saving work, you can do so by visiting their website.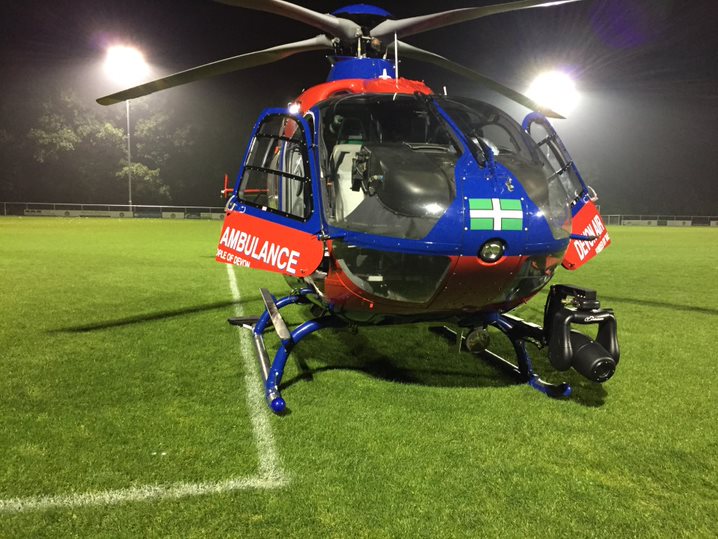 Devon Air Ambulance helicopter at a community landing site. Image credit to Devon Air Ambulance.
---