The Cabinet has released its response to the 2021/22 Budget consultation and it is now available to view on our website.
A number of changes have been made to the initial proposals, which includes investing more into services our communities value the most. This follows confirmation about our final Government funding settlement and careful consideration of all your views and those of the Overview and Scrutiny Board.
When the initial budget proposals were drawn up a number of financial pressures as a result of the coronavirus pandemic were identified. Since then, we have received further funding from Government in the current financial year to help cover some of these costs. This has enabled us to remove the contingency we had in place for Covid-19 related costs for adult social care, children's social care and home to school transport.
The improvements we are undertaking within Children's Services are also continuing to bring financial benefits, as well better outcomes for our children and young people.
Alongside the Funding Settlement, the Government has announced a continuation of the Adult Social Care precept which enables local authorities to increase Council Tax by an additional 3% to support the increasing cost of adult social care. This is on top of the 1.99% outlined in our initial budget proposals, equating to £1.50 a week for an average Band D property.
The additional money for Adult Social Care will enable Torbay to invest in preventative work to help people stay healthy and well at home. We want to continue to support the most vulnerable in our communities who have been affected by cuts in previous years.
Taking all of the above into account, the new proposals take the changes in income and expenditure into account. They include £1m investment into services for our communities on a one off basis. There'll be investment into our economy, such as £150k to dredge Brixham Harbour so larger fishing vessels can be accommodated. There will also be investment in tackling climate change and for people in the Bay.
The final proposals for investing in Torbay's people include:
700K to support children and families with complex and challenging needs in their home communities
£300k for residents facing financial hardship
£150K to reinstate subsidies for local bus services
No increase in car park fees for the coming year which will benefit both our businesses and our residents.
Torbay's Leader, Councillor Steve Darling said: "A key priority of this administration is to improve our Children's Services and it's heartening to see that we have made great progress in the current financial year. For the first time year in a long time, we are improving the lives of children and making savings instead of covering an overspend in this department.
"Doing all we can to support vulnerable adults in Torbay is also vitally important. The only way we can do this is to utilise the Government's Adult Social Care precept and increase Council Tax. This way we can give vulnerable adults the support they need and put more preventative measures in place to help people in the future. We are not alone, early indications suggest other local authorities will have to do the same."
Deputy Leader, Councillor Darren Cowell, said: "We understand that many families are facing challenging times. We would prefer not to increase Council Tax, but we have no choice. Most of the investments we are proposing with our contingency funding and savings are a one off, but decisions on our Council Tax base-line will have an impact on funding for all our services in years to come. We do have the the lowest Council Tax in Devon and early indications suggest this is likely to be the case next year.
"This administration's priority is to listen to what you say and invest in areas you say you value the most, where we can. We are still facing financial pressures; the majority of the recent funding announcements have not led to an increase in our budget for 2021/2022. But we are determined to do all we can to help our local communities and this one off extra funding we are proposing will give us more time to work with our communities on longer-term solutions to help Torbay thrive in the future."
You can see all the budget proposals on the 2021/22 budget pages.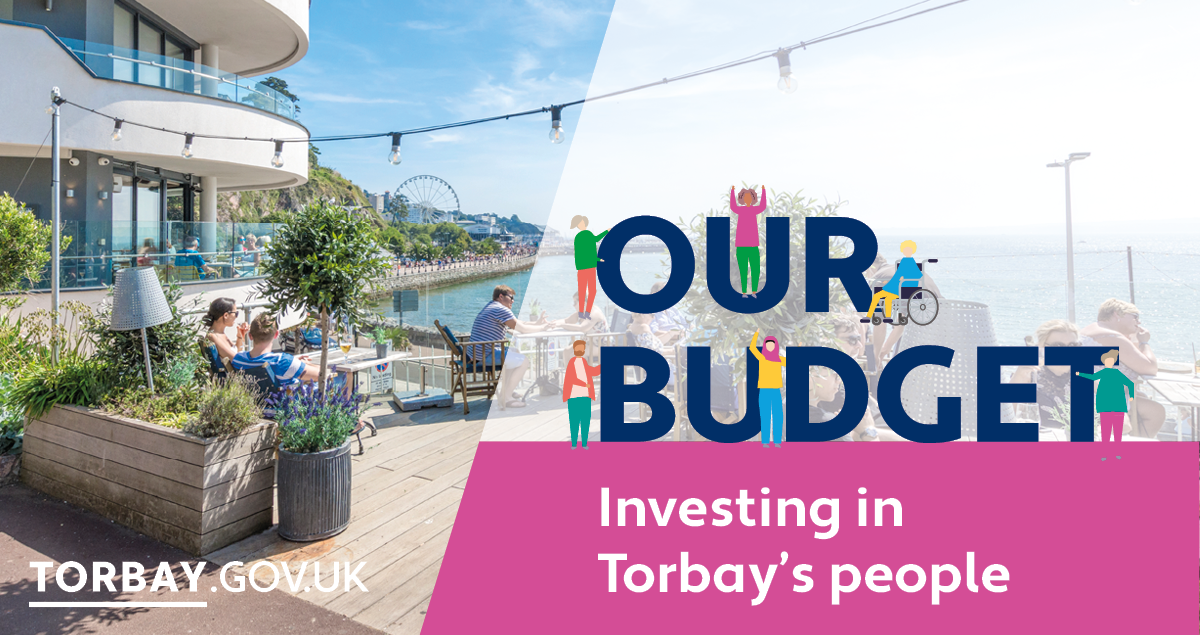 ---