It's fair to say that 2020 has been challenging for all of us. But imagine being a child, and not being able to live at home with your birth family, and having to move to a new family who can give you the support and stability you need.
Despite the restrictions that COVID-19 has placed upon our daily lives, we have seen an increase in the number of families coming forward to enquire about providing a home for some of our most vulnerable children.
Since the start of the financial year in April 2020, our fostering team have already approved 15 new families, bringing the total number of fostering households in Torbay to 86.
With the introduction of the first lockdown back in March, the fostering team like many Council teams, had to quickly adapt the way in which they work and become more creative with how they continued to provide essential support and services. Through a mix of virtual and face-to-face work, and with 9 enquiries and 17 assessments still to process, it's becoming a record year for Torbay's Fostering Family.
Cllr Cordelia Law, Cabinet Member for Children's Services, said; "This is fantastic news for our looked after children, as it means they get to stay in Torbay, remain in their school with their friends and if it is safe to do so maintain contact with their own family.
Our most vulnerable children deserve the best support, and through the provision of permanent placements, we are giving them the stability they need to be able to thrive.
Many of our foster carers tell us that, being able to make a difference to a child's life is very rewarding. We may have already approved a record number of new fostering families, but with 325 looked after children in Torbay, we still need more foster carers to come forward".
Could you foster?
Just like children, foster carers come in all shapes and sizes, from all backgrounds and all walks of life. The kind of person you are is the most important thing about being a foster carer. If you have time and space in your life to help a child grow and thrive get in touch via 01803 207845, email fostering@torbay.gov.uk or visit the following page:  https://www.torbay.gov.uk/children-and-families/fostering/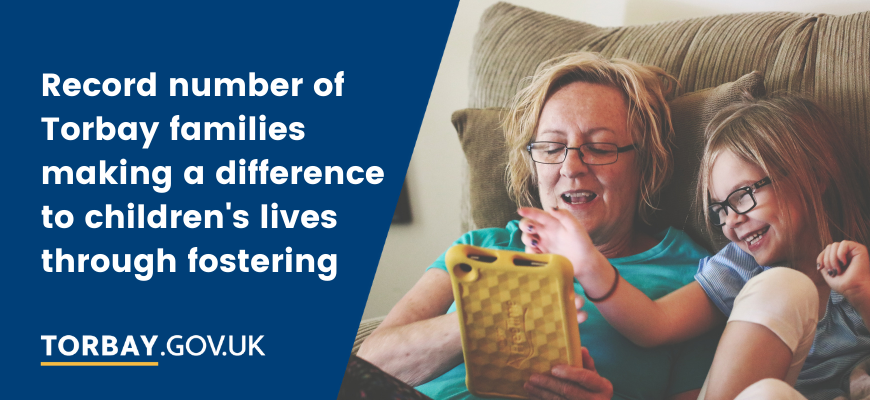 ---