As we mark the annual national Recycle Week (21 – 27th September) we are encouraging local residents to go green and recycle more.
The theme of Recycle Week (led by WRAP nationally) this year will be 'thanking the nation' for continuing to recycle despite the huge disruption to all of our lives caused by the COVID-19 pandemic. According to WRAP research, 89% of people in the UK currently recycle. Torbay currently has a recycling rate of around 40% and the aim is to increase this to 50% in the next 2 – 3 years. In neighbouring authority area Teignbridge the recycling rate is 56% while in East Devon it's 59%.
Torbay Council and SWISCo are working together to help drive up recycling rates in the Bay and want to remind everyone of the simple things we can all do to help the environment.
A new Resource and Waste Strategy is also being presented to Cabinet on Tuesday 22 September with a range of improvements to make the Bay cleaner and greener, but also helping to generate huge savings that need to be made. Proposals in the strategy include a new opt-in chargeable kerbside garden waste collection, the trial of a new three weekly residual waste collections, and charging for materials at the household waste recycling centre used in building projects, such as plasterboard, rubble and asbestos. There are also plans to develop a program of activities to promote recycling resources across Torbay by educating our communities about the impact of wasted resources and what can be recycled.
Councillor Mike Morey, Cabinet Member for Infrastructure, Environment and Culture for Torbay Council said: "Recycle Week is a great opportunity to remind everyone that we can all do our bit to help increase recycling and protect our planet.
"One of the key priorities in Torbay Council's Community and Corporate Plan is to become a carbon neutral council and work with others to create a carbon neutral community.
"The theme of Recycle Week (led by WRAP nationally) this year will be 'thanking the nation' for continuing to recycle despite the huge disruption to all of our lives caused by the COVID-19 pandemic.
"I would like to echo those thanks to the people of Torbay – both the residents and to the frontline staff who have continued to deliver waste and recycling services through challenging times."
Top tips during Recycle Week:
Make sure you know what goes in your recycling boxes – to help us reduce our carbon footprint, separate your recyclables into the two boxes – you can find details on our recycling web pages.
As well as being able to book online now, don't forget you can take your garden waste to the recycling centre, so please do either take it there or alternatively you can compost at home if you prefer – you can also find details on our website of home composting products.
Buy less, wear more – Did you know, in 2019 UK shoppers spent an estimated 2.7 billion on clothes they wore only once? Recycle Devon are encouraging people to unlock the potential of clothes they already have and by pledging to take one or more of the small actions on their website , you could win one of ten rechargeable clothing de-bobblers.
Finally, we have all seen the documentaries about plastic pollution in our oceans and we all need to do our bit to reduce single use plastics – this is particularly relevant for Torbay and other coastal communities. According to plastic recycling charity Recoup Recycling, the UK uses 36 million plastic bottles every day. You already pay to have water available in your kitchen tap, so get a reusable bottle and start refilling. There are also a number of Refill stations – find out from the Refill Devon website. 
Those who want to take part might also want to organise a litter pick or beach clean to further reduce plastic and other pollution – you can sign up to the Great British September Clean to organise a volunteer litter pick via the Keep Britain Tidy website or the Big Beach Clean (18 – 25 September) via the Marine Conservation Society website 
If in doubt check our Recycling web pages to find out what can and can't be recycled.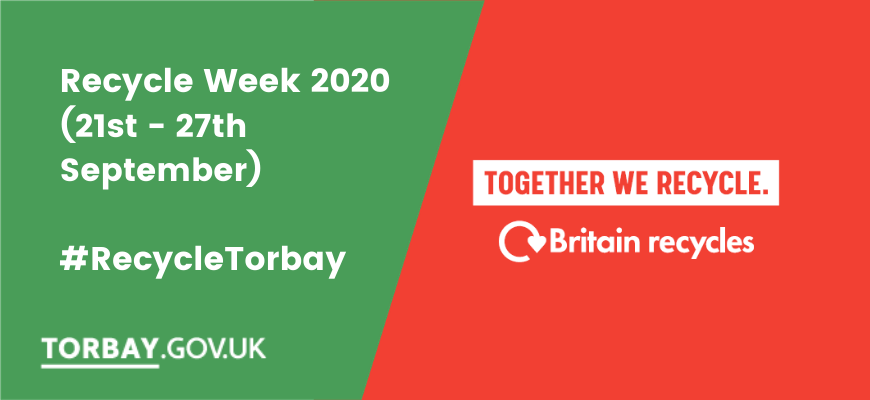 ---