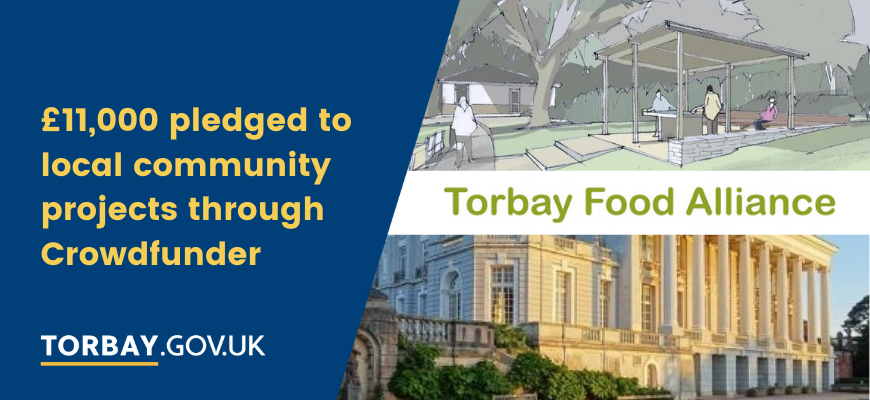 Three projects in Torbay have successfully raised funds to get their projects off the ground using the Crowdfunder website, and we have contributed by pledging £11,000.
We now want to encourage more projects, regardless of how small, to have a go at crowdfunding.
To support anyone who is not sure how to use crowdfunding, or if it is right for their idea, Crowdfunder are running two virtual workshops during August, with the first happening on Monday 3 August followed by the second one on Monday 24 August.
The three projects that we have pledged funds to so far are:
Outdoor Table Tennis area in Torquay
Torbay Food Alliance
Oldway Tea Rooms
The types of projects we are looking to fund are those that not only make a positive impact in the community across Torbay but supports wellbeing, works towards a better environment, rewards innovation or can improve resident's lives.
Leader of Torbay Council, Councillor Steve Darling, said: "Crowdfunding is a great tool that empowers our residents, communities and community groups to move forward with that idea they have about helping to make other people's lives better. This is something that is very important to us here in Torbay and I really do encourage anyone who has an idea, regardless of how small it is, to take a look and have a go at Crowdfunding and sign up to these virtual workshops."
Crowdfund Torbay will support community groups, social enterprises, charities and individuals across the bay to raise money from the crowd and unlock extra funding from other organisations.
The first workshop is taking place on Monday 3 August at 12 noon with the second workshop happening on Monday 24 August at 2 pm. You can book your place at either workshop by visiting:  www.eventbrite.co.uk/o/crowdfunder-9831814290 
To find out more about crowdfunding and to see what kind of projects we will pledge money towards visit: www.crowdfunder.co.uk/funds/torbay
---