As of Saturday 1 August, motorists who choose to pay via their phone at any Torbay Council operated pay and display parking locations, will no longer pay a convenience charge for doing so.
Using the ParkMobile contactless option of paying by phone instead of using cash helps support measures to limit the spread of COVID-19.
ParkMobile customers will now pay exactly the same parking fee as if they were using change to pay at the machine. Customers will only pay additional costs if they choose optional paid-for services such as text reminders.
Cllr Mike Morey, Cabinet Member for Infrastructure, Environment and Culture for Torbay Council, said: "We have introduced this measure in the hope that local residents and visitors to the area will now opt to pay for their parking via their phone and therefore help to play their part in limiting the spread of COVID-19 across Torbay."
It is hoped that the scrapping of this fee will encourage more people to use this method of payment.
Over the course of the next few months we will also be looking to increase the number of payment machines that are able to accept card payments, both on and off street, decreasing the requirement of cash payments at our pay and display locations.
Previously users of the ParkMobile incurred a 30p charge in addition to their hourly parking fee.
For details of council car parks including locations, charges and opening hours visit our website.
Anyone using any of our parking areas that do not opt for contactless payment should use hand sanitiser before and after using parking machines to minimise their risk of catching and spreading the virus.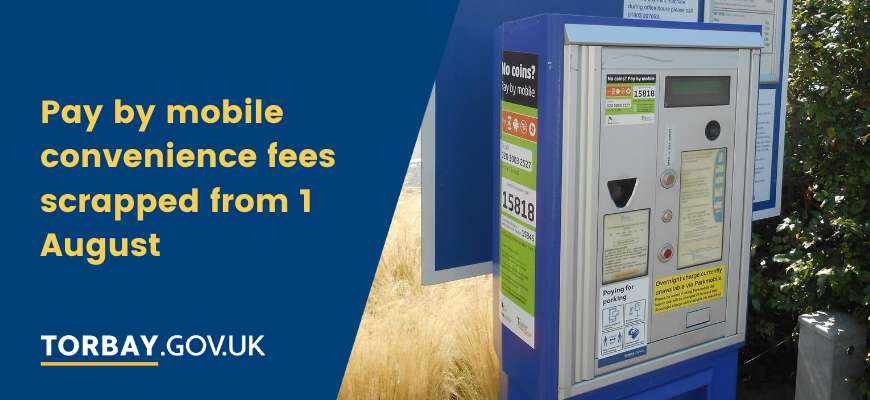 ---