Following the announcement earlier this month that Steve Parrock is stepping down from the role of Chief Executive at Torbay Council, it was confirmed at last night's Extraordinary Council meeting that Anne-Marie Bond will be appointed Interim Chief Executive.
Anne-Marie, who is currently the Director of Corporate Services at the Council, will be starting her new role on the 1 August 2020 and will lead the organisation through the recovery phase of the Covid-19 pandemic. Anne-Marie will also be focusing on redesigning Council services to ensure they are aligned to support those who live and work in the Bay.
Councillor Steve Darling, Leader of the Council said:  "I have worked with Anne-Marie for many years and am looking forward to working with her as our Interim Chief Executive. Anne-Marie is highly valued and engages really well with everyone she works with and I know her strong eye for detail will be vital over the coming months. I would also like to say thank you to Steve Parrock for the last seven years as the Council's Chief Executive. I look forward to carrying on working with him as he moves forward the work of TDA."
Deputy Leader for the Council, Councillor Darren Cowell said: "Reshaping and building stronger partnerships with our stakeholders and communities is of the upmost importance for the us. Having Anne-Marie in the position of Interim Chief Executive I know we will make great strides into achieving this. Her skills and experience of enabling and engaging with the community will be invaluable."
Anne-Marie Bond said: "I am incredibly honoured to be appointed Interim Chief Executive and feel privileged that I will continue to work with officers and members at the Council along with colleagues from our partner organisations.
"The recovery from the Covid-19 pandemic provides an opportunity for us to radically rethink services and improve outcomes for Torbay. We need to respond urgently by transforming our services, empowering our residents and our communities and building a resilient Council that is fit for the future. I am truly excited to be leading the Council through these next steps."
More about Anne-Marie Bond:
Anne-Marie joined Torbay Council in 1999 after a short period working for Plymouth City Council following her academic studies. After qualifying as a Solicitor, Anne-Marie has amassed considerable local government knowledge and experience. She has an incredible understanding of Torbay and the workings of the Council, meaning that she is uniquely placed to lead the Council at this time. 
The recruitment for a permanent Chief Executive will take place later this year.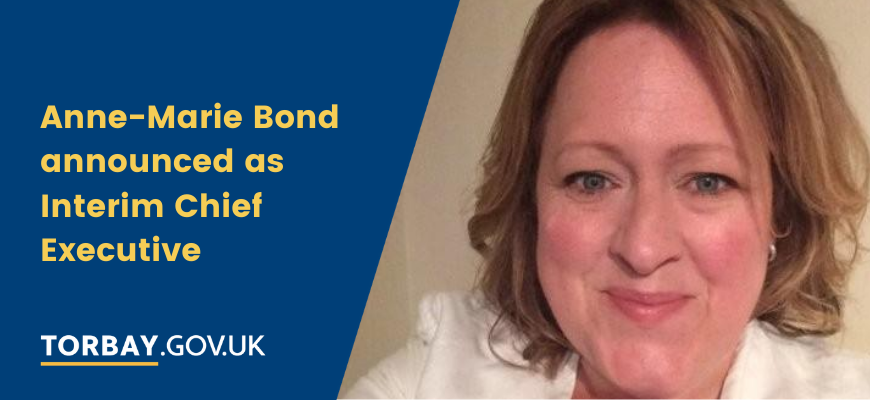 ---