Torbay Council still needs millions of pounds to cover the extra costs it has taken on as a result of COVID-19, despite welcoming yesterday's Government funding announcement.
Although nationally the government announced £500 million extra for councils – bringing the total they've allocated across the country to around £4.3 billion – in Torbay, the latest announcement only equates to around £1.2million.
The Council was already facing a challenging financial situation before COVID-19, following years of austerity that saw the local authority's Revenue Support Grant from central government reduced by 85%, from £42 million to £6.5 million in the last seven years.
In total since the lockdown, Torbay has received a little over £10 million from the government to address COVID-19 pressures, but taking government funding into account and service specific reserves, we are forecasting an overall budget overspend of £4.8m for the current financial year.
Steve Darling, Leader of Torbay Council, said: "Of course we welcome the funding announcement but sadly it isn't enough. We still have huge additional funding pressures this year because of the COVID-19 crisis and still face a multi-million pound overspend.
"The financial impact on 2020/21 is constantly evolving, ultimately the impact on the Council will depend on the level of economic recovery in Torbay, which has a direct effect on the Council's income. At this stage, there are no significant reductions or closure of services proposed, but we are taking a number of actions to reduce the impact. These include a moratorium on all non-essential spend in the council and reviewing the 2020/21 budget so we can respond more effectively to future unknown factors".
Darren Cowell, Deputy Leader, Torbay Council, said: "Our view is still very clear - the totality of the financial impact of COVID-19 should be funded by Government and not the local taxpayer. We will continue to lobby government and our MPs at our regular meetings, for both additional funding and to consider options for mitigating the financial impact in 2020/21 and in future years".
You can find out more about the current funding situation in the Council's Budget Monitoring Report which was presented to Cabinet earlier this week.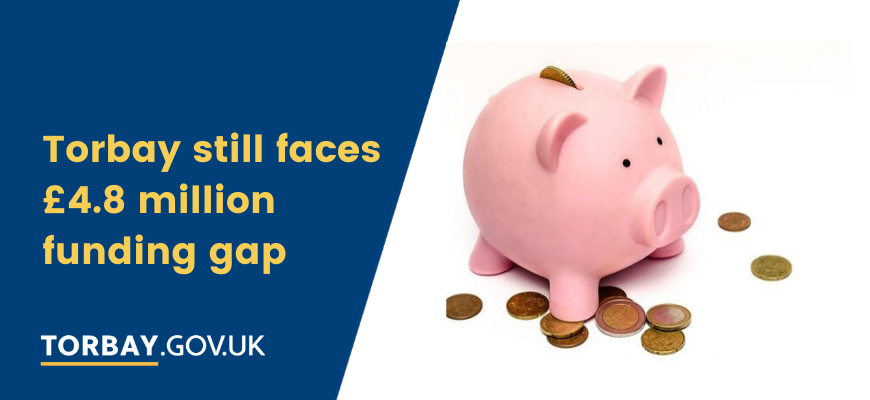 ---