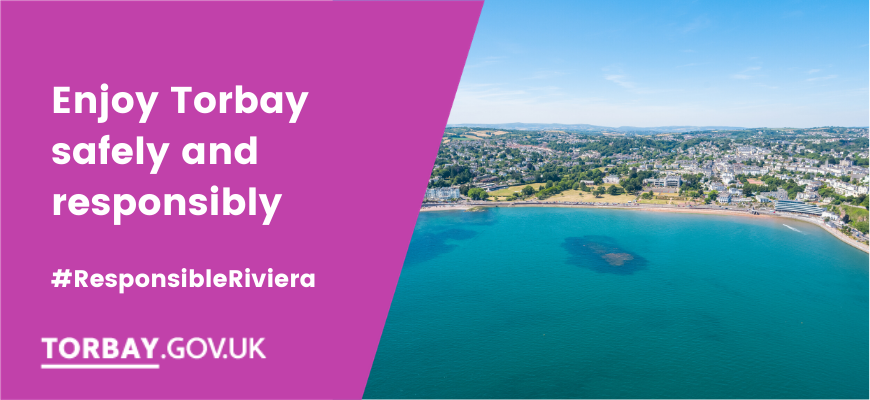 From Saturday 4 July, the UK will see further changes to COVID-19 lockdown measures.
As businesses and the hospitality sector reopens, we are expecting more local residents to be out socialising, and for there to be a welcome influx of day and overnight visitors.
Together, Torbay Council, English Riviera BID Co and Devon & Cornwall Police are supportive of the easing of lockdown restrictions and the reopening of the hospitality and tourism sector but are urging all businesses, residents and visitors to act responsibly to ensure everyone can safely enjoy the English Riviera.
Before heading out to visit our attractions, pubs and restaurants it is recommended that you plan ahead and do your research before leaving home. Check that the place you want to visit is open and that you have pre-booked where necessary to avoid disappointment.
When out and about enjoying all Torbay has to offer, residents and visitors are asked to be responsible by not littering, parking responsibly and adhering to all social distancing and health and safety guidelines and messages.
Councillor Darren Cowell, Deputy Leader, Torbay Council, said: We have been supporting businesses over the past few months with advice, support, grant funding and training to help them reopen safely. The reopening of Torbay's hospitality and tourism sector in time for the main summer holiday is the boost the local economy needs to put it back on the path to recovery. We are anticipating a busy weekend across the Bay and urge residents and visitors to stay safe and act responsibly by following all guidelines".
Carolyn Custerson, Chief Executive Officer, English Riviera BID Company Ltd, said, "In the lead up to this weekend we have seen a significant increase in visitor numbers to our website as a result of our 'Welcome Back' campaign which has been running nationally since 23 June. We've been working hard with our tourism and hospitality businesses to ensure that everything is in place to ensure we are the 'Responsible Riviera' and visitors have a safe and enjoyable visit. We want to make sure the English Riviera remains a destination of choice as people start to think about booking their summer break - things may look different, but we are still as welcoming as ever". 
Inspector James Johnson, lead for Summer Policing in South Devon, of Devon & Cornwall Police said: "Police in Torbay have been planning for increased visitor numbers expected this weekend as lockdown eases and the resorts' businesses open their doors. We want everyone to enjoy themselves, but ask that visitors and residents do so respectfully and safely. There will be more officers on patrol across the Bay including the harboursides and seafronts. We all need to be aware that COVID-19 has not gone away and that social distancing still needs to be observed to help prevent the virus spreading".
Kevin Foster, Member of Parliament for Torbay and Anthony Mangnall, Member of Parliament for Totnes and South Devon said "Together we have been working with local Councillors to ensure the Government recognised the needs of the hospitality industry and the devastating impact the lockdown has had on the local economy. We are delighted that from 4 July, more businesses will be able to reopen and that Torbay has been working hard to ensure the right measures are in place for the safety of all".
Torbay Council, English Riviera BID Co and Devon & Cornwall Police want to make sure that everyone who comes here has a safe and enjoyable visit. We are a responsible resort and we welcome responsible visitors.
For the latest advice on staying safe outside your home visit the GOV.UK website.
Plan your day or overnight break on the English Riviera Opens in a new window False website.
For advice and support on reopening your business, visit the Advice and support for businesses page.
---