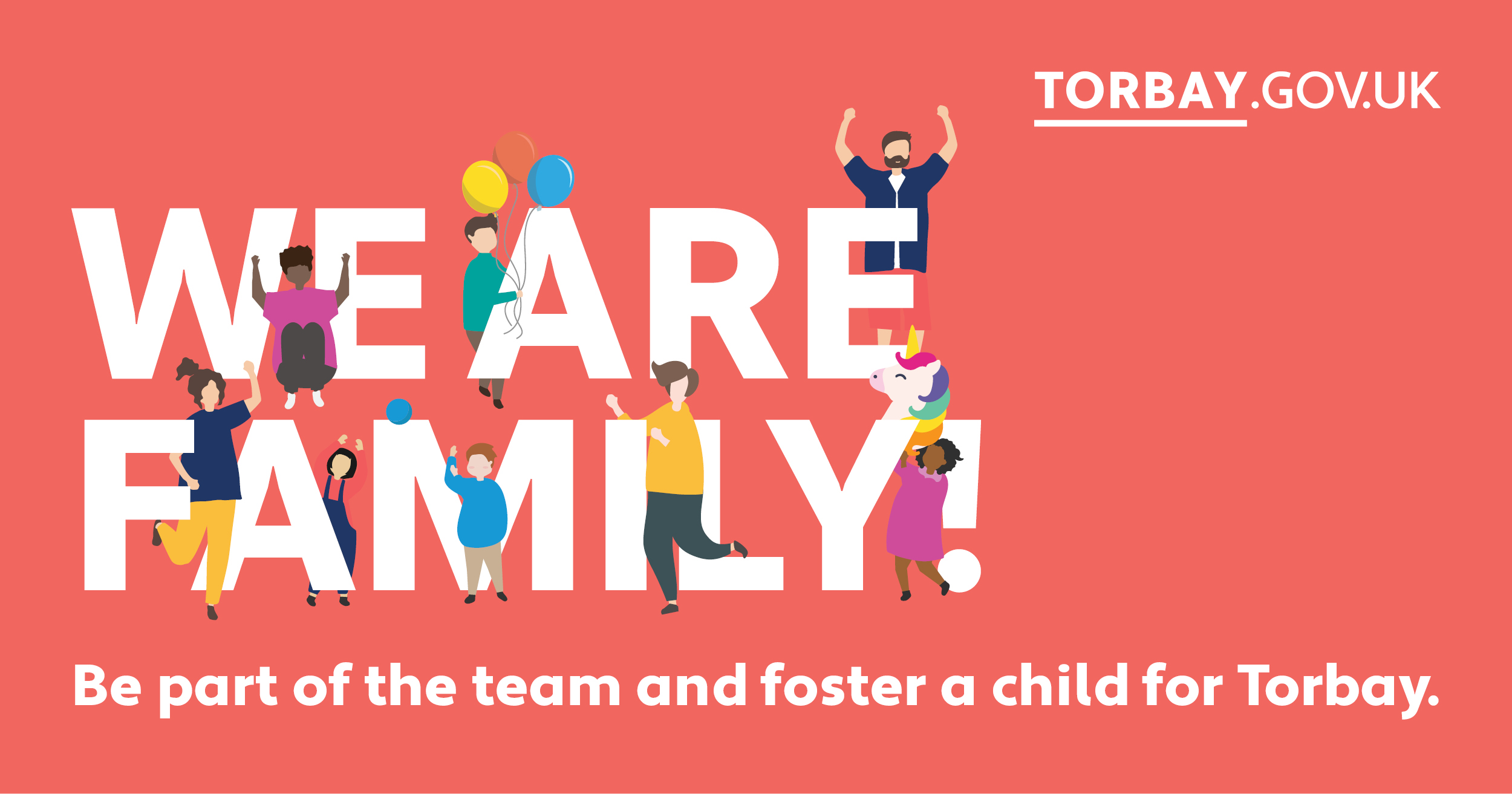 Thanks for stepping forward to help children who need your help. That's the message to 29 people who've applied to become a new Foster Carer following the recent launch of our new Fostering campaign. The appeal for new carers was made as part of Foster Care Fortnight (11-24 May) and had a great response – but more foster carers are still needed.
We recently launched our new 'We Are Family' fostering campaign, developed with input from local foster carers, and the great news is it generated 36 enquires from potential foster carers and now 29 new potential foster carers are now being assessed by our fostering team.
There are currently 69 households fostering in Torbay but there are still around 340 looked after children in Torbay and more foster carers are needed.
We also recently announced a range of measures to support local foster carers, including:
The weekly fee going up to £538 per week depending on the experience of the foster carer, and the age of the child you are supporting. 
more training and support for foster carers including access to trauma informed training and specialist therapeutic care.
a new Resilience Fostering service was also announced, which is a direct alternative placement option for those children who are at risk of being placed in, or are currently in residential care. This will come with an enhanced fee rate of £1000 per week. 
Councillor Cordelia Law, Cabinet Member for Children's Services for Torbay Council said: "I'm so pleased these families have come forward and that our new campaign has got off to such a great start – but there is still lots of work to do and lots of children who are in need of a safe and loving home.
"A group of local foster carers recently told the Council that they thought fostering is a "privilege" and a "gift" – they say that when you decide to foster in Torbay you become part of a community with other local foster carers.
"So we're asking you to join the family. With peer support groups, friendships with other foster carers, support from Torbay's Fostering team, child psychologists and more – you're never on your own when you join Torbay's Fostering family.
"If you are interested in fostering please do get in touch with Torbay Council, our fostering service is very much open for business despite the lockdown.
"You can call our fostering team on 01803 207845 or email fostering@torbay.gov.uk"
You can also find out more on our fostering pages. 
---