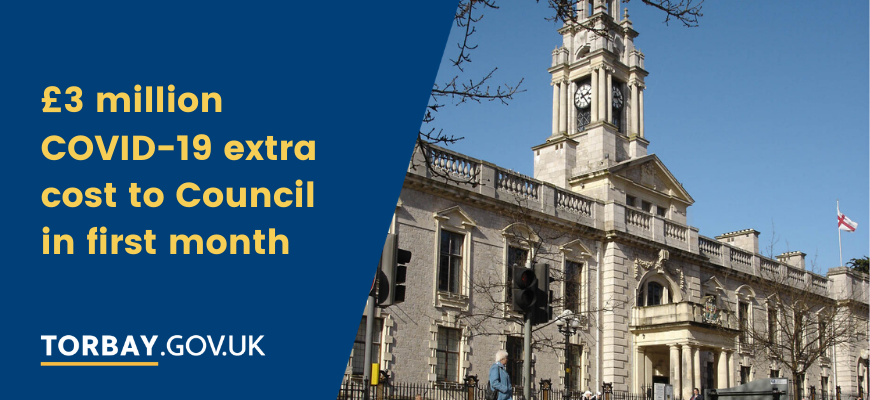 We experienced a loss of £3m from both lost income and additional Coronavirus related costs during April. This represents £2m of Coronavirus related costs and £1m of lost income for April, its first full month since lockdown began in March. All of which excludes any impact on council tax and business rate collection.
The eye watering figures mean that Coronavirus cost us approximately £100,000 for each day of the lockdown crisis last month. Big losses were felt in areas such as car parking which were 95% down compared to the same period last year. But other areas such as the closure of Torre Abbey and loss of weddings income also had an adverse effect.
We did not furlough any staff but redeployed them across areas which needed them most such as in the Customer Contact Centre, Shielding Hub and within the finance team to ensure the payment of business grants.
Overall we are expecting a loss of £12m in lost income, as well as additional Coronavirus related costs of £9m over this financial year. The already stretched public purse is under huge strain at a time when Coronavirus related costs are escalating.
Steve Darling, Leader of Torbay Council says "Torbay Council is doing its absolute utmost in trying to make the best decisions given limited resources. Like many other Councils in the same situation as Torbay, we will be lobbying central Government for additional funding to cope under the strain of a quadruple workload and funding for a only a fraction of this right now."
Whilst emergency grants of £9m have been provided to us to help cope with the pandemic, such as funding for shielding the vulnerable, there has been a surge in other costs. Additional PPE such as masks, ensuring the homelessness are supported, mortuary fees and support for adult social care represent some of the biggest areas of spend at the current time.
The smaller spends listed below paint a bigger picture of the resources required:
Grants to voluntary bodies
Support to food banks
Purchase of PPE and cleaning products
Additional bandwidth to help staff work from home
Increased spend on ensuring communication with residents
Higher costs of supporting children with special education
Additional support for TDA to continue vital regeneration work
Darren Cowell, Deputy Leader of the Council and Cabinet Member for Finance, said "Central Government has supported Councils to some extent financially during this crisis. However, it is clear that Torbay Council is unable to sustain these costs and losses over the medium to long term. The situation is an unprecedented one. The Council will need to find ways to plug the gap in funding, as staff and systems are stretched to capacity."
"Unless the Chancellor is able to offer long term grant funding then the Council expects to see a reduction in services and cutbacks across the board."
---