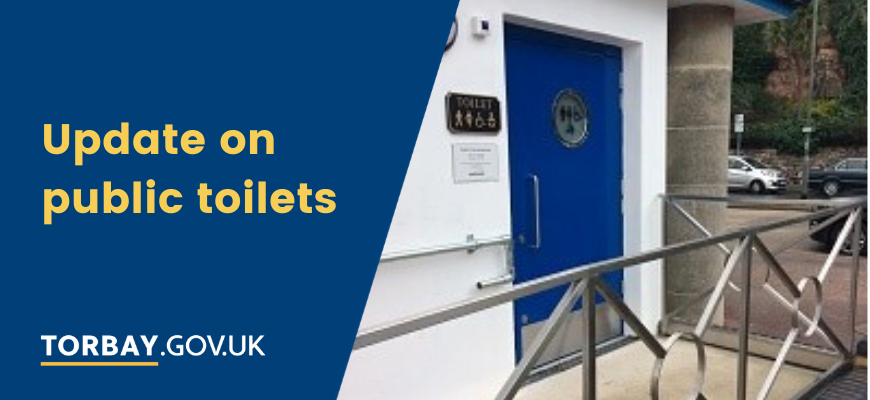 Update: The list of toilets that are opening has changed since this press release. Please see the new 23 May 2020 press release for an up-to-date list.
---
Following extensive conversations with our contractor Healthmatic, and the completion of comprehensive risk assessments, we will be re-opening a limited number of public toilets across Torbay from today (Friday 22 May).
Site specific risk assessments have been completed, which have identified a number of units that can safely re-open.
Additional cleaning regimes and frequencies will be in place, and users will be asked to adhere to the guidance on display with regards to social distancing and hygiene, both before and after using the facilities.
To minimise the risk to the public, only single occupancy cubicles will be available for use to avoid users gathering in communal areas. In addition, cash payments have been disabled with only contactless payments being accepted.
Units will be closed when cleaning is being carried out, and appropriate signage will be in place to notify users of this. We ask that users remain patient when cleaning is taking place, we will not tolerate abusive or offensive behaviour towards cleaning operatives.
Councillor Mike Morey, Cabinet Member for Infrastructure, Environment and Culture for Torbay Council, said "We have discussed the re-opening of public toilets at considerable length with our contractor Healthmatic, who are widely known as leaders in the field of Public Toilet Management. Site specific risk assessments have been undertaken, which our Director of Public Health as reviewed. Consequently we are confident that the measures being implemented protect not only users but the cleaning operatives. The re-opening of some facilities is on a trial basis and will be subject to ongoing Risk Assessments and reviews".
Toilets that are not listed to re-open have been subject to the same Risk Assessment process, but have not met the required standards to allow them to be re-opened safely.
Prior to the re-opening facilities will have been subject to a deep clean.
Facilities will be open from approximately 9am until 8pm daily. 
Whilst the UK Government has relaxed some of the lockdown measures, we all still have a responsibility to help control the spread of the virus by; staying at home as much as possible, working from home (if you can), limiting contact with other people, keeping your distance if you go out (2 metres apart where possible) and washing hands regularly. Further guidance and support on staying safe outside your home can be found on the government's website.
---