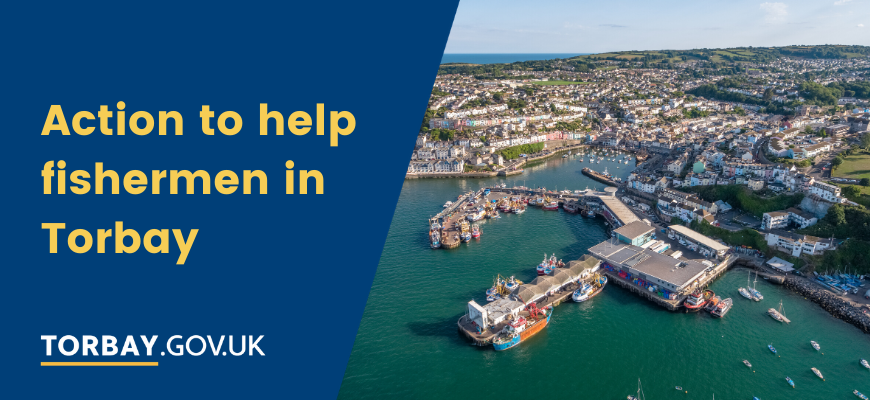 Support - including delaying harbour payments and lobbying MPs, with support from the British Ports Association - is being put in place to help fishermen in Torbay during the COVID-19 shutdown which is affecting many businesses.
Fishing is key to the success of Torbay's economy, with Brixham being the largest fishing port in England and Wales by value of catch, with sales of fish worth up to £40m per year.
Fishermen will be given a 90 day extension to pay annual harbour dues and berthing fees (an extension from the usual 30 days) to help tackle cash flow concerns during the coronavirus pandemic, with bills that would usually have to be paid by 1 April being extended until 1 July. This is because many fishing vessels have had to remain alongside because of the reduced demand for their fish.
We are also working through the British Ports Association to get financial support for the fishing industry, including the catching sector and for fishing ports.
Councillor Nicole Amil, the Chairman of the Tor Bay Harbour Committee said: "I am absolutely passionate about helping our local fishing industry, both through my current role and also on a personal level coming from a fishing family, and will do my utmost to make sure they get as much support as possible. For some reason, the fishing industry often falls through the gaps and can't access the support available to other businesses, but we will be working with the British Ports Association to ensure as much help is put in place as possible.
"The Council and Harbour Authority understand that it could be tough for commercial fishermen to pay their bills if they can't sell their catch due to reduced demand, and we hope that this decision offers some respite."
Councillor Steve Darling, the Leader of the Council said: "It's a difficult time for everyone and we want to do all we can to support local businesses. The fishing industry, particularly in Brixham is absolutely vital to both our local and the national economy and this is the right thing to do in these circumstances.
"We are aware that fishermen are not benefiting from some of the support grants in Torbay that other businesses are able to call upon and we are lobbying through MP's, the Local Government Association and also directly with the Ministry to ensure, that there is improved Government support to this vital sector of our economy."
Other information on support available for businesses including loans and grants is on our financial support for businesses page. 
---