World renowned Torquay resident, Agatha Christie, is being celebrated with English Riviera gateway signage and a new look blue plaque at Barton Road in Torquay.
English Riviera BID Company is sponsoring the gateway signage and the Torbay Civic Society is replacing the blue plaque which is now mounted in Devon Stone, funded by Torbay Council through Section 106 grant funded money.
Signage, which will be placed at key gateway sites, welcomes visitors to Torquay with 'The birthplace of Agatha Christie' written below. The blue plaque and Devon Stone replaces the original tribute which had been damaged.
The new additions will also coincide with the International Agatha Christie Festival which marks Agatha's birthday and is taking place from Thursday 12-15 September www.iacf-uk.org
Dame Agatha Christie is known throughout the world as the 'Queen of Crime' and considered a literary genius. Her books have sold more than two billion copies and have been translated into over 100 languages. She remains the unrivalled, most successful female playwright of all time, as well as a respected authority on travel, archaeology and pharmacology.
The English Riviera played a large part in Agatha's formative years when the experiences, places and people she encountered provided the inspiration for many of the fictional characters and plots that she created within her much-loved stories and plays.
Cabinet Member for Infrastructure, Environment and Culture, Cllr Mike Morey, said: "The signage and new plaque in Devon Stone is a fitting tribute to Torquay's best known resident, Agatha Christie. Whether you are a resident or visitor to the English Riviera, you may be surprised by just how many Torquay landmarks have an Agatha connection. It is important that we continue to support her legacy which also contributes significantly to tourism in the Bay."
Chairman of the English Riviera Bid Company, Tim Godfrey, said: "The English Riviera BID Company is immensely proud to be associated with promoting one of our most famous residents and we are delighted to sponsor the production of the new boundary signs.
"Dame Agatha Christie is known throughout the world as the 'Queen of Crime' and is considered a literary genius. Born in Torquay the English Riviera BID Company fully recognises the continuing importance of the Agatha Christie Legacy in growing Torbay's global tourism industry, worth over £500 million per year to the Torbay economy."
Ian Handford, Chairman of the Torbay Civic Society, said: "I am absolutely delighted that the damaged blue plaque of Barton Road, to honour Agatha Christie, is being replaced. Courtesy of Torbay Council, the plaque is now beautifully situated in a very large piece of Devon Granite. The refurbishment of the Plaque was funded by Agatha Christie's Grandson, Matthew Prichard."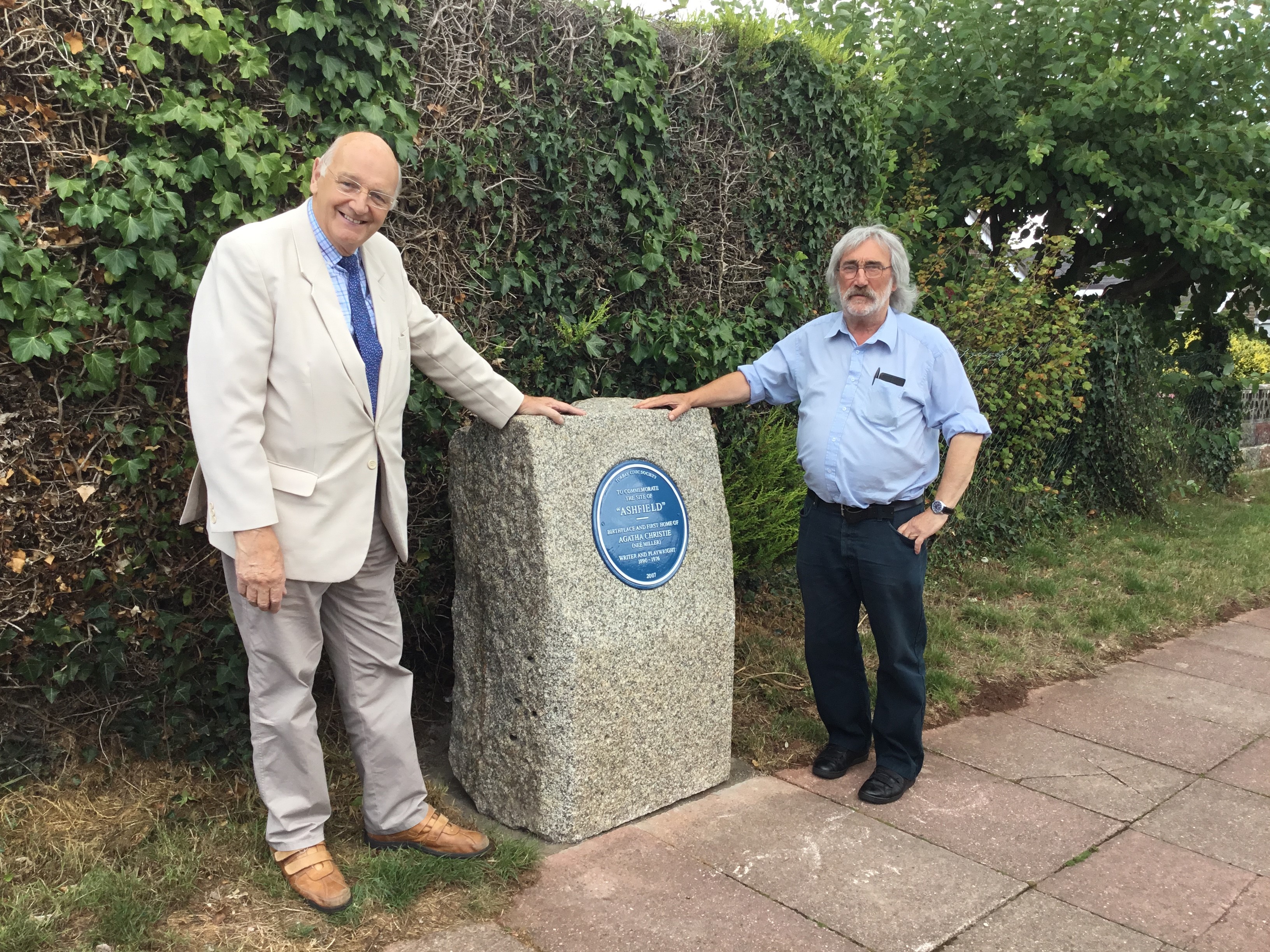 ---