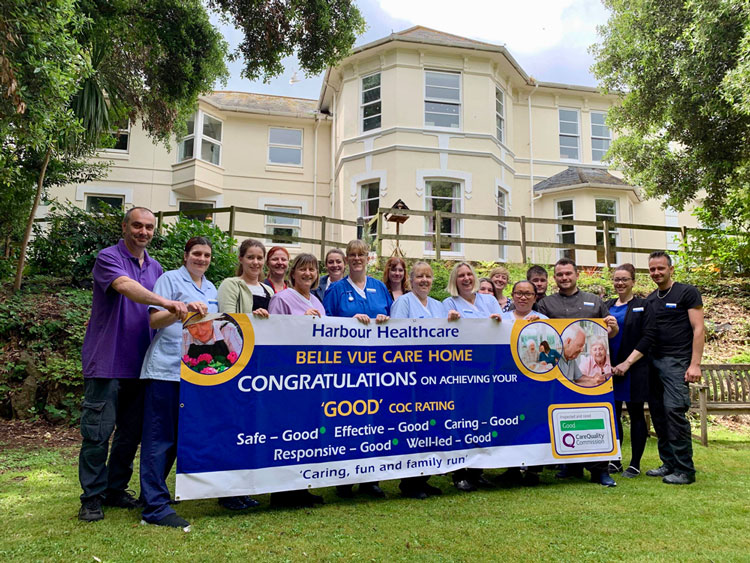 Belle Vue Nursing Home in Paignton has gone from strength to strength following support from us and a range of partners.
We along with Torbay and South Devon NHS Foundation Trust and South Devon and Torbay Clinical Commissioning Group have supported Harbour Healthcare since 2017 in their purchase and continuous improvement of Belle Vue, a 52 bed nursing home in Paignton.
Our Investment and Regeneration Fund provided a financial loan of £1.25 million to support the Nursing Home as well as the council's Adults Services Team and partners helped in a wide range of other areas. This included research, engagement with the community, business planning and their strong relationship with the CQC and the local Healthwatch group.
Care homes with nursing are a necessary and valued type of provision for residents in Torbay. Many of Torbay's care homes are smaller and run out of older properties, which are not designed to be nursing homes. This means good quality like the provision at Belle Vue is in short supply.
Belle Vue has also recently received an 'Overall Good' report from the Care Quality Commission (CQC) in areas such as being a safe, effective, caring, responsive and a well-led care home.
Councillor Jackie Stockman, Cabinet Member for Adults and Public Health, said: "I would like to pass on my congratulations to the Managers and Staff at Belle Vue for achieving this great result from the CQC. We really welcome this news and that we have been able to assist them in achieving this recognition.
"We have a duty to ensure there is range of care homes available for our residents, which is why we used funds from the Investment and Regeneration Fund to show our support to one of the many organisations delivering services that benefit our older residents in Torbay. We cannot do this on our own though, which is why our strong partnership and integration with the Integrated Care Organisation and the Clinical Commissioning Group means we are jointly in the best position to assist and shape what is needed for the Bay and our residents."
Shelly Machin, System Director for Torbay and South Devon NHS Trust, said: "We are really pleased to hear how the efforts of the whole care team at Belle Vue have made such a positive difference to raising the standards. The nursing and care home staff are so important in delivering the very best quality care to those who require care and support in our local area."
Ashley Worsley, Chief Executive Officer for Harbour Healthcare, said: "Belle Vue was certainly a challenging one. Our team has worked tirelessly over the last 18 months, and the results are there for all to see. Throughout the process Torbay Council, Torbay and South Devon NHS Foundation Trust and South Devon and Torbay Clinical Commissioning Group have been invaluable partners, and I have been impressed with their commitment to ensuring the residents of Torbay have the right facilities and services within their community. The success at Belle Vue could not have been achieved without them."
---