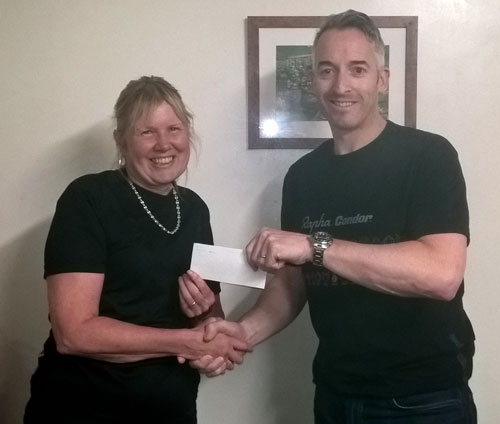 A new project to break down barriers and gently introduce women to cycling has been launched.
Pedal, which is partly funded by Mid Devon Cycling Club, is a comprehensive programme of bike rides and sessions. This will include sessions like 'Learn to Ride', basic road training, including how to ride with children, bike maintenance and gentle group rides. It will also be incorporating the popular Active Mums Programme.
Our National Standards Cycling Officer, Michele Radant, said: "Cycling is an activity that can be enjoyed by everyone of any age, and although cycling rates have gone up in recent years, less than 12% of women cycle regularly.
"Pedal will provide sociable supportive sessions to help break down any perceived barriers and gently introduce women to cycling and increase the gender balance in Cycling.
"We are really grateful to Mid Devon Cycling Club for providing a generous donation to help us deliver this programme".
Andrew Perkins, Chairman of Mid Devon Cycling Club, said: "Mid-Devon Cycling Club is very happy to support this initiative. The club sees it as a flagship approach to encourage women to start cycling and build confidence in a safe environment. We wish the project every success".
Qualified National Standards Instructors will provide the following:
Learn to Ride Sessions - Two hour sessions with no more than two pupils to an instructor.
National Standards Level 1 & 2 - A full day course on quiet roads with no more than six women to one instructor, giving all the necessary skills for riding on the road, with an option of trying more complicated techniques at the end of the day
Basis Bike Maintenance - A two hour session with no more than six in one group showing the basics, such as basic bike care, changing a puncture and adjusting brakes.
Active Mums - Subsidised weekly rides on Torbay Velopark for mums, with bike and trailer hire.
Group Rides - Steady pace rides. A weekly traffic-free ride at Torbay Velopark and a series of rides using quiet roads and cycle trails.
Although the above have all been tried successfully before, they have never been brought together under one umbrella to provide a full programme to support women to achieve their cycling confidence.
For more information on courses and group rides visit the Pedal page or find Pedal Torbay on Facebook.
---