Torbay Council, the Ministry of Defence (MOD) and a number of local organisations will be supporting an Armed Forces Day event at Queens Park on Sunday 1 July.
Britain's armed forces past, present and future will be honoured at this special event taking place between 10am and 11pm.
The military parade will commence at 12noon from the Lime Tree Public House, Dartmouth Road. It will leave and move up Commercial Road into Victoria Street. It will go down Victoria Street past the level crossing and turn right into Queen's Road finishing in the grounds of the cricket club.
Commercial Road will be closed from 11:30am. There will be diversions and signage in place for the surrounding roads. The parade is expected to be complete, and roads be reopened by 1pm.
In addition to the parade, a wide range of entertainment and stands are planned for the Queens Park event. The entertainment programme includes:
Event and activity timings

| Performance | Time |
| --- | --- |
| Parade (Starting at the Lime Tree) | 12pm |
| Red Devils Parachute Display | 2pm |
| Samantha Montini - Vintage Vocalist | 3:10pm |
| Sandy Sparkle - Vintage Vocalist (1940's) | 3:50pm |
| Andy Youngs - Jazz and Swing | 4:30pm |
| Samantha Montini - Vintage Vocalist | 5:50pm |
| Andy Youngs - Jazz and Swing | 6:30pm |
| Sandy Sparkle - Vintage Vocalist (1940's) | 7:15pm |
| John P Gudge - Country and Western | 8pm |
There will be a number of exhibitors at the event including the Royal British Legion, Royal Air Force Association, Parachute Regiment, SAMA 82, Air Training Corps, Brixham Battery, MACC, Type 21 Association, WW2 Re-Enactment SW, WW1 Artefacts, and Owl Sanctuary.
Torbay Council's Chairman, Ian Doggett, said: "This is a wonderful family event which is strongly supported by the local community. Torbay Council is pleased to help organise this important event, and we are extremely grateful to everyone who has helped make it possible especially local businesses including Paignton Rugby & Cricket Club, Torbay Taxis Ltd, and this year's sponsors Bays Brewery, Heineken, Sainsbury's and Morrisons. A special thanks also to all the volunteers give up their time to mark this special occasion."
Torbay's elected Mayor Gordon Oliver said: "Armed Forces Day is an extremely important event in our calendar. It helps raise public awareness of the contribution made by those who serve and have served in Her Majesty's armed forces.
"It also gives our community the opportunity to show the depth of support it has towards the RAF, army and navy. We look forward to welcoming everyone to the event, and hope that this day provides a fitting tribute to all those who have served in, and continue to serve, our country."
Complimentary transport for veterans is very generously provided by Torbay Taxis. Please book in advance, call 01803 211611, by 20 June and quoting this event.
The nearest pay and display car parks can be found at Victoria Car Park, Paignton.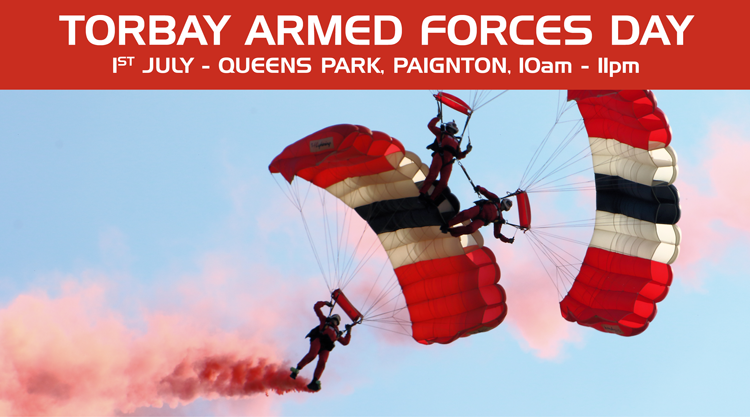 ---