Face2Face…The Summer Exhibition at Torre Abbey
8 July to 3 September 2017
A select exhibition curated from the Arts Council Collection.
Step inside Torre Abbey this summer and be surrounded by renowned artists and radical works depicting alter egos, rebellion, gender, feminism, death and legend.
This is not your typical day out in South Devon.
The Face2Face exhibition will for the first time bring together and quite literally 'face off' 33 works from 20 award winning, contemporary British artists in the Arts Council Collection and rare, visionary works from Pre-Raphaelite artists in the Torre Abbey Collection.
Journey through 300 years of portraiture from pencil to paintings, and photography to film; as you follow the art through the historic corridors and intricate spaces of this mesmerizing museum and Ancient Scheduled Monument.
Executive lead for Tourism, Culture and Harbours, Cllr Nicole Amil, said: "This exhibition is a real coup for Torre Abbey and really showcases the museums dynamic new programming. Once again, the Abbey is bringing prestigious exhibitions to the Bay proving that you don't need to travel to see the very best in contemporary modern art."
Beth Hughes, Collection Curator, said: "The Arts Council Collection is the UK's most widely seen collection of modern and contemporary art. As Collection Curator it is a joy to collaborate with a vast array of skilled Curators to look at the many strengths of the Collection and create inspiring exhibitions.
"Face to Face refreshes the historic portrait collection at Torre Abbey bringing in a diverse range of modern and contemporary work to trace the history of this familiar genre. It has been a pleasure to work with the team here to bring this exhibition to the people of Torbay."
So who and what can you expect? We've put the spotlight on 7 of the artists to discover the radical and award-winning works on offer in each corner of this unique face off:
The Young British Artists
Mark Wallinger
Turner Prize winning (2007) British artist; Mark Wallinger is best known for his sculpture 'Really Good' for the empty fourth plinth at Trafalgar Square. Face2Face will feature his work Angel (1997), a seven and a half minute video in reverse featuring Wallinger playing Blind Faith, his sightless alter ego.
Sarah Lucas
Part of the Young British Artists who emerged in the 1990s; Lucas frequently uses visual puns, feminism and indecent humour. Face2Face will feature 5 works from Lucas' renowned photographic Self Portraits Series from Eating A Banana (1990) to the more recent Human Toilet Revisited (1998).
Jake and Dinos Chapman
Turner Prize nominated (2003) Jake and Dinos Chapman are the bad-boy duo who set out to deliberately shock with scenes of torture, death and pornography. Face2Face will feature Double Deathshead (1997), a screenprint depicting death, danger and warfare through human skulls.
Gillian Wearing OBE
Royal Academy lifetime member and Turner Prize winning artist (1997), Gillian Wearing OBE, is both political and poetic. Face2Face will feature Confess all on video. Don't worry, you will be in disguise. Intrigued? Call Gillian Version II (1994), a thirty-six minute video of ten scenes, each with a disguised person telling a secret in an unedited monologue.
The Original Masters
William Blake
Visionary poet, painter and printmaker; William Blake is a seminal figure in the history of visual arts. Face2Face will feature a rare proof set of The Book of Job (1825), a series of engravings of twenty one subjects.
Sir Edward Coley Burne-Jones
Often described as the last Pre-Raphaelite; Burne-Jones pioneered the symbolist movement, challenging society in the 19th Century by offering a parallel universe of myth, legend and the Bible. Face2Face will feature drawings of The Planets.
Wiliam Holman Hunt
Co-founder of the Pre-Raphaelite Brotherhood and passionately determined to ensure absolute truth to nature in the rendering of his subjects; William Holman Hunt evolved an intensely realistic painting technique. Face2Face will feature The Children's Holiday (1864), a painting depicting the industrial magnate, Thomas Fairburn's family.
Beyond the Exhibition
Other highlights of a visit include a programme of Face2Face workshops with the Digital Design Agency (a Play Torbay initiative) and drop-in selfie sessions. The summer season at Torre Abbey will also offer open-air cinema, live performances, theatre and the newly launched Family Sundays. Reasons aplenty to plan a visit.
Free entry for kids and teens
Torre Abbey is a great family day out and inspires creative and curious minds with dressing up, interactive displays, garden trails and other great activities. The museum is one of only a handful of South Devon attractions to offer free entry throughout the year for kids and teens (under 18 years). This includes unlimited free entry to the Face2Face exhibition to fuel little imaginations and introduce both original masters and contemporary artists to young people in South Devon. Adult visitors of all ages can access this unmissable exhibition from just £8. Tickets available at www.torre-abbey.org.uk
Notes To Editor
The provided Sarah Lucas image – Fighting Fire With Fire, 1996 can be used with any copy. Please credit at all times © Sarah Lucas, courtesy Sadie Coles HQ, London. The credit must be used in full. Please do not crop the image or use overwriting at any time.
Est. in 1196, Torre Abbey is an award-winning museum of history and art housed in an Ancient Scheduled Monument on the iconic South Devon coast in Torquay. The museum is a centre for creativity and curiosity – initiating cultural conversations and inspiring local life.
Torre Abbey is a family friendly museum with a seasonal programme of exhibitions, events and activities across visual arts, history and live performance. Kids and teens up to 18 years go free, and the newly launched 1196 club offers everyone the opportunity to join Torre Abbey as a member with unlimited visits throughout the year from just £16. www.torre-abbey.org.uk
Thanks to the Arts Council Collection for the incredible works of art on loan to Torre Abbey for the Face2Face exhibition. The Arts Council Collection is the UK's most widely seen collection of modern and contemporary art with nearly 8000 works by 2000 artists. With more than 1,000 loans made to over 100 venues a year, it is seen by millions of people in public spaces from galleries and museums to hospitals, libraries and universities.
Representing one of the most important collections of British modern and contemporary art in the world, it includes work from Francis Bacon, Barbara Hepworth and Henry Moore to Lucian Freud, Antony Gormley and Grayson Perry. The Collection supports and promotes British artists by acquiring art at an early stage of their careers. The Arts Council Collection is managed by Southbank Centre, London and includes the Sculpture Centre located at Longside, Yorkshire Sculpture Park.
Find out more about the Arts Council Collection at www.artscouncilcollection.org.uk.
The Face2Face workshops being run in conjunction with the Digital Design Agency workshops are running week commencing 14 August and are around digital portraiture. There will be three, 1.5hr sessions run by young people each day. Prices are £5pp and include free admission to Abbey, you can book via www.torre-abbey.org.uk.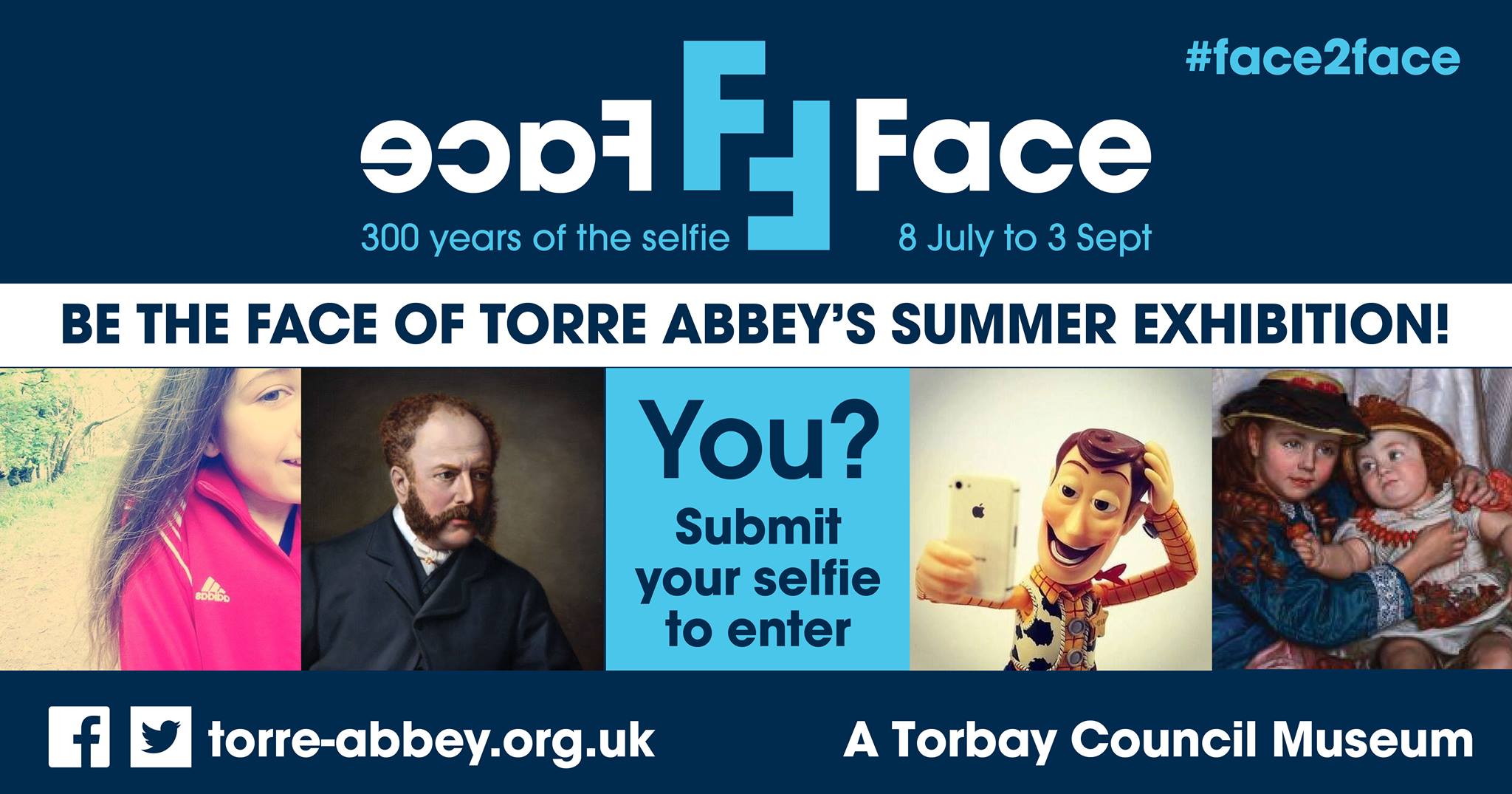 ---