This summer over 1,600 children across Torbay lost themselves in the library when they took part in the Mythical Maze Summer Reading Challenge - the national reading scheme run annually by libraries to encourage young readers during the school summer holidays.
Local children were challenged to read six books to win a certificate and a medal and collected stickers and incentives on their way. This year, with its theme of creatures from classical myth and legend, the challenge in Torbay saw a fantastic 7% increase in the number of children completing their challenge.
At Paignton Library, children were also invited to take part in a Mythical Maze colouring competition. A prize presentation for some of the winners of the colouring competition took place in Paignton Library on Thursday 2 October with Community Champion for Tesco Paignton, Amanda Nelhams, presenting two lucky challenge completers with scooters donated by Tesco.
The Mythical Maze Summer Reading Challenge was part of Torbay Libraries' range of free and fun activities for children with quests, puzzles, games and competitions held over the summer, and the service is looking forward to the next round of activities this autumn.
Torbay Council's Executive Lead for Culture and Arts, Councillor Nicole Amile, said: "It's great to see the library service in Torbay doing so well to improve reading amongst young people, a 7% increase in those completing their challenge is a real measure of success. Well done to everyone who took part and congratulations to those lucky winners of scooters kindly donated by Tesco."
Amanda Nelhams Community Champion for Tesco Paignton Metro said: "When I was approached by the library's young people's service about providing a donation towards the reading challenge, I wanted to make sure that we could provide a big enough donation to ensure the children received a good prize for all their efforts. It was great to meet all the winners and hand out some of the prizes, which they seemed more than happy with."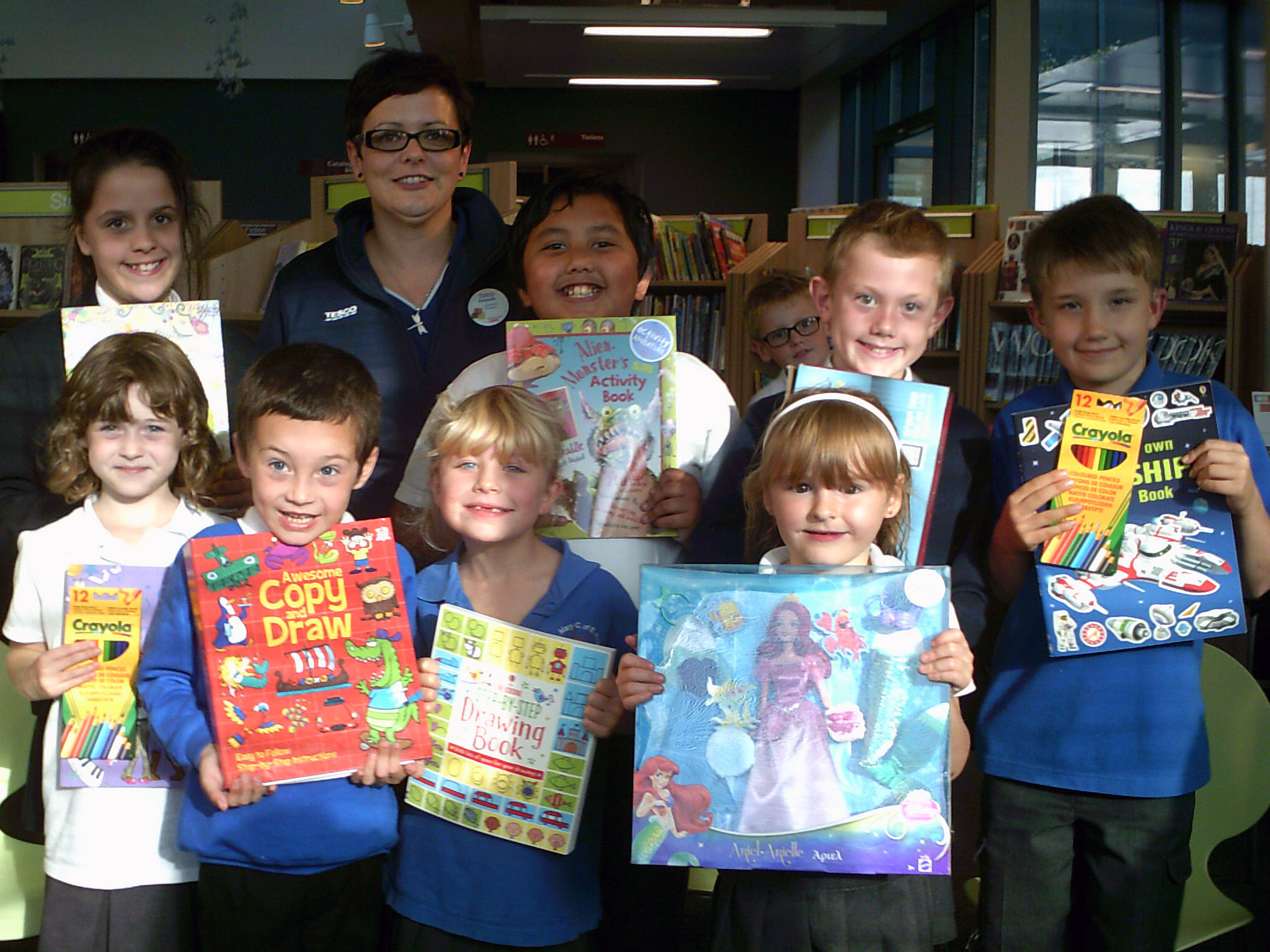 Some of the winners of the colouring competition: The back row from the left - Alexandra Archer (1st prize older category), Community Champion for Tesco Paignton Metro Amanda Nelhams, James Carlo Mund
---