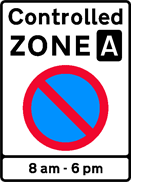 We operate a number of resident's parking schemes also known as controlled parking zones (CPZs) in Torbay.
These are areas where parking is restricted or reserved for permit holders only. Residents living within one of the CPZs can buy a resident parking permit if they meet the certain criteria.
Residents can also apply for the implementation of a residents (controlled) parking zone.
Streets Included:
Meadfoot Lane
Road off Meadfoot Lane
Parkhill Road
South Hill Road
Torwood Close
Torwood Gardens Road
Trinity Hill
Other properties eligible to park in Zone A:
Babbacombe Road - 531, 533, 535, 537, 539, 543, 545, 551 and 553 only
Torwood Street - 37,46,48, 50, 52, 54, 56, 58, 60, 62, 64 and 66 only
Park Lane
Streets Included:
Glenmore Road
Parkham Road
Other properties eligible to park in Zone B:
Bolton Street - only those properties whose only means of access to the property is via Glenmore Road
Streets Included:
Locarno Avenue
Langs Road
Orient Road - 21 to 58
Other properties eligible to park in Zone C
Torquay Road - 238, 243c, 245a, 261 and 344 only
Streets Included:
Chatsworth Road
Ellacombe Road
Highbury Road
Pembroke Road
Princes Road - 1 to 33 only
Queen Street
Waterloo Road
Wellesley Road
Wellington Place
Wellington Road
Clifton Terrace (Braddons Hill Road East)
Other properties eligible to park in Zone D:
Berachah Road - all properties
Bethel Terrace - all properties
Cavern Road - 2 only
Ellacombe Church Road - odd numbers 1 to 31 and even numbers 2 to 34 only
Hatfield Road - odd numbers 15 to 37 and even numbers 2 to 36 only
Princes Road - 34 to 66 and Pembroke Villa only
Stentiford Hill Road - Numbers 10 and 16 only
Victoria Road - 1, 5a, 5b, 61 and even numbers from 48 to 92 only
Warberry Road West - 1 only
Windsor Road - 3, 5 and 13 only
Streets Included:
Banbury Park
Berkeley Avenue
Berkeley Rise
Cadewell Crescent
Cadewell Lane (Newton Road to Water Lane)
Cadewell Park Road
Grosvenor Avenue
Grosvenor Close
Higher Cadewell Lane
Littlefield Close
Lloyd Avenue
Oak Park Avenue
Oak Park Close
Rougemont Avenue
Shiphay Lane
Shiphay Park Road
Summerfield Road
---