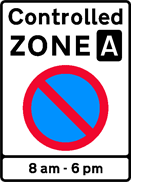 We operate a number of resident's parking schemes also known as controlled parking zones (CPZs) in Torbay. These are areas where parking is restricted or reserved for permit holders only. Residents living within one of the CPZs can buy a resident parking permit if they meet the following eligibility criteria:
The usual place of residence is within the CPZ or the applicant must spend at least four days and nights living and sleeping at the address for a minimum period of 13 consecutive weeks.
Full Council Tax must be paid on the property (single occupancy is included as full Council Tax) - ie no discount for a second home.
The applicant must be the registered keeper of the vehicle.
The vehicle registration document must be in the name and address of the applicant within the CPZ.
The size of the vehicle - height not exceeding six feet ten inches (208.28 cms) and length does not exceed eighteen feet (548.64 cms), ie short or medium wheel base transit.
The cost of each permit is £30. Initially up to two permits per household will be issued, a separate application form for each permit must be completed.
Please be aware that the system to apply for a residents parking permit has recently changed.  When you click to apply for a permit you will be taken through to the new system.  If this is your first time using this system please click on 'Register' in order to setup an account.
We are currently experiencing an intermittent problem with our application system. If you are unable to apply for a permit using the above link – ''apply for or renew a resident's parking permit'', please click on the link below instead – ''apply for visitors parking permits''. Please tick the box to say whether you want visitor permits only, resident permit only, or both. Please tick the box on page two to say you will send the evidence by post, and send the evidence to us either by post or by email (parking.permit@torbay.gov.uk)
We apologise for the inconvenience caused by this failure in our system.
Please note that renewal notices are no longer sent and it is your responsibility to take note of the expiry date of your permit and to apply in good time when it is due for renewal.
Visitor Parking
Visitors or tradesmen who want to park in permit holders only bays within a CPZ need to display a valid visitors parking permit. Anyone who currently lives in a CPZ can purchase these permits, and a maximum of 100 will be issued per calendar year.
Visitor permits are issued in books of 10 at a cost of £10 per book. Each permit is valid for use at any time up to 12 months from the month of purchase, and when activated the permit allows parking within your CPZ for one calendar day. They are non-renewable on expiry.
Tell us about a change
Please tell us if you need to make a change to your permit because you:
Move house
Change your email address
Change your car
Make a change to you Blue Badge
There is a £20 charge for this service. 
Amend your existing car park permit
Spaces
Within the controlled parking zone there are limited resident parking bays. Use of these bays during the enforcement periods will be for valid permit holders subject to availability. Purchase of an annual or daily permit does not guarantee access to a parking bay.
---