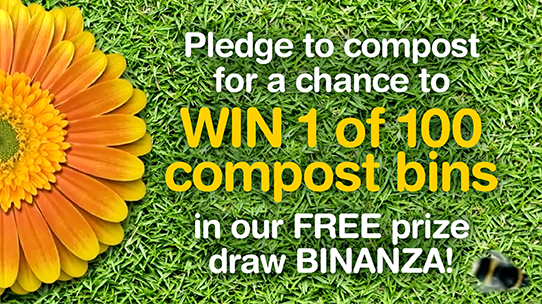 Devon residents can win a composting bin if they pledge online to compost their kitchen and garden waste.
One hundred composting bins and other prizes, Wormeries Opens in a new window, a food waste gadget kit and a gardening hamper can be won in the draw which closes on 2 April 2017.
Composting is the most effective way to reduce waste and help the planet, and at least 30% of the contents in an average household bin can be composted.
Composting at home over 12 months can reduce carbon emissions equivalent to that produced by a kettle in a year, or a washing machine over 3 months.
Recycle Devon - a countywide waste communications campaign which represents a partnership of 10 authorities across Devon including Devon County Council, 8 District Authorities and Torbay Council, is encouraging people to give food and garden waste a second life by signing up to at least one of the following pages:
I pledge to compost my food waste
I pledge to compost my garden waste
I pledge to use my food waste collection (in areas that have one)
Pledge to Compost Opens in a new window
How to Compost Opens in a new window
Liz Jarvis, Senior Waste Manager at Devon County Council, one of the authorities in the Recycle Devon partnership, said:
Whether you're a keen gardener or struggle to keep potted plants alive, we can all get involved in composting and making use of organic waste from our homes and gardens.
Furthermore
Please sign up to one or more of our pledges - not only will you cut down on food and garden waste but you may also save money too by not buying shop bought compost.
The Free prize draw 'Bin-anza' will take place on 2nd April 2017. All you have to do to enter is Pledge to Compost Opens in a new window
Pledge to Compost Prize Terms and Conditions Opens in a new window
---