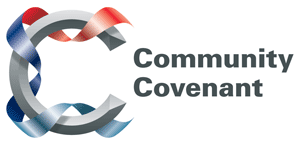 We have signed up to Devon County Council's Armed Forces Community Covenant which is a promise of support to local servicemen and women, veterans and their families.
The Covenant was drawn up following a meeting between us, local charities and voluntary sector organisations and personnel from the serving military community. It was agreed that Torbay should work closely with Devon County Council on designated themes but would apply their action plan for Torbay.
An official signing took place at Torquay Town Hall on Friday 14 December 2012 with Torbay's Mayor Gordon Oliver; Cllr Nicole Amil, Torbay's Armed Forces Champion; Cllr Mark Kingscote, Torbay's Heritage and Civic Lead Member; Cllr Roger Croad, Armed Forces Champion for Devon County Council; and on behalf of the military Major Roy Jones, Quartermaster 6 RIFLES, and Lieutenant Commander Steve Henaghen, First Lieutenant, Britannia Royal Naval College.
Current servicemen and women, armed forces support organisations, public services, community groups and charities were asked to share their knowledge, experience and personal views with the task group. The purpose was to help identify how local organisations can work together to improve services to meet the needs of Torbay's armed forces community, and help them better integrate with civilian life, as well as encourage wider community support. The agreed set of pledges have been designed to encourage closer relationships between local civilian communities and the county's large military community.
Aimed at businesses, voluntary and community groups, public sector organisations, individuals and those in the armed forces, the recommendations seek to help those in the armed forces and their families to ensure they are not disadvantaged due to their military lives. This includes practical challenges relating to health care, housing and education, as well as other less seen challenges such as integration into the local community.
Military Covenant Themes
Themes included in the Armed Forces Community Covenant are as follows:
Working better together - improving the ways in which agencies work together and communicate to better understand and meet the needs of the armed forces community.
Cutting the wire - bringing the armed forces community and the civilian community together and supporting a successful transition from military to civilian life.
Reaching their potential - supporting service children and families to develop in a positive environment.
Improving health and wellbeing - achieving fair access to healthcare and improve support for the neurologically damaged, mentally and physically injured.
Increasing prosperity - ensuring that the covenant has a voice in our economy so that service leavers and service families have access to quality jobs.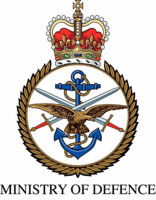 Military Action Plan
The Armed Forces Community Action Plan provides a list of commitments agreed by the organisations who have signed up to the Armed Forces Community Covenant which specifically relates to Torbay's local objectives. The commitments made by all the signatory organisations are reviewed by the Torbay's Armed Forces Community Covenant Group on a six monthly basis.
Torbay's Action Plan has been developed with the charitable, voluntary and serving military community, the wider voluntary sector, public agencies including health and Jobcentre Plus.
6232
Community Covenant and Action Plan
Covenant between Devon County Council and Torbay Council and the Armed Forces Community and the action plan to deliver the ambitions of the armed forces community.
---
Contact Special Projects, Sport & Events