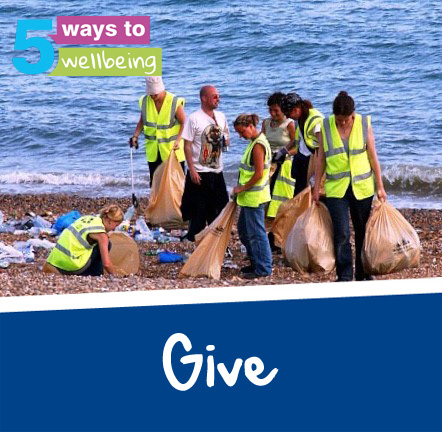 Do something nice for a friend, or a stranger. Thank someone. Smile. Volunteer your time. Join a community group. Look out, as well as in. Seeing yourself, and your happiness, linked to the wider community can be incredibly rewarding and will create connections with the people around you.
Helping, sharing, giving and team-orientated behaviours are linked to an increase in self-worth and positive feelings
Ideas to give something back
Smile at a stranger - you might make their day!
Offer to lend a hand if you see a stranger struggling with bags or a pushchair
Call or visit a relative or friend who needs support or company
Find your nearest litteraction group, start a new one or join the Torbay Cleaner Coasts Initiative

Opens in a new window

- keep our wonderful beaches clean for all to enjoy!
Why not join Torbay Together and get timebanking - connect with your community and share your time and skills with others (you can benefit too)
Are you passionate about improving health and social care - volunteer with Healthwatch Torbay or Devon
Need a little help to give back in your community? Connect with Community Builders

 today

Struggling to get out of the house? Give back to your community with the help of Wellbeing Coordinators today
Fleur's Story
Fleur talks about how volunteering at the Ladies Lounge helped improve her wellbeing.
---