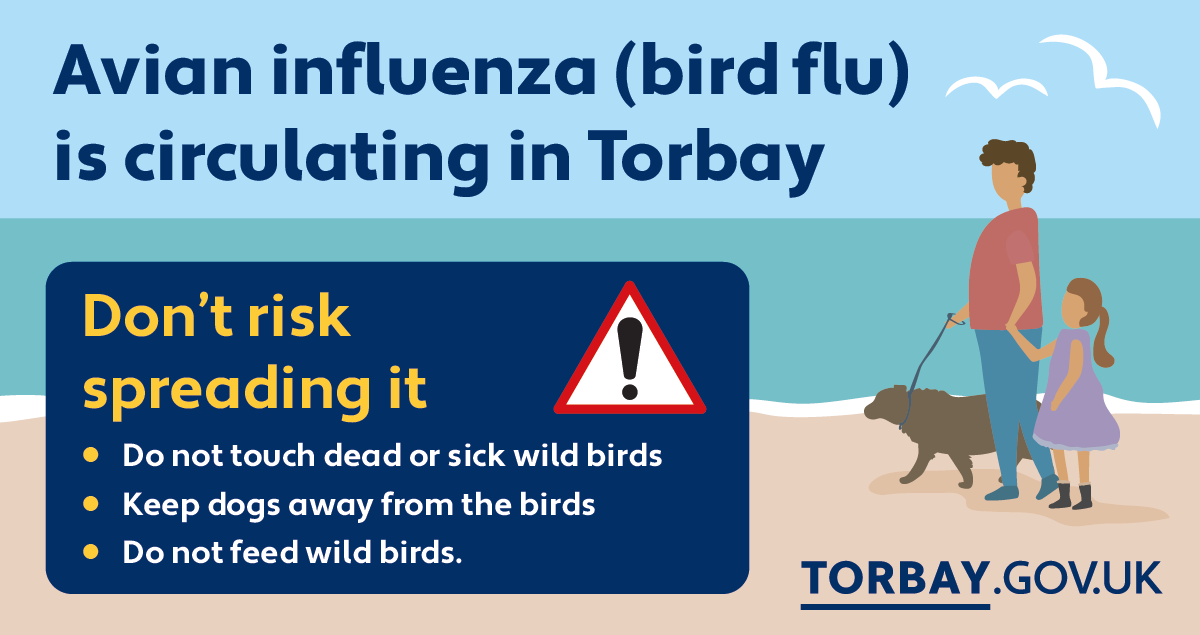 The Animal and Plant Health Agency, an arm of the Department for Environment, Food and Rural Affairs (DEFRA),have confirmed a case of avian influenza  at a premises near Paignton. As a result, a 3km Captive Bird Control Zone has been put in place.   
There have been reports of dead seagulls at a number of locations in Torbay over the last ten days, but avian influenza has not been confirmed.   
We are currently advising the following safety precautions across Torbay:   
Do not touch dead or sick wild birds  

Keep dogs away from the birds  

Do not feed wild birds 
Reporting dead birds 
Report the dead birds to DEFRA if you find: 
one or more dead bird of prey or owl 
3 or more dead gulls or wild waterfowl (swans, geese and ducks) 
5 or more dead birds of any species 
The contact number for DEFRA is 03459 33 55 77
For dead wild birds on public and council land:
Once reported to DEFRA, contact SWISCo for removal.
Dead birds on public or council land below the DEFRA threshold can also be reported direct to SWISCo.
The contact number for SWISCo is 01803 701310 (Option 4 - Street Cleansing) or report by email to avianflu@swisco.co.uk
For dead wild birds on private land including gardens:
DEFRA may collect some of these birds and test them to help understand how the disease is distributed geographically and in different types of bird.
Calls to the DEFRA helpline about dead wild birds are triaged and not all birds will be collected.
Wild birds are susceptible to a range of diseases and injuries and not all dead birds will have been infected with avian influenza.
Once reported to DEFRA, please report it to the landowner.
If you find a dead bird on your property and DEFRA is unable to remove it, please follow DEFRA's guidance on how to safely dispose of it
If dead wild birds are not needed for avian influenza surveillance purposes and landowners have taken the decision to remove carcasses, it is the landowner's responsibility to safely arrange disposal of the carcasses.
Landowners are responsible for any costs associated with removal and disposal of dead wild birds.
Reporting sick birds
Contact the national RSPCA number on 0300 123 4999 for sick birds and they will process, risk assess and dispatch staff accordingly. However, the response time may vary depending on demand given the scale of the outbreak.
Risk to humans
Avian influenza can be transmitted to humans, although the risk is very low and contact needs to be close and prolonged. However, the advice is that people should not touch dead or sick birds.
The Food Standards Agency's advice remains unchanged, that avian influenzas pose a very low food safety risk for UK consumers. Properly cooked poultry and poultry products, including eggs, are safe to eat.
Advice for bird owners
The Animal and Plant Health Agency are contacting all residents within the Control Zone asking them to register any poultry or captive birds that they keep at their address. This will enable the agency to monitor the disease in the area.
Within the Control Zone, owners of domestic birds or poultry are being requested to follow the advice from Defra and put extra controls in place. Further details are available at AI - Protection Zone and Surveillance Zone - declaration (publishing.service.gov.uk).
All bird keepers (whether you have pet birds, commercial flocks or just a few birds in a backyard flock) must keep a close watch on them for signs of disease and maintain good biosecurity at all times. If you have any concerns about the health of your birds, seek prompt advice from your vet.
You should register your poultry, even if only kept as pets so that we can contact you during an outbreak. This is a legal requirement if you have 50 or more birds. Poultry includes chickens, ducks, turkeys, geese, pigeons (bred for meat), partridge, quail, guinea fowl and pheasants.
You can sign up for our alerts service to keep up to date with the latest news. You can also get Defra email alerts or subscribe to Defra's RSS feed by copying and pasting this RSS feed URL into your feed reader.
Register your birds
If you have not already registered your birds or updated your contact details recently, we encourage you to register now, so we can contact you quickly if there is a disease outbreak in your area and you need to take action.
If you have more than 50 birds, you are legally required to register your flock within one month of their arrival at your premises. If you have less than 50 birds, including pet birds, you are still strongly encouraged to register.
Find out how to register your birds.
Report signs of disease
You must keep a close watch on your birds for any signs of disease, and must seek prompt advice from your vet if you have any concerns. If you suspect avian influenza you must report it immediately by calling the Defra Rural Services Helpline on 03000 200 301. Failure to do so is an offence.
How to spot avian influenza
There are 2 types of avian influenza.
Highly pathogenic avian influenza (HPAI) is the more serious type. It is often fatal in birds. The main clinical signs of HPAI in birds (which can include any or a combination of the following) are:
sudden and rapid increase in the number of birds found dead
several birds affected in the same shed or air space
swollen head
closed and excessively watery eyes
lethargy and depression
recumbency and unresponsiveness
incoordination and loss of balance
head and body tremoring
drooping of the wings and/or dragging of legs
twisting of the head and neck
swelling and blue discolouration of comb and wattles
haemorrhages on the shanks of the legs and under the skin of the neck
loss of appetite or marked decrease in feed consumption
sudden increase or decrease in water consumption
respiratory distress such as gaping (mouth breathing), nasal snicking (coughing sound), sneezing, gurgling or rattling
fever or noticeable increase in body temperature
discoloured or loose watery droppings
cessation or marked reduction in egg production
Pigeons or birds of prey
If your birds are within a disease control zone, make sure you check the restrictions applicable to that zone.
Outside of disease control zones, you can exercise and train pigeons or fly birds of prey, including for pest control, but they should avoid direct contact with wild birds.
Following the end of the housing measures on 2 May 2022, outside of disease control zones, pigeon keepers may exercise and train their birds from open lofts. For further information see our biosecurity guidance.
You are advised not to feed any wild birds, in particular, any wild shot or hunted wildfowl, to any birds of prey, during a period of heightened risk of avian influenza infection in wild birds. This includes birds that may have been shot or hunted earlier in the year since the virus can remain viable in frozen carcases for at least 12 months.
We will be sharing further updates in due course and further information is available on GOV.UK.
---