Encounters Arts were commissioned by Torbay Council and Torbay Culture to explore 'What does good care look like?' in Torbay's Residential Care Homes and to develop a Residents Charter of Rights.  The project was delivered by Encounters Artists, Kate Bowman and Jenny Gellatly, with graphic design work carried out by Jo Salter.  The steering group for the project included Torbay Council, Torbay Culture, Healthwatch and Bethesda Care Home.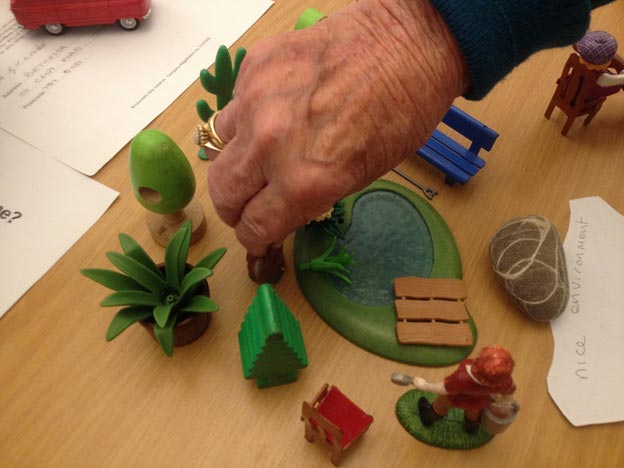 Resident in one of Torbay's Residential Care Homes creating a model of their ideal care home.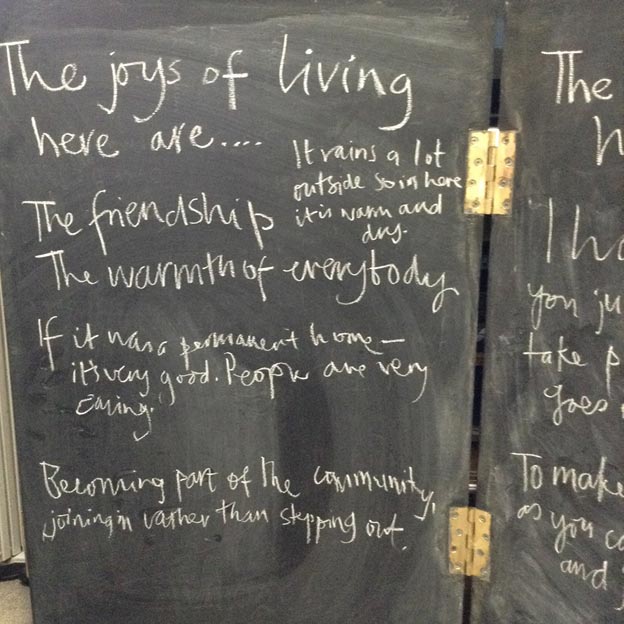 Residents were invited to tell us 'What are the joys of living here?'  They were also asked 'What are the challenges of living here?'.
Project phase 1
In the first phase of the project Encounters Artists designed and delivered creative consultations in 10 different care homes across Torbay.   The consultation involved a series of creative 'invitations to join in' that included open questions, designed to harvest the ideas and experiences of diverse residents, staff, friends and family members.
The invitations to join in were made to:
be accessible, inviting, enjoyable and interesting
work with individuals and small groups in a variety of different contexts
be visual and use a range of different materials
enable different ways of responding, including model making, drawing and writing.
The invitations became a mobile toolkit that offered an evolving visual focal point for dialogue and exchange, as people added their responses to a series of questions visible to the next group.  A total of 115 people took part in this first phase of the project, including 84 residents and 31 staff, friends and family members.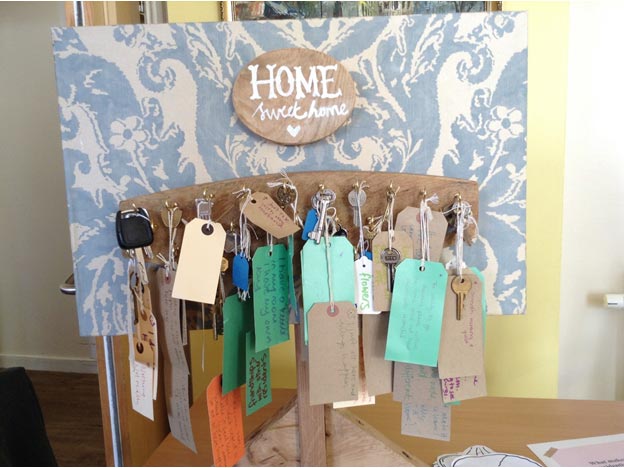 Travelling key hooks as part of the bespoke mobile toolkit that travelled from home to home and served as a visual focal point gathering responses from residents, friends, family members and staff in each home visited.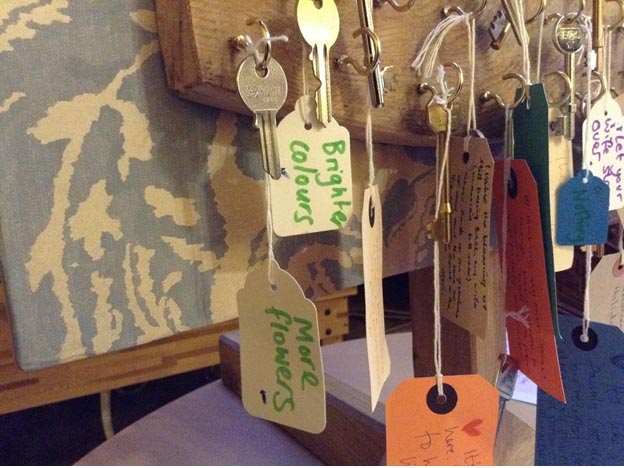 Residents were asked 'What makes this place feel like home? They wrote their responses on keyrings and hung them on a tailor made key rack that travelled from home to home.
Project phase 2
During the second phase of the project, Encounters Artists took the mobile toolkit to the wider care home support network and wider community, delivering two public consultations in Paignton Library and two consultations with Health and Wellbeing professionals.  These consultations involved a further 60 participants.
Project phase 3
During the third and final phase of the project Encounters Artists worked with an extended steering group to filter and prioritise the content and ideas generated during phases 1 and 2, in order to evolve the principles of the Charter and what good care looks like indicators.  This final phase involved writing and then developing the Charter into an interactive infographic.  The intention was to develop something beautiful and clear, something people want to keep and to look at, something people would see as credible and that reflected the consultation. 
It also felt important to create something that would bring people together and nurture connections between them, as this had been an important element throughout the whole creative consultation process. Encounters Artists developed the Charter into a set of 10 playing cards that include a series of games that continue to bring people together and nurture connection. 
Each playing card represents one of the ten principles that make up the Charter: Purpose and Meaning; Community and Belonging; Nature and Environment; Health and Wellbeing; Freedom; Care; Identity; Learning; Respect; and Relationships.  On one side of each card is the principle, with the Charter text for that principle written underneath it, and on the other side are quotes from care home residents.  Taken together, the cards represent what you should expect from good care.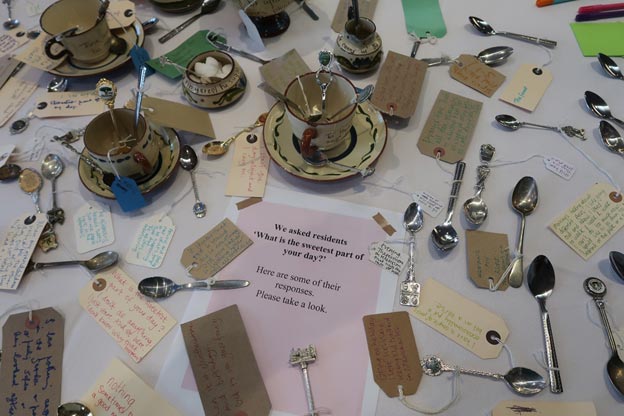 Encounters Artists spoke with residents about what the sweetest part of their day was and collected their responses on tea spoons.
The Care Charter
We spoke with residents, staff, friends, family members and health professionals. Together we developed the Torbay Care Charter.
---