Our vision is to support and help people to stay as well and independent as possible, able to manage their own health and well-being in their own homes wherever possible. Where care is needed we want people to have a choice about how their needs are met and only have to tell their story once. People receiving services need to be at the heart of what we and providers deliver together.
We believe
"It's not what is the matter with me but what matters to me that counts"

 

and

"There is no bed like your own bed."
We have been working with the NHS to integrate adult social care services with NHS services since 2005 and so a significant proportion of the adult social care budget of Torbay Council has been used to commission local NHS providers to deliver social care for adults so that we can provide joined up care. In 2017/18 this represents over 90% of Torbay Council's £41.3m net adult social care budget. The NHS uses a significant proportion of this funding to commission independent sector providers to deliver care. We know that service users do not mind who provides services for them. They just want the right care provided at the right time.
In October 2015 the two largest NHS Trusts in the Torbay and South Devon area merged to form an Integrated Care Organisation (ICO), called Torbay and South Devon NHS Foundation Trust (the Trust). We also created pooled budgets.
If you want to know more about our journey towards integrated services see the Local Government Association Case study of Torbay Integration published in April 2016  
Torbay Council, along with partners, is now considering whether to take a further step along our road to joined-up health and care and explore options to be part of an Accountable Care System for Torbay and South Devon. An Accountable Care System brings together a number of providers and commissioners to take responsibility for the cost and quality of care for a defined population with an agreed budget. An Accountable Care System seeks to achieve the 'triple aim' of improving quality, lowering costs and enriching the patient experience through stronger care integration.
To outline to providers our vision for the future of health and care in Torbay and South Devon we are developing a New Model of Care.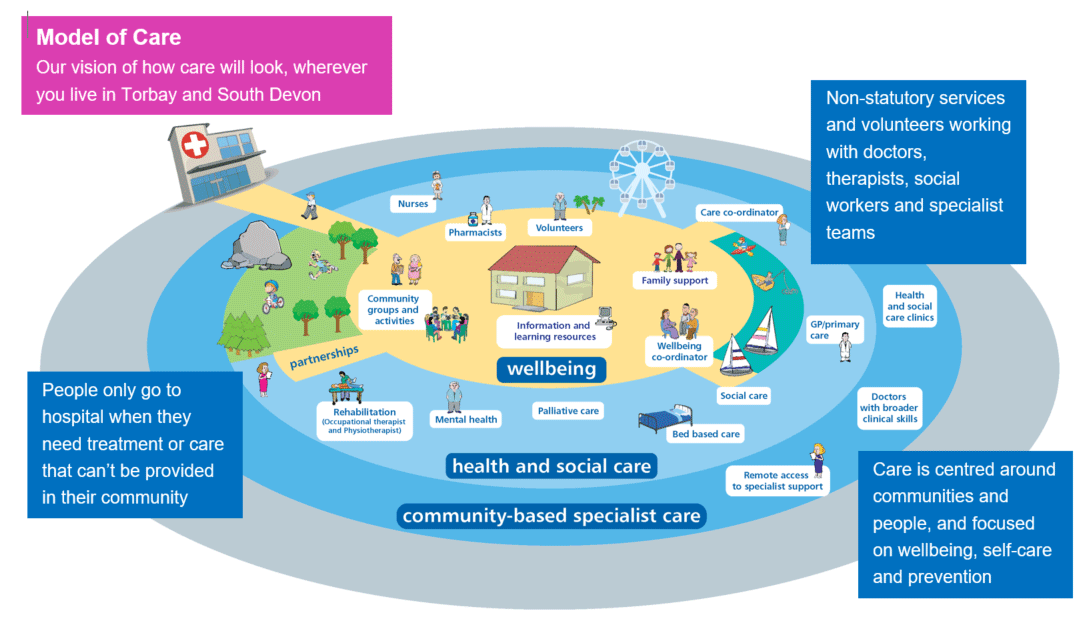 The Trust, CCG and local authority are developing a New Care Model that emphasises well-being and prevention, with a focus on using people's strengths and assets to promote resilience and prevent their need for statutory social care intervention as well as to reduce the length of any intervention. 
Torbay is moving to an asset based community development model and the Community Development Trust is taking a lead in facilitating this change under the Ageing Well initiative. You can also find further information here about asset-based community development in Torbay.
We are also moving towards a Strength Based social work approach emphasising what people can do, not what they can't do.
Adult social care independent sector care providers have a crucial role to play in the current health and social care system and in our new model of care. Providers are key partners for us, so we want to make sure you get the information and support you need to carry out an important role in the health and social care system.
To understand our approaches in detail please see the strategic plans of the Council, CCG and the Torbay and Devon NHS Trust that provides a great deal of adult social care locally. Representatives of these organisations, along with other partners, meet as the Torbay Health and Wellbeing Board, to improve the commissioning and delivery of NHS and local government services. We are also all part of broader regional change programmes; the most important one is the Devon Sustainability and Transformation Plan (STP).
---