At Torbay we operate equal opportunities and acceptable behaviour policies. We welcome and encourage applications from people from all communities - both nationally and locally, recognising that a diverse workforce is beneficial for the organisation and community it serves.
All candidates will undergo a selection exercise based upon pre-determined 'essential' and 'desirable' criteria.
Positive about Disabled People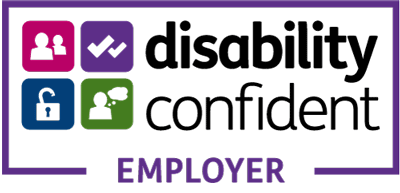 We are proud to be a Disability Confident employer, a symbol awarded by Jobcentre Plus. As an employer, we are committed to adopting a proactive approach to employing people with disabilities and can obtain specialist support through our external partner organisations such as Pluss Opens in a new window to retain employees with disabilities, or those that become disabled during their employment.
The symbol helps to make it clear to disabled people that we welcome job applications from them and are positive about their abilities. It also shows existing employees that we value their contribution and will treat them fairly should they become disabled.
If you have a disability, you will be guaranteed an interview if you meet the 'essential criteria' only. Disabled applicants may also contact Pluss for assistance when applying for jobs in the Council. This includes help in completing job application forms, attending interviews, on-going support/workplace adjustments if required.
Monitoring our equality policies
If you apply for a job you will be provided with an equal opportunities monitoring form. We are actively monitoring and analysing statistical data of our workforce and job candidates in order that we can ensure our employment policies and practices are inclusive and effectively guard against discrimination. This process is not part of the selection process.
---