We want to provide you with the opportunity to comment on proposals for a green pedestrian and cycle link through Clennon Valley.
The proposal will create a shared path from Torbay Leisure Centre and Velopark to residential areas to the west, South Devon College and adjacent employment areas.
Existing routes from Goodrington to Brixham Road are steep (up to 1:6) and deter walking and cycling. The proposed Green Link would provide an alternative, shallower, traffic-free route.
The proposed Clennon Valley Green Link is part of a wider strategy to improve sustainable transport links across Torbay and help connect people with nature. This link will:
Create a traffic-free route for the community which creates a new link to the coast, leisure facilities and Paignton Town Centre
Improvements to the route through Clennon Valley lakes
Provide opportunities to enjoy nature and enhance local flora and fauna
Improve the point of arrival and access to the Velopark

Rising bollards to control vehicle access
Barrier and street clutter removed to improve the area for pedestrians and people on bikes

Improve the crossing point of Dartmouth Road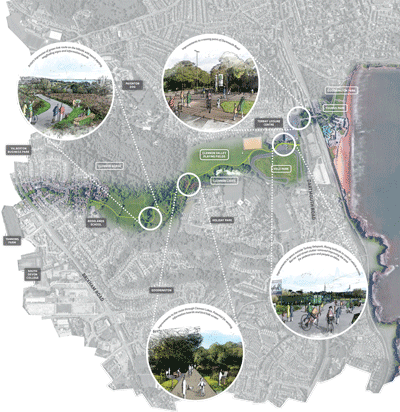 View the map for more details of the proposed route through Clennon Valley.
Ecology and wildlife
Ecological surveys have been carried out to make sure that the proposed route protects and enhances the biodiversity of Clennon Valley.
The proposals will improve access to the Clennon Lakes where the Friends of Clennon Lakes have been working to enhance biodiversity and provide a great place to walk and a valuable educational resource.
The scheme will include improved habitat management, bird and bat boxes, seating, information boards and a bird watching screen overlooking the lakes.
Constraints
The design process has been guided by:
Topography - the steepness of the hillside
Desire to provide access to all
Providing places to rest
Trees and important wildlife habitat, including bat routes
Next steps
We would be grateful if you could take the time to submit feedback to tell us what you think about these proposals. Send your comments to naturalenvironment@torbay.gov.uk.
Once this community consultation process closes, we will examine the views submitted by the local community and feed them into the design process. We will begin these improvements in phased stages.
---
Contact Natural Environment Services