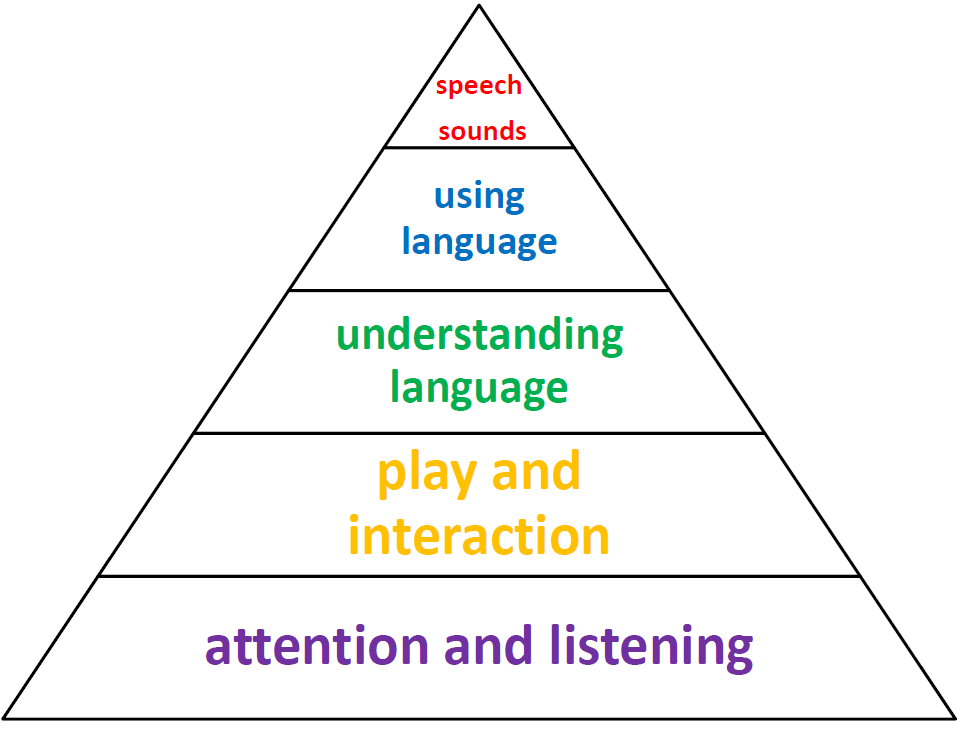 Children's SLC skills develop in a typical pattern and these can be represented as a pyramid; the Speech, Language and Communication (SLC) pyramid. The skills at the top of the SLC pyramid develop when the skills on the bottom become firmly established. For example, a child's listening and attention skills need to develop in order to pave the way for their understanding of spoken language. If the skills at the bottom of the pyramid are not developing appropriately for a child's age it is likely that the skills at the top will not be able to develop appropriately either.
The Torbay SLC Monitoring Sheet is widely used within Torbay to check the development of children's Speech, Language and Communication (SLC). The SLC Monitoring Sheet can be used to see whether children are developing appropriately in the areas of attention and listening, understanding, talk and speech sounds, and social communication.
32828
Monitoring sheet 0-5 years
Torbay Speech, Language and Communication
The statements within the SLC Monitoring Sheet in bold italics are 'Red Flags'. If a child is not meeting these statements at the age in brackets then they may require further support through the setting, through parents supporting specific skills at home, through discussion with a Health Visitor about general development and/or referral for further assessment by a Speech and Language Therapist.
Below you will find an accompanying activity ideas sheet. The activity ideas match the ICAN Early Talkers cards which are available to purchase from the ICAN website.
32827
Activity ideas sheet 0-5 years
Torbay Speech, Language and Communication
Torbay Early Years and Childcare Advisory Service recommends ICAN Early Talk Boost as an evidence based targeted intervention programme for 3-4 year old children whose speech, language and communication is not developing age appropriately. The Early Talk Boost Tracker Opens in a new window helps to identify appropriate children for the intervention and to measure their progress. The Early Talk Boost Tracker Opens in a new window is freely available to all practitioners online regardless of whether you are intending to deliver the Early Talk Boost intervention programme. It is advised that if you are making a Speech and Language Therapy referral for any child aged 3-4 years, you attach a completed Early Talk Boost Tracker Opens in a new window.
Visit The Talking Point progress checker to guide and help you to understand what to expect at each stage. You can also talk to your health visiting team, preschool, school nurse or school. It has been developed by I CAN, a national charity that leads the way on supporting and promoting children's communication skills. It will also link you to their advice and resources which you may find helpful before considering a referral to the speech and language therapy service or whilst you are waiting for your first appointment.
The Communication Trust Opens in a new window has many free resources for practitioners and parents which can help in your support for children's speech, language and communication.
The Children's Speech and Language Therapy Service for Torbay and South Devon NHS Foundation Trust run an open referral system. This means anyone can refer a child, you do not need to ask a professional to do this for you. However, the Service does not accept referrals without parents' knowledge and permission. To find out more information about the SLT Service across Torbay and South Devon, or refer a child, you can do this by accessing their website.
For further ideas about how to support children's speech and language, in terms of their attention and listening and their understanding, see the advice sheets below.
25136,25135,30707
Attention and Listening advice sheet
Speech, Language and Communication 0-1 years
Understanding Language advice sheet
Speech, Language and Communication 0-1 years
Does your child use a dummy?
Check out this information about how you can plan to 'dump the dummy'
Watch this short video to find out more about how children learn to talk, from birth through to five years old.
Small Talk – Little ways to make a big difference
Every time you chat with your baby, make time to play and share a book together you are helping them learn the words that they will one day say.
Small Talk is a new resource from the National Literacy Trust to help parents chat, play and read with their child every day, wherever they are. Find more free resources and activities at https://small-talk.org.uk

Hungry Little Minds
Many little things light up hungry little minds. Kids take everything in, and even the smallest things you do with them can make a big difference.
Whatever the time and wherever you are, you can turn almost anything into a game. Visit www.hungrylittleminds.campaign.gov.uk for some simple things you can do at home together with your child.
Children's speech sounds
Children's development of speech sounds occur gradually. This picture shows the sounds that a child will generally be starting to say at each age.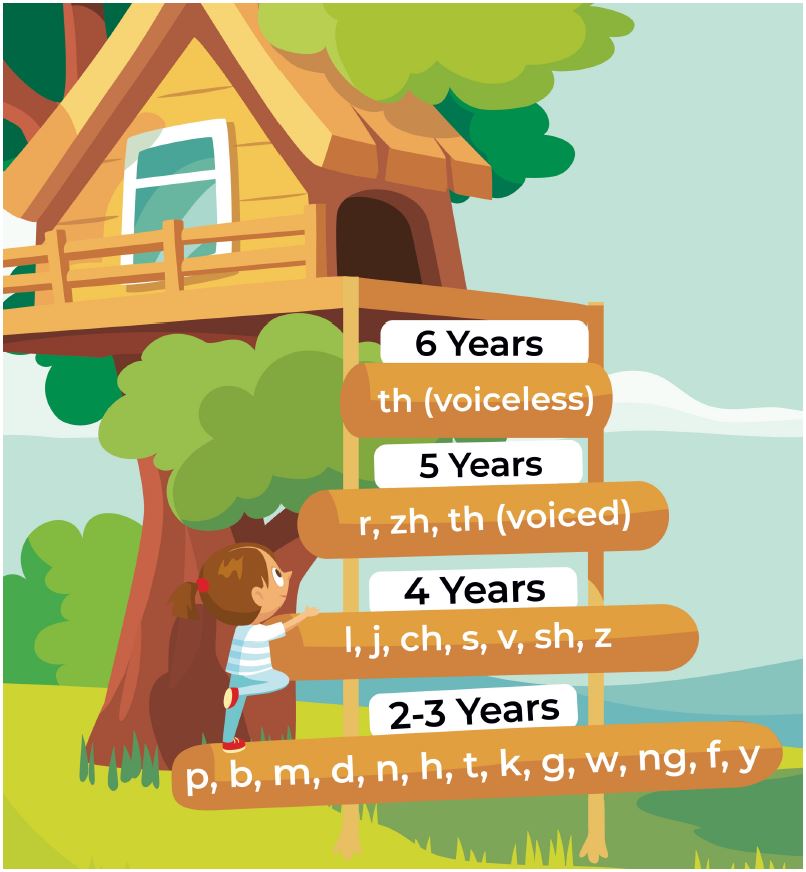 Average age children learn to pronounce English consonants correctly (based on 15 English speech acquisition studies compiled by McLeod and Crowe, 2018)
McLeod, S. & Crowe, K. (2018). Children's consonant acquisition in 27 languages: A cross-linguistic review. American Journal of Speech-Language
Pathology. doi:10.1044/2018_AJSLP-17-0100. Available from: https://ajslp.pubs.asha.org/article.aspx?articleid=2701897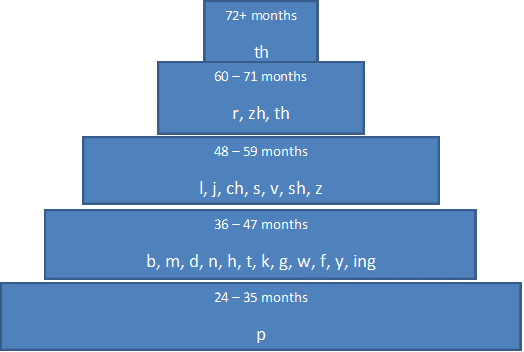 However, a child won't always use every sound correctly 100% of the time.  This diagram shows the sounds that should be used correctly 100% of the time at each age.  For example, at age 2, the only sound a child will use correctly 100% of the time in words is 'p' (pig, cup, nappy). 
---