The food hygiene rating scheme (FHRS) is a national scheme which allows consumers to make informed choices about where they eat and shop for food. The scores that are given following food safety inspections by Environmental Health Officer will be published on a national food hygiene rating scheme Opens in a new window website. 
Getting a rating
Any business where you can eat or buy food directly is inspected on a regular basis by us. Following their inspections the premises will be scored on the conditions found at the time:
items of compliance with food safety and hygiene practices
structure and confidence in management.
The business will be issued with a window sticker following their score of between 0 (urgent improvement needed) and 5 (very good).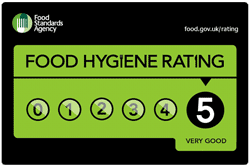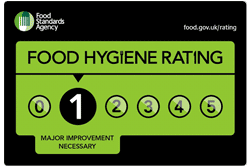 Check a rating
You can search national food hygiene rating scheme website by:
The name of a business, street, town
Advanced search - search by business type, rating or local authority
Find a businesses food hygiene rating Opens in a new window
There is also a Food Hygiene Standards app available for smartphones or tablet PC's. You can download the app from the iStore or Google Play.
Displaying stickers
Currently in England there is no legal requirement for food businesses to display their window stickers although businesses with a good rating do. Displaying ratings ensures consumers are given the choice as to where they choose to eat. It has recently become compulsory in Wales for businesses to display their ratings.
---